Hate crimes in Los Angeles rising at record-setting pace
A nearly 17% increase includes more attacks against Black and transgender Angelenos
In 2021, Los Angeles recorded 596 hate crimes, the highest number ever reported. This year, the city is on pace to surpass that figure.
From Jan. 1–June 30, 349 hate crimes were reported to the Los Angeles Police Department. That is a 16.7% increase from the first half of 2021, and is more than double the equivalent period in 2020.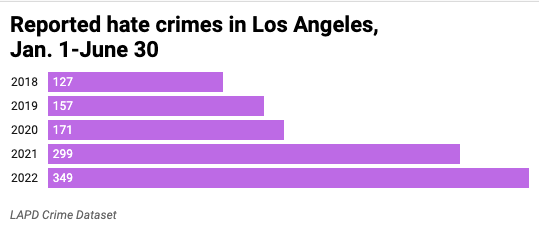 Nearly every community was impacted, with more than three dozens reports each of anti-Black, anti-Latino, anti-Jewish and anti-gay crimes.
The apex was the 78 citywide hate crimes reported in May. Another 71 were reported in June; those are the two highest monthly totals ever in Los Angeles. 
The figures represent a stark contrast with pre-pandemic life. From 2018 through early 2020, there were typically 20 to 40 hate crimes reported each month. 
Brian Levin, Director of the Center for the Study of Hate and Extremism at California State University, San Bernardino, warned that a further increase could be coming. This could be tied to approaching elections, when divisive political rhetoric soars.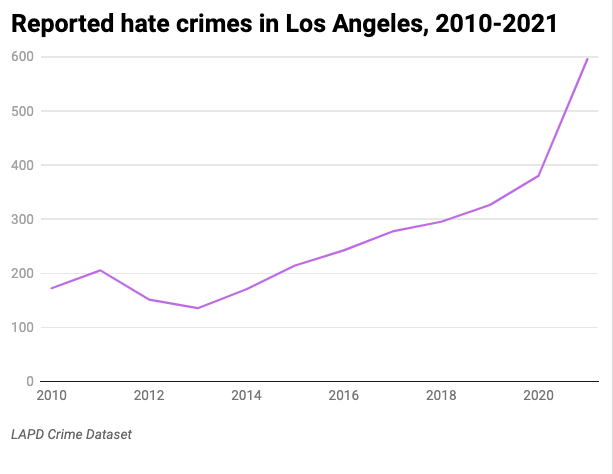 "Generally, if you take the last ten years of FBI data and you rank by quarter, the second half of the year is the one that has more hate crimes," Levin said.
Nationwide issue
Any instance in which the victim of a criminal act is targeted based on gender, race, ethnicity, sexual orientation, religion or disability is designated a hate crime by the LAPD. The department has a hate crime unit, and like the FBI, tracks 35 different bias-motivated offenses.
Hate crimes are believed to be widely under-reported, as some victims may be wary of interacting with law enforcement. A U.S. Bureau of Justice Statistics survey found that fewer than half of all hate crimes were reported to police.
The LAPD also records hate incidents, which are protected by free speech laws and do not involve an actual criminal offense. From Jan. 1–June 30, there were 30 hate incidents recorded in the city.
Hate crimes have also been rising across the country. In 2021, anti-Asian hate crimes in 21 U.S. cities rose 224%, Levin said, citing FBI statistics. The record 369 reports surpassed the 355 chronicled in 1995. 
[Get COVID-19, crime and other stats about where you live with the Crosstown Neighborhood Newsletter] 
In the first half of 2022, there were 16 anti-Asian hate crimes reported in the city of Los Angeles, down from the 23 during the same time last year. However, they are rising statewide, with 247 reported last year, up from 85 in 2020, according to a report from California Department of Justice. 
The Los Angeles crimes included an encounter on March 26, when a 39-year-old Korean woman was confronted by a person experiencing homelessness on the street at Palms and Lincoln boulevards in Venice. The woman was struck and the crime was classified as battery. This occurred nearly three weeks after a 24-year-old Asian male was knocked to the ground by a stranger in Koreatown. The assailant also threatened to kill the man. 
Attacks on Black and Jewish Angelenos
Black people in Los Angeles suffered more hate-motivated attacks than any other group in the city in the first half of 2022. The 91 reported anti-Black or anti-African-American hate crimes is up 15.2% from the same period last year. 
"We saw a reversal of a decline in anti-Black hate crimes in 2020," said Levin. "It's now gone back up."
Although the 39 anti-Jewish hate crimes in the first half of 2022 in Los Angeles is nine fewer than in the previous year, the community has in general seen an increase in dangerous situations. 
"So 2021 was, according to our annual audit on antisemitic instances, a record-setting year. Across the country, in our state, and in Los Angeles," said ADL Los Angeles Regional Director Jeffrey I. Abrams. 
Abrams said nationally, there were 2,717 antisemitic incidents last year, an average of seven per day. 
In 2021 the city of Los Angeles experienced 14 cases of antisemitic assault. Abrams believes the explosion of anti-Jewish feeling came out of pandemic-related isolation. 
"Each and every one of these antisemitic incidents are not just individual attacks against that particular person, but they're message crimes," said Abrams. "Their sentiments send a message of normalization, tolerance and hate directed toward Jewish community members." 
Assaults are increasingly part of hate crimes. 
Nearly 45% of the 349 hate crimes in the city during the first half of 2022 involved an assault. 
The LGBTQ community in Los Angeles more frequently came under attack in the first part of the year. According to police data, there were 18 anti-transgender crimes, up from six the previous year.
How we did it: We examined publicly available LAPD data on hate crimes and hate incidents from Jan. 1, 2010–June 30, 2022. For neighborhood boundaries, we rely on the borders defined by the Los Angeles Times. Learn more about our data here. 
LAPD data only reflects crimes that are reported to the department, not how many crimes actually occurred. In making our calculations, we rely on the data the LAPD makes publicly available. LAPD may update past crime reports with new information or recategorize past reports. Those revised reports do not always automatically become part of the public database.
Want to know how your neighborhood fares? Or simply just interested in our data. Email us at askus@xtown.la.