More lasers being pointed at aircrafts in Los Angeles
Intense light can cause permanent eye damage. Police helicopters often targeted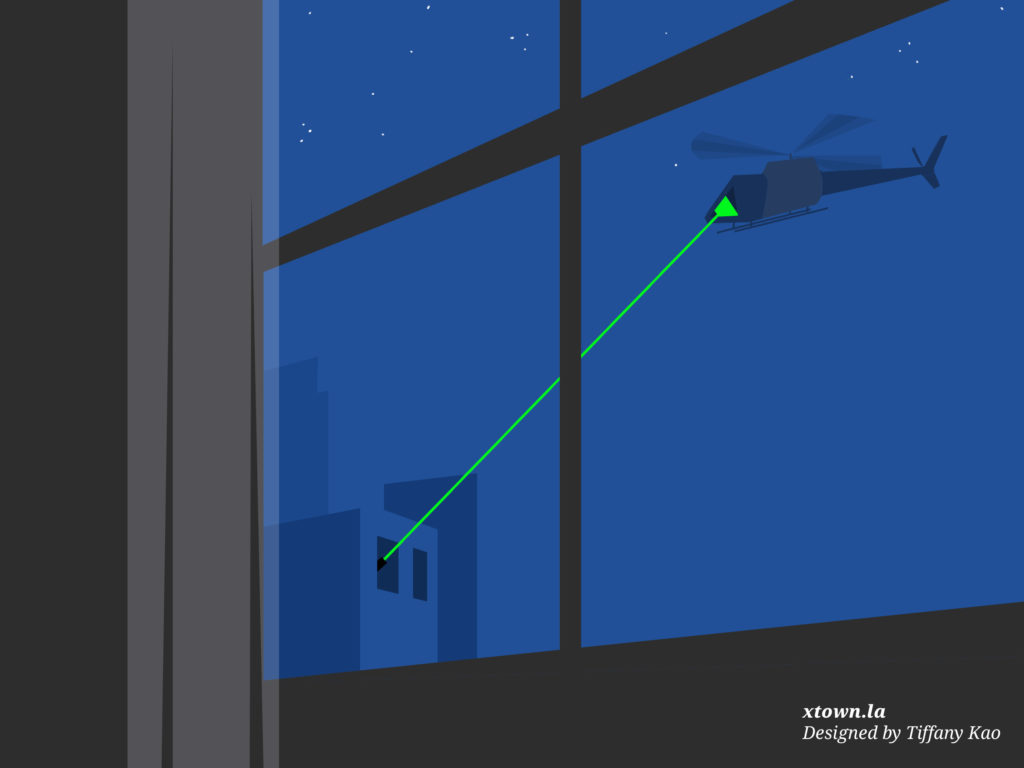 Pointing lasers is a harmless way to play with a cat. But this summer in Los Angeles, a more serious—and dangerous—form of laser pointing has been on the rise.
In July, the Los Angeles Police Department reported 11 victims who had a laser pointed at them while in an aircraft, according to publicly available police data. This is the highest monthly total since at least 2010.
Nine of the victims were identified as a police officer, indicating that LAPD helicopters were targeted. 
The previous monthly high for laser-pointing incidents was in December 2020, when six victims were recorded. 
Pointing a laser at an airplane or helicopter can render the pilot unable to operate the aircraft and can cause permanent eye damage. It can be classified as a federal offense. Since 2012, there have been 86 victims of a laser being pointed at an aircraft in the city of Los Angeles; 57% of the victims were in police helicopters. 
[Get COVID-19, crime and other stats about where you live with the Crosstown Neighborhood Newsletter]
In many cases there can be multiple victims per incident, as more than one individual in an aircraft can be put at risk. According to police data, incidents took place on four separate days in July.
That includes July 25, when a laser was pointed at an aircraft flying near Century Boulevard and Western Avenue in the Gramercy Park neighborhood at 1:50 a.m. Two nights before, an aircraft near Arlington Avenue and Obama Avenue in Exposition Park was targeted at around 12:20 a.m. by someone with a laser.
Seven arrests were made in July for laser-pointing incidents, according to an LAPD press release. The department added that most arrests occurred during "Street Takeovers," in which hordes of cars and spectators block traffic, making room for vehicles to do donuts or other stunts.
A 21-year-old, Xavier Randal, who was arrested for a laser strike during a takeover, has been charged by the Los Angeles County District Attorney's office with assault with a deadly weapon on a police officer. Criminal filings are pending in the other incidents. 
Laser-pointing incidents have been on the rise in recent years. There were four victims in the city in 2019, 10 in 2020, and 12 last year, according to the LAPD. In 2022 there have been 19 victims, already more than any previous year. 
The issue extends beyond Los Angeles. The Federal Aviation Administration reported a record 9,723 incidents across the country last year, a 58.5% jump from the pre-pandemic year of 2019. 
Numbers for 2022 are on track to surpass that all-time high, according to the FAA.
How we did it: We examined publicly available crime data from the Los Angeles Police Department from Jan. 1, 2012–Aug 25, 2022. Learn more about our data here.
LAPD data only reflects crimes that are reported to the department, not how many crimes actually occurred. In making our calculations, we rely on the data the LAPD makes publicly available. LAPD may update past crime reports with new information, or recategorize past reports. Those revised reports do not always automatically become part of the public database.
Have questions about our data or want to know more? Write to us at askus@xtown.la.