Car thefts in Los Angeles continue at a rapid pace
Social media posts and pandemic trends could lead to a record year of missing vehicles
Car thefts in Los Angeles began surging with the onset of the pandemic. Although much of the world has returned to normal, the number of vehicles being stolen remains elevated, in part due to a social media trend. Three-quarters of the way through 2022, the city is on pace to record the highest annual total since at least 2010. 
From Jan. 1–Oct. 1, there were 19,735 stolen vehicle reports in the city, according to Los Angeles Police Department Compstat data. That marks a 13% increase over the 17,460 reports made during the same time period last year. 
Vehicle theft has always been a problem in car-reliant Los Angeles, though total annual numbers decreased in the years before COVID-19, falling to 15,724 reports in 2019. Last year, 24,350 vehicles were reported stolen, according to publicly available LAPD data. 
Every month except February this year has produced more than 2,000 vehicle thefts. The number of cars stolen in the city in the first nine months of 2022 is already more than any single year in the 2010s.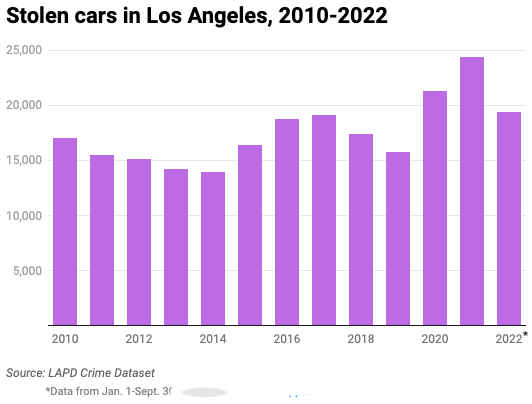 Although more cars are going missing this year than last year, monthly numbers have been relatively close.
Missing models
Through Sept. 30, traffic-filled Downtown recorded 1,014 missing vehicle reports, more than any other neighborhood in the city. Other communities with high counts include Boyle Heights (689 reports) and Westlake (592). 

Los Angeles is not the only place experiencing a rise in car thefts. Cities across the country saw the number of stolen vehicles shoot up early in the COVID-19 era as drivers left their rides parked for weeks at a time. More than two years later, figures have failed to decline. 
According to trade group the National Insurance Crime Bureau, the United States is recording its highest number of stolen vehicles since 2008. An NICB report found that in the first half of this year, nearly half a million cars were taken, equating to an estimated $4.5 billion worth of losses.
In its latest "Hot Wheels Report," the NICB found that vehicle thefts increased nationwide by 8% in 2021. 
Chevrolet and Ford full-size pick-up trucks were the two most frequently stolen vehicles for the second year in a row, according to the report. Honda Civics and Accords are also popular targets for thieves. 
The Kia challenge 
Law enforcement officials in Los Angeles for years have warned that thieves target certain makes and models where they can easily override locking mechanisms and other security features. Older Hondas, as well as GMC trucks and SUVs, have often been cited.  
This year has brought a new wrinkle. What is known as the "Kia Challenge" started in Milwaukee during the summer and went viral. TikTok videos showed thieves breaking into vehicles, disassembling the ignition system and using a USB port to start the car. 
The focus was on older Kias and Hyundais with key-based ignition systems, rather than newer models with push-button starts. Thieves most frequently target Kias made between 2010 and 2021, and Hyundais from 2015 to 2021.
During an August meeting of the Los Angeles Police Commission, LAPD Chief Michel Moore said this has become an issue in the city. He said through mid-August, the number of Kias and Hyundais stolen was 85% higher than during the same period in 2020.
"The challenge is if you're an owner of one of these vehicles," Moore told the commission. "We're asking you to consider the purchase and the installation of a steering wheel lock. While you could also install an after-market alarm system, the steering wheel lock will offer both a visual and physical deterrent to individuals tempted to break your glass or forcibly enter your vehicle."
A stolen car is not necessarily gone forever. Moore has previously said that most vehicles taken in Los Angeles are found within a few days, and often near where they went missing. According to the NICB, when vehicle owners reported a theft within 24 hours last year, 34% were recovered. 
The NICB, the LAPD and other organizations recommend some simple steps to deter vehicle theft. That includes rolling up windows and, when possible, parking in a well-lit area, a secure garage, or a driveway with motion-sensor security lights.
Police officials have also pointed out that sometimes, people place their key fob in a cup holder and forget to take it when exiting their vehicle. This can provide an opportunity for thieves who wander through parking lots and look for easy targets. 
How we did it: We examined publicly available vehicle theft data from the Los Angeles Police Department from Jan. 1, 2010–Sept. 30, 2022, as well as LAPD Compstat data.
LAPD data only reflects crimes that are reported to the department, not how many crimes actually occurred. In making our calculations, we rely on the data the LAPD makes publicly available. LAPD may update past crime reports with new information, or recategorize past reports. Those revised reports do not always automatically become part of the public database.
Want to know how your neighborhood fares? Or simply just interested in our data? Email us at askus@xtown.la.