Graffiti removal in Los Angeles declines after a record number of calls
Certain communities remain hotbeds for tagging, but clean-up crews work fast
When pandemic restrictions eased in 2021, and people came out of their homes, the city of Los Angeles recorded the highest number of graffiti complaints and clean-ups in at least a decade. 
Eradication crews remain busy, but the amount of tagging in the city appears to have gone down. From Jan. 1–Sept. 30, there were 247,791 calls about graffiti removal in the city, according to publicly available MyLA311 data. That represents an 8.9% decrease from the same time period in 2021.
Perhaps most notable are some incremental year-over-year decreases in requests. In the fourth quarter of 2020, there were 95,523 graffiti reports. The same quarter the following year brought nearly 20,000 fewer complaints. 
Similarly, the first quarter of 2021 produced 94,717 clean-ups. That fell to 84,149 reports during the first quarter of 2022. 
Paul Racs, the director of the city's Office of Community Beautification, said that even as graffiti complaints spiked, abatement teams stayed busy.
"Our crews never stopped working during all of it and were actually able to get a lot more graffiti removed because there wasn't as much traffic or as many people on the street," said Racs. 
Many services 
The MyLA311 system allows Los Angeles residents to do everything from ask for the removal of an abandoned vehicle to report a broken streetlight to request that someone pick up the remains of a dead animal. Angelenos can dial a phone number, visit a website or use an app. They are connected with the appropriate city department. 
The MyLA311 figures include not only residents reporting graffiti, but also each time an abatement crew does a cleaning, regardless of whether it was reported or not. Teams are instructed to paint over any spray paint or marker tag they see, and not wait for someone to complain. 
[Get COVID-19, crime and other stats about where you live with the Crosstown Neighborhood Newsletter]
According to Racs, driver self-reports make up most of what the OCB records. 
"Probably 70% of what we do is because our contractors are proactively driving the corridors or know where the hotspots are," said Racs. "Or they get out there and remove graffiti before anybody necessarily knew a wall was tagged."
The remainder of their work comes from the requests that residents submit to the MyLA311 line. 
Once a request is submitted, it is automatically directed to one of 11 different city contractors that work in various geographical areas. The contractor then schedules the removal with their crews. The aim is to clean up all graffiti within 48 hours. The hope is that erasing it quickly prevents more tags from being made.
Neighborhood removals
During the first nine months of 2022, Boyle Heights produced 17,272 graffiti removal reports, the highest number of any neighborhood in the city. Clean-up crews were also active in Westlake (15,145 requests) and Historic South-Central (13,915).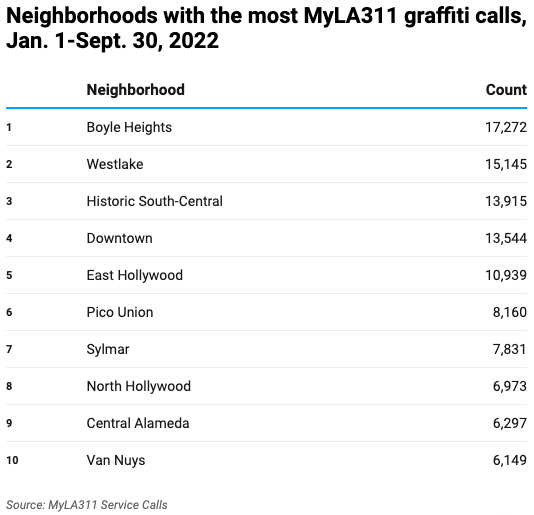 Historic South-Central produced the greatest number of reports in calendar years 2020 and 2021. In the pre-pandemic year of 2019, it had the fifth-highest number of clean-ups. Boyle Heights, East Hollywood and Downtown were in the top three spots that year. 
How we did it: We examined publicly available My311 data during the period of Jan. 1, 2017–Sept. 30, 2022. Learn more about our data here. 
Want to know how your neighborhood fares? Or simply interested in our data? Email us at askus@xtown.la.