Big money flows in the District 11 city council race
Erin Darling finished first in the primary, but Traci Park has more cash as election day approaches
On Nov. 8, residents of Los Angeles City Council District 11 will elect a new representative. Two lawyers, Erin Darling and Traci Park, are facing off to replace Mike Bonin, who is stepping down after two terms.
The Westside district hugs the coast and includes LAX. It encompasses communities such as Venice, Pacific Palisades, Westchester and Brentwood.
In the June primary, Darling finished atop a field of eight candidates with 34.7% of the vote. Park was second with 29%. Since no one achieved a majority, the top two finishers advanced to a runoff.
[More on campaign finance: A look at money raised by District 13 city council candidates]
Darling's victory occurred despite five other people on the ballot raising more money than he did. According to documents filed with the Los Angeles City Ethics Commission, Darling ​​pulled in $83,700. Park raised $387,000, the most of any candidate.
The cash discrepancy is continuing in the runoff. Through Oct. 22, Park had raised $580,000. That is more than double the $228,000 Darling has received.  

Here is how the money breaks down for each candidate. 
Erin Darling
​​Darling, 41, was born and raised in Venice. He graduated from the UC Berkeley School of Law and works as a civil rights lawyer. He is endorsed by Bonin, the most progressive member of the council, and is seeking to appeal to left-leaning voters. Like Bonin, he has opposed enforcement of a city ordinance that prohibits people experiencing homelessness from camping in areas such as near schools and libraries. Park supports the measure.
[More on campaign finance: Big money in the mayor's race]
In the runoff period, Darling has secured approximately 768 donations. Of the $228,000 raised, $91,000, or just under 40%, came from residents inside the city, according to an Ethics Commission dashboard tracking the location of donations. Another $67,000 is listed as being potentially from inside the city. An estimated 19.7% of his funds (about $45,000) came from outside Los Angeles but inside California.  
Residents of ZIP code 90291, which includes Venice, have been his strongest financial supporters, donating $37,859 to his campaign. 
Darling has received 116 donations of $800, which is the maximum individual contribution allowed in a city council contest. 
He has also received 173 donations of $114. That is a key figure for people seeking matching funds, which are provided by the city to candidates who demonstrate an ability to raise a set amount of small-dollar donations from local residents. Each $114 can "unlock" another $684 from the city. So far Darling has received $105,000 in matching funds.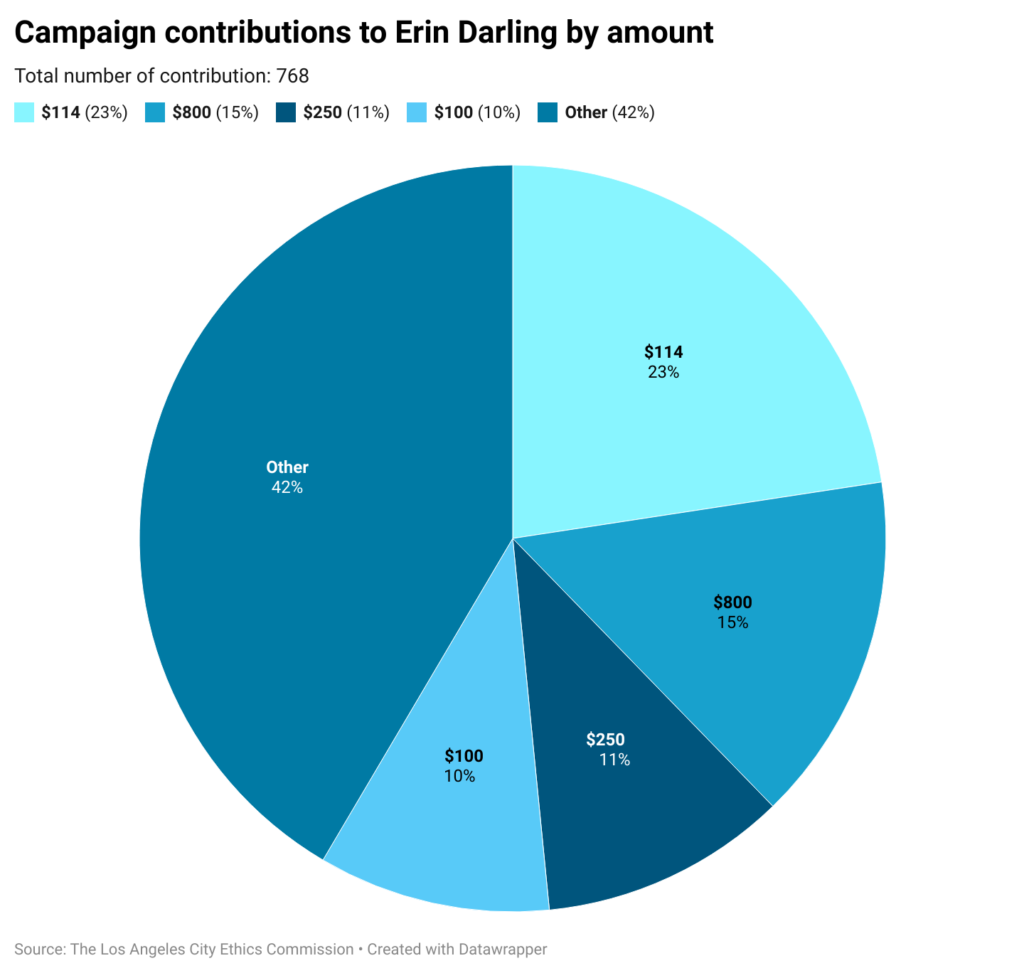 Park, by comparison, has pulled in 50 donations of $114, but has secured the maximum of $201,000 in matching funds. 
Traci Park
Park, 46, also lives in Venice. She has more than two decades of legal experience, including work representing cities and government agencies. 
Park has received donations from almost 1,400 people during the runoff. She too has generated more support in ZIP code 90291 than anywhere else, with $98,259. Another $72,272 came from inhabitants of ZIP code 90272 (Pacific Palisades).  
Not only does Park have more donors than Darling, she has more big donors. According to Ethics Commission filings, an estimated 498 people gave her the maximum $800 during the runoff.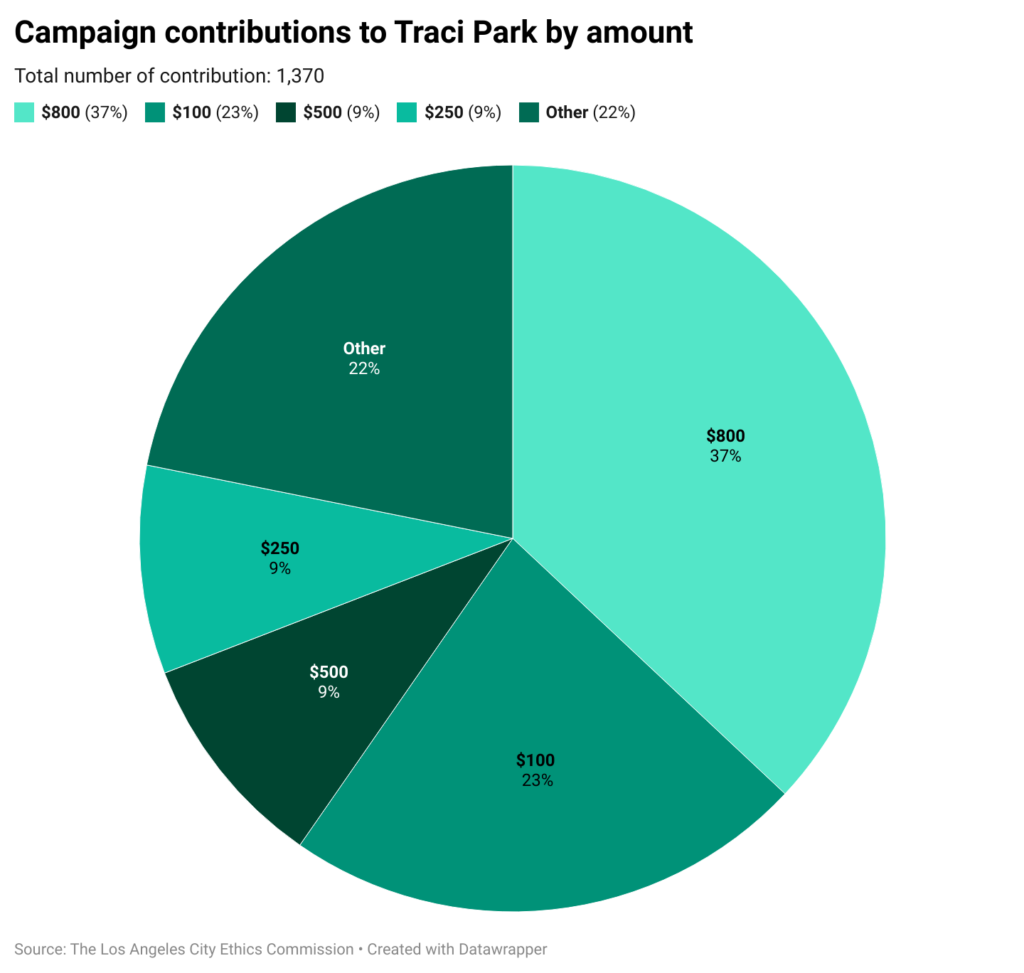 Both candidates have gotten extensive support from the legal sector. Park has received approximately 108 donations from attorneys, and Darling has 110.
According to Ethics Commission filings, approximately 100 contributions to Park have come from people or entities involved in the real estate or development sector. Darling counts a single "real estate investor" in his donor rolls. 
Darling has 22 donations from people identified as a "consultant." Park counts 36 contributions with this designation. 
​​From the outside
The candidates are not the only ones throwing around money for the race. Through Friday, more than $2.3 million in independent expenditures had been spent on the contest. IEs, as they are known, are not subject to maximum donation limits, and political action committees or other organizations can spend as much as they want supporting one candidate or attacking another. However, by law they cannot coordinate with a candidate's official campaign. 
More than $1.37 million has been spent on behalf of Park, with unions representing police officers and firefighters, as well as the California Apartment Association, paying for mailers, web ads and more to promote her candidacy.
IEs have spent $278,000 backing Darling. The largest contributor has been the Southwest Regional Council of Carpenters. 
More than $437,000 has been spent opposing Darling, while $262,000 has been spent to combat Park.
(An earlier version of this article misstated the amount spent against Erin Darling.) 
How we did it: We examined publicly available campaign finance data from the Los Angeles City Ethics Commission in the period up to Oct. 22, 2022. Some of the data on an Ethics Commission dashboard may be updated and not fully reflected in this article. More information about our data is here.
Have any questions? Write to us at askus@xtown.la.