Los Angeles records 382 murders in 2022
Gun violence a driver as homicides decline slightly from previous year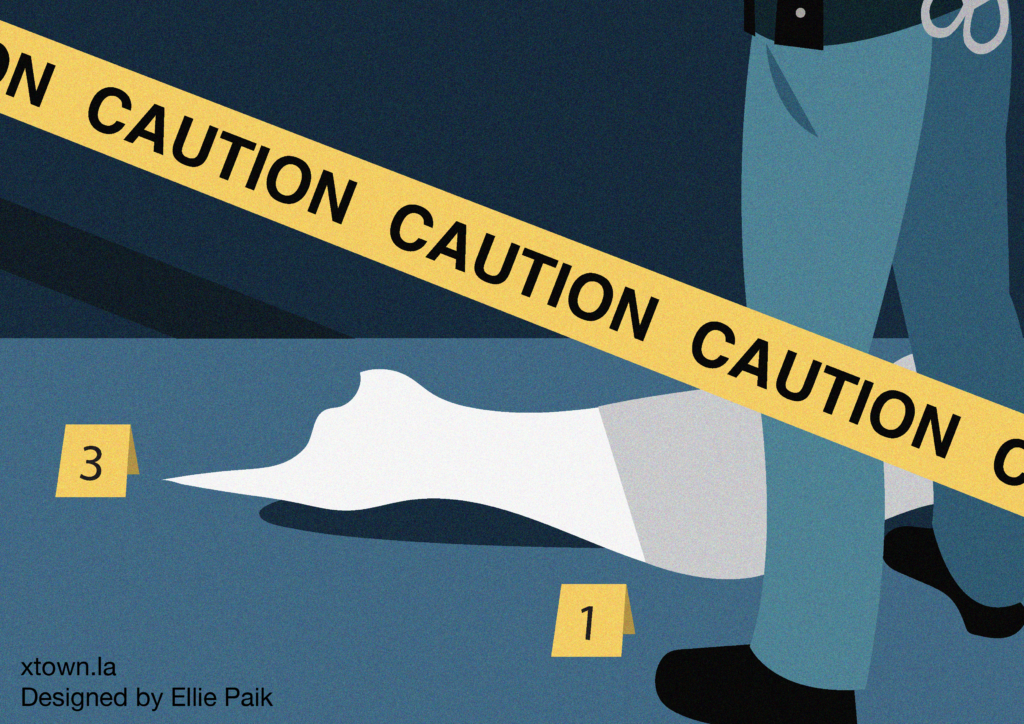 The city of Los Angeles suffered 382 murders last year. It is a death toll that sends a decidedly mixed message.
It is down 3.8% from the 397 homicides recorded in 2021. But the figure, once again driven by gun violence, is still the second-highest annual count in 15 years. It surpasses the 2020 level of 355 killings.
Additionally, it stands in sharp contrast to the entire 2010s, when the city never registered more than 300 murders in a single year.
The count is preliminary, based on LAPD Compstat data tabulated through Dec. 31. It is likely to be revised slightly. The department traditionally presents official homicide figures for the prior year within the first couple weeks of January. 
Like many major metropolitan areas, Los Angeles saw homicides surge with the onset of the pandemic, and the current decline is also playing out in other locations. New York City recorded 485 homicides in 2021. Last year the total fell to 434, according to NYPD Compstat data. 
The 2022 Los Angeles death toll was driven by a virulently violent summer. July and August each brought 44 murders, according to publicly available LAPD data. Only one other time since 2010 had there been more than 40 homicides in a single month.
Yet the latter stage of 2022 produced something of a turnaround. In November there were 25 homicides, followed by 27 killings in December.
According to police data, 284 homicides last year, or 74.3%, involved a firearm. That is consistent with the level in previous years. Police Chief Michel Moore has long decried the level of gun usage in the city, particularly thieves utilizing "ghost guns," untraceable weapons that can be assembled from parts ordered on the Internet or sometimes produced on a 3D printer.
In 44 killings in the city in 2022, the murder weapon was a knife or other sharp object, according to the LAPD. That represents 11.5% of the deaths.
The decrease in homicides came as the total violent crime level was virtually flat. According to Compstat figures, there were 30,853 violent crimes in 2022. That is a 1.1% increase from the previous year. 
Late shift
If there is a silver lining in the grim figures, it is the drop-off in killings and gun violence in the final quarter of 2022. From Jan. 1–Oct. 1, the city recorded 304 murders, the same number as in that timeframe the previous year.
[Get COVID-19, crime and other stats about where you live with the Crosstown Neighborhood Newsletter]
The 78 murder victims in the final quarter of 2022 is down dramatically from 121 in the third quarter last year. 
In both November and December, 83 people were shot in the city. This is a marked decrease from July and August, which each saw 128 shooting victims.
Altogether, 1,330 people were struck by gunfire in the city last year. That represents a 9% decrease from the 1,461 shooting victims in 2021, according to Compstat data. 
Once again in 2022, densely packed Downtown experienced more murder than any other neighborhood in the city. There were 38 homicides in the community. They included the Oct. 1 killing of Du Young Lee, the owner of a store at Olympic Boulevard and Wall Street. The 56-year-old was stabbed to death after confronting a pair of shoplifters. Two 17-year-olds, a male and female, were arrested and charged with murder.
The second-highest neighborhood count was the 19 killings in Boyle Heights. There were 17 murders in Florence.
Risks of homelessness
Life on the streets continues to be particularly dangerous for those lacking permanent shelter. In 2022, a total of 91 people experiencing homelessness were killed in the city. That is up from 85 the previous year. In 2020, 58 unhoused individuals were murdered.
Once again last year, men were far more likely than women to be killed. According to LAPD data, 339 victims, or 89%, were male.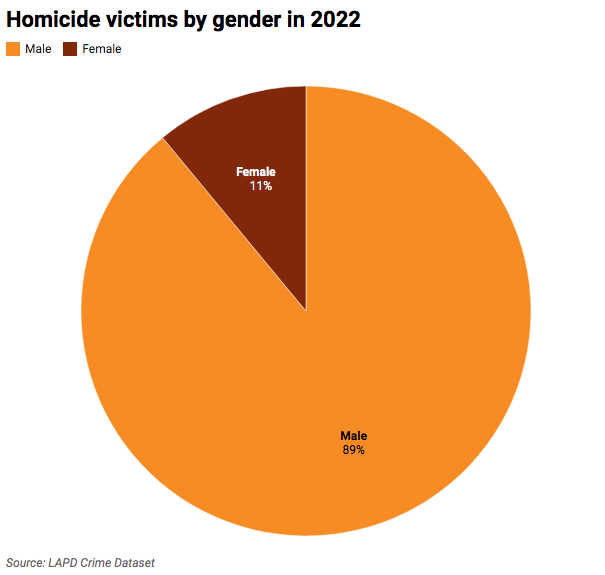 Black people last year were killed at a disproportionately high level. According to police data, 159 murder victims, or 41.1% of the total, were Black. Less than 9% of the population of the city is Black, according to U.S. Census data. Meanwhile, 177 murder victims, or 45.8%, were identified by the LAPD as Latino or Hispanic. Approximately 48.4% of the city's population is Latino. 
White people make up about 28% of the city's population. There were 32 white murder victims in 2022, or 8.3% of the total.
According to police, the youngest murder victim in 2022 was a 5-year-old boy who died on July 25 in East Hollywood. His father, Darwin Reyes, was arrested after the child's body was found in a bathtub. 
The oldest was an 87-year-old white man who was stabbed to death in a home in Del Rey on Feb. 4. 
According to police, as of Dec. 31, 151 adults and 13 juveniles had been arrested in the city's murder cases. In 53.3% of the killings, an investigation is ongoing.
The violence continued nearly through the end of the year. On the evening of Dec. 28, police responded to a call in North Hollywood to find that three men had been shot. According to the LAPD, they were in an alley when they were approached by an individual; it is unclear why the assailant opened fire. A 39-year-old man, Feliz Cruz Menjivar, was pronounced dead at the scene. The suspect fled.
How we did it: We examined publicly available crime data from the Los Angeles Police Department from Jan. 1, 2010–Dec. 31, 2022. We also examined LAPD Compstat data. Learn more about our data here.
LAPD data only reflects crimes that are reported to the department, not how many crimes actually occurred. In making our calculations, we rely on the data the LAPD makes publicly available. LAPD may update past crime reports with new information, or recategorize past reports. Those revised reports do not always automatically become part of the public database.
Have questions about our data or want to know more? Write to us at askus@xtown.la.