5 things to know about COVID-19 this week
Conditions to continue to improve, but state surpasses 100,000 deaths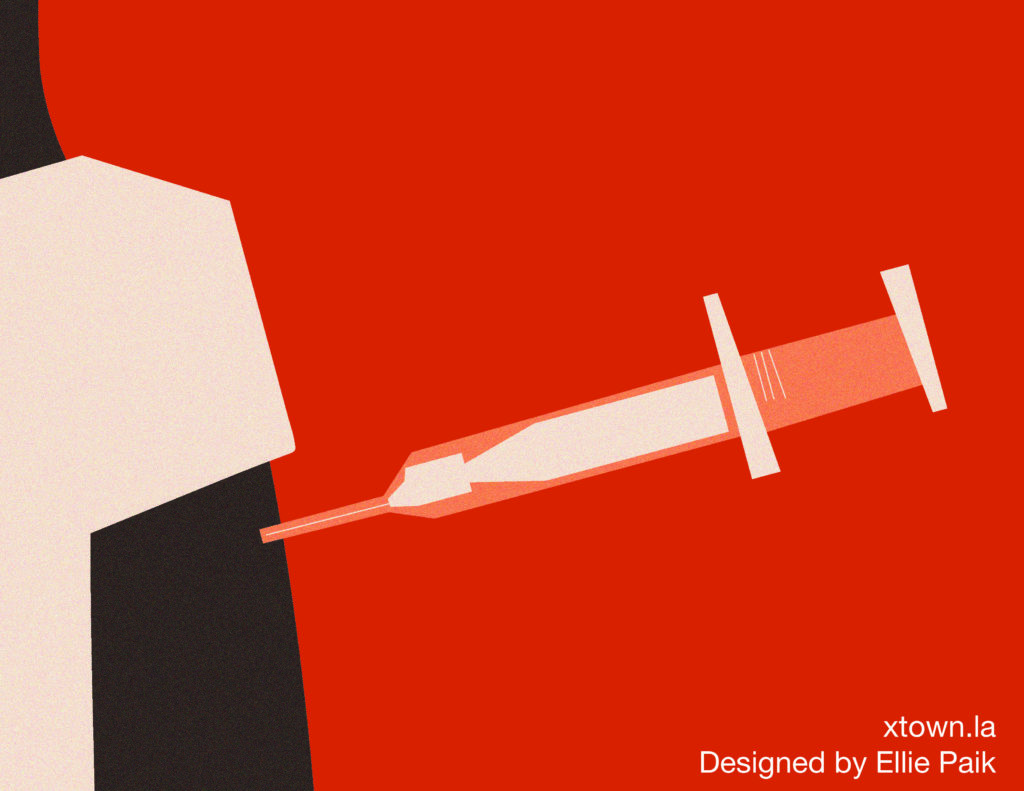 COVID-19 still exists in Los Angeles. That's why each week, Crosstown provides an update on the state of the pandemic. Here is what you need to know.
1) A kind of end game
On Tuesday, Feb. 28, California ended its COVID-19 state of emergency, which had been in effect for the past three years. 
When Gov. Gavin Newsom announced the timeline for this change last October, he explained that the state had built up the necessary resources to continue fighting COVID-19 without the help of its state of emergency declaration. California then experienced an extremely mild winter surge compared with previous years.
[Get COVID-19, crime and other stats about where you live with the Crosstown Neighborhood Newsletter]
What does this mean for California residents? COVID-19 vaccines and testing may eventually be harder to get. Until Nov. 11 at least, Californians with private health insurance, or who have Medi-Cal, can still receive these benefits without any out-of-pocket costs.
The situation is similar in Los Angeles County. On Tuesday, the Board of Supervisors voted unanimously to end the county's local emergency declaration on March 31. This is in response to the widespread availability of vaccines and a dramatic decrease in coronavirus hospitalizations and deaths.
The federal COVID-19 state of emergency is set to expire in May.
2) Stable figures
In recent weeks, many key metrics have held steady, meaning the coronavirus continues to have only minimal impact on the regional healthcare system.
From Feb. 22–28, the Los Angeles County Department of Public Health reported 7,640 new cases. Although this is a jump from the previous week, the figure is consistent with the weekly tally at the beginning of February. This is also 47% below the level two months ago. 
This week, the seven-day average of daily cases remained close to 1,000. On Tuesday, the average stood at 1,091. 
The positivity rate continues to hover in the 5%-6% range, as it did for much of February. On Tuesday it was 6.2%
Again, this is a marked improvement from the worst part of the winter. The county kicked off 2023 with a positivity rate of 15%.
Hospitalizations have spent more than a month in the 600-700 range (and approximately half of those were "incidental cases," people found to have COVID only when admitted for something else and tested). On Thursday, there were 643 people hospitalized with COVID-19. 
This is a stark contrast to the more than 8,000 people hospitalized in January 2021.
3) A decrease in deaths
While other figures stabilize, deaths among county residents are declining. 
From Feb. 22–28, there were 90 COVID-19 fatalities in the county. That marks a 23.1% drop from the previous week.
Naturally, the seven-day average for deaths has declined. On Monday, the average was 12, the lowest figure since Dec. 9. On Tuesday, the seven-day average stood at 13.
4) Fatalities in six figures
On Feb. 23, the California Department of Public Health reported surpassing 100,000 deaths statewide since the start of the pandemic. While many metrics have been improving, this is another tragic reminder of the losses that came with COVID-19.
It is no surprise that California, the nation's most populous state, has reported more COVID-19 deaths than any other state. Los Angeles County, the state's most populous county, has recorded more than 35,000 COVID-19 deaths since March 2020.
As of Feb. 23, the cumulative COVID-19 death rate for California was 256 per 100,000 people. Los Angeles County exceeds this, with a death rate of 362.5. Out of California's five most populous counties, the only one that tops Los Angeles is San Bernardino County.
5) The limitations of long COVID
In recent months, fewer people have been getting severely ill from COVID-19. However, many of those who previously contracted the virus continue to struggle with lingering effects.
On Feb. 24, the County Department of Public Health detailed two studies that examine the effects of long COVID. This consists of fatigue, chronic coughing or brain fog that can last for days, months or even years after infection.
A study conducted by the University of Southern California Pandemic Research Center concluded that more than half of the people who said they had tested positive for COVID-19 reported symptoms consistent with long COVID.
Additionally, three out of four individuals who reported symptoms lasting four weeks or more said that these symptoms limit their daily activities. This includes being able to attend work or school, or even socialize.
The best way to prevent long COVID is to avoid getting infected or reinfected. The bivalent booster has proven to reduce the likelihood of a severe infection, which in turn reduces the risk of developing long COVID.
How we did it: We analyzed coronavirus data related to new cases, deaths, hospitalizations and vaccinations provided by the Los Angeles County Department of Public Health, as well as data from the California Department of Public Health.
Interested in our data? Check out the Crosstown coronavirus interactive map or email askus@xtown.la.