Shoplifting is soaring in Los Angeles
January and February bring highest monthly counts in at least a decade
On Dec. 1 and 2, a crew of shoplifters hit a quartet of shoe and clothing stores in Los Angeles and the nearby city of Paramount. Although $18,000 worth of merchandise was stolen, the items did not stay missing for long. On Dec. 5, the Los Angeles Police Department announced that 18 suspects between the ages of 15 and 20 had been arrested and charged with grand theft. Eight vehicles were impounded.
"All the stolen items have been recovered and returned to the shoe and clothing retailers," the LAPD announced.
Unfortunately for store owners across the region, the arrests had little impact. In January, there were 805 shoplifting reports in the city of Los Angeles, according to publicly available Los Angeles Police Department data. That was the highest monthly total since at least 2010. 
[Get COVID-19, crime and other stats about where you live with the Crosstown Neighborhood Newsletter] 
Shoplifting reports, which were fairly low during the first half of 2022, have been soaring since August. The previous monthly high was the 650 reports in August 2016. That count has been exceeded in four of the last five months.
In February there were 775 shoplifting incidents, according to LAPD data. Although that trails the January total, it works out to an average of 27.7 reports per day, higher than the daily average of 26 in January.
It is unclear what is causing the spike, which takes place as violent crimes, including homicides and shootings, have been declining in Los Angeles.
Closed shops, few thefts
From 2015-2019, Los Angeles experienced approximately 6,500 reports of shoplifting each year. The peak occurred in 2016, when there were more than 7,100 reports. (Counts may be artificially low, as some thefts with low-dollar values are not reported to police).
In 2022, there were 6,414 shoplifting reports. While the count is far above the totals in the pandemic years of 2020 and 2021, when many shops were closed, it is in line with annual figures in the previous five years.
The surge that began in August, and which has accelerated in the first two months of 2023, has brought a wave of thefts to department stores. According to LAPD data, there have been 1,503 shoplifting incidents in department stores in that period. The next highest category is clothing stores, where there were 803 thefts. 
The economic losses have caused some stores to close and required others to make security adjustments. These can include capacity limits, reducing inventory on display, and enforcing trespassing orders. 
Melynda Choothesa, who owns Quirk, a vintage clothing store in Downtown, said some shops set up rope safety barriers in front of the business. This causes customers to wait in line, but lets merchants and staff know who is there.
"Now employees can at least recognize someone who has been a problem in the past or caused safety issues, and can turn them away at the door," said Choothesa, who also serves on the Downtown Los Angeles Neighborhood Council. "It's a lot easier for them to do that than having to deal with the process of getting someone out of the store." 
Although not defined as a violent crime, shoplifting can become dangerous for store owners, employees and customers. Choothesa recalled two troubling incidents in her business with people who ended up in jail. 
"One of them tried to attack me with a shovel and another person tried to flash me in my store," said Choothesa.  
Last year, 5,188 shoplifting incidents in the city were classified as petty theft, in which the stolen merchandise was worth less than $950. In more than 1,200 instances, the value of the goods taken was more than $950. These crimes are classified as grand theft and can be prosecuted as either a misdemeanor or a felony. 
According to the California Penal Code, individuals arrested for petty theft can be charged with a misdemeanor, and can face up to six months in jail and/or a fine of up to $5,000. Yet few if any people face the maximum penalty.
Organized crime rings
Some higher-value shoplifting incidents are carried out by organized crime rings, which resell stolen merchandise. This is a widespread problem in the state. In February, the California Highway Patrol's Organized Retail Crime Task Forces busted a ring that stole more than $1 million worth of Apple products from stores throughout California. 
"Californians deserve to feel safe and businesses deserve to operate throughout the state without fear of theft," Gov. Gavin Newsom said in a Feb. 9 statement.
In 2022, densely packed Downtown was the site of 776 shoplifting reports, more than any other neighborhood in the city. The community with the second-highest count was Canoga Park, with 448 incidents.
Choothesa and others pointed out that Downtown's place at the top of the list should not be a surprise given the sizable population and numerous stores. The community also records more shootings, burglaries and robberies than other Los Angeles neighborhood.
"We have the densest population per square foot in any part of Los Angeles. So we do encounter this problem a lot more," said Choothesa. "If we have a walkable area and it's easy to steal and commit crimes, then of course it's going to happen here."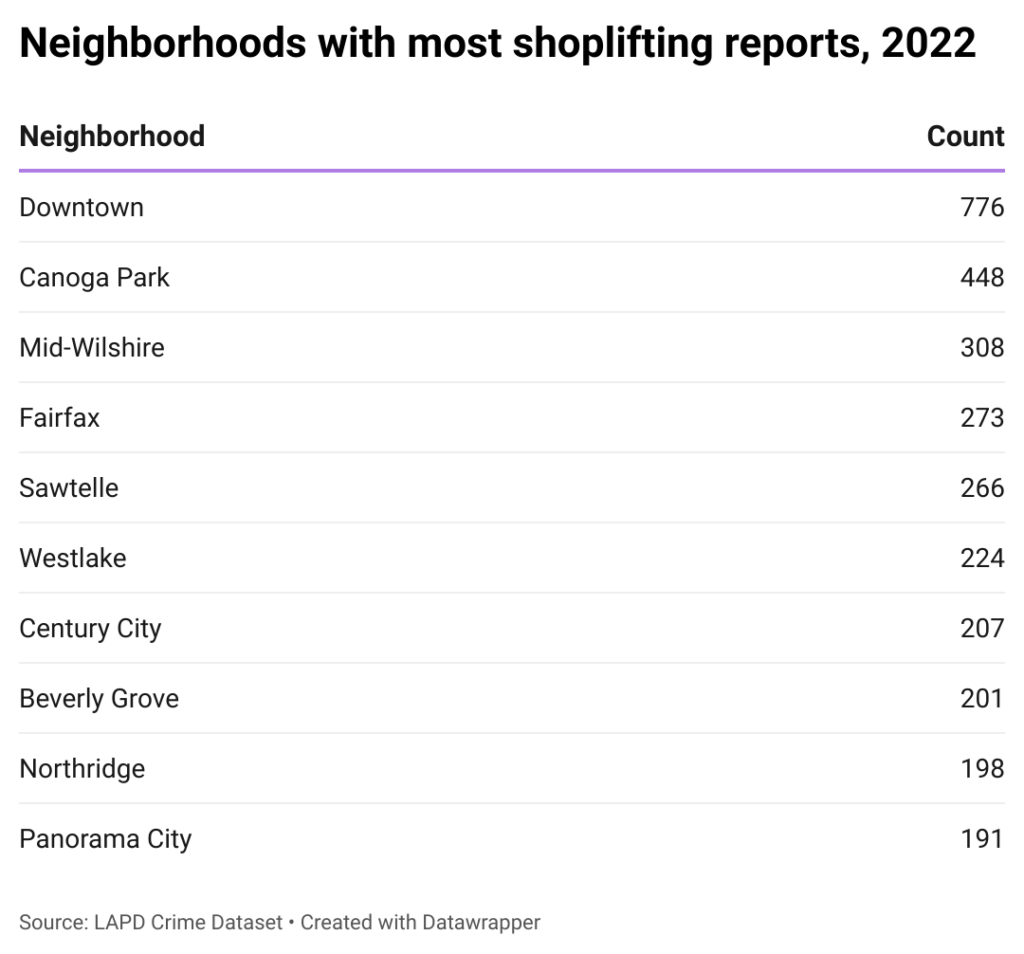 At the mall
The overall numbers do not tell the whole story. When only grand theft shoplifting reports are counted, Canoga Park has more incidents than anywhere else. There were 131 in the neighborhood last year.
Why? Probably because the San Fernando Valley neighborhood is home to the Westfield Topanga & The Village mall. The shopping center contains more than 200 retail outlets and includes prominent designer shops and department stores. The mall's Nordstom outlet was the site of a highly publicized smash-and-grab attack in late 2021.
Beverly Grove (69 reports) and Century City (59) had the next highest grand-theft shoplifting counts last year. As with Canoga Park, both neighborhoods are home to large shopping malls. 
In the first two months of 2023, Downtown again is the site of more overall shoplifting reports than any other neighborhood, with 152 incidents. LAPD data reveals dozens of incidents at addresses that hold a pair of Financial District shopping centers: the FIGat7th mall, and The Bloc.
How we did it: We examined publicly available LAPD data on shoplifting and shoplifting attempts from Jan. 1, 2010–Feb. 28, 2023. For neighborhood boundaries, we rely on the borders defined by the Los Angeles Times. Learn more about our data here. 
LAPD data only reflects crimes that are reported to the department, not how many crimes actually occurred. In Making our calculations, we rely on the data the LAPD makes publicly available. LAPD may update past crime reports with new information or recategorize past reports. Those revised reports do not always automatically become part of the public database.
Want to know how your neighborhood fares? Or simply just interested in our data. Email us at askus@xtown.la.