Illegal dumping reports decline, but plenty of mess remains
Longtime scourge continues to heavily impact San Fernando Valley neighborhoods
The neighborhood of Sun Valley is the site of several dumps, landfills and recycling centers. Although many people patronize the businesses, their presence prompts something undesirable: a scourge of nearby illegal dumping. 
Secluded, winding roads near the 5 Freeway propel a plethora of covert dump-and-runs, said Sun Valley Area Neighborhood Council President Wendy Thum. She noted that contractors and others unwilling to pay disposal fees travel to the area after dark to dispose of concrete, various detritus and occasionally hazardous materials.  
When this happens, Norma Chavez responds. Chavez, the neighborhood council's vice president and a Sun Valley resident of 16 years, regularly uses the city's free MyLA311 system to report dumping. She said that almost every day on the way to her daughter's school she passes by sites with tossed tires, furniture and more. 
"They come and dump stuff, and this is one of the areas where they used to dump loads of dirt," Chavez said. She added that sometimes materials were "just dumped in the middle of the street as people were driving by."
[Get crime, housing and other stats about where you live with the Crosstown Neighborhood Newsletter]
Though Chavez said it seems like she is reporting more dumping than ever, citywide MyLA311 reports (whether via phone, the MyLA311 website or an app) have fallen from pandemic highs. There were a record 128,956 reports in 2020, propelled in part by people cleaning out their homes and, with stringent mingling restrictions, being hesitant to bring old items to dumps or donation centers. Some material wound up dropped on street corners or elsewhere.
Calls have decreased since then. Last year there were 99,936 reports, according to publicly available MyLA311 data.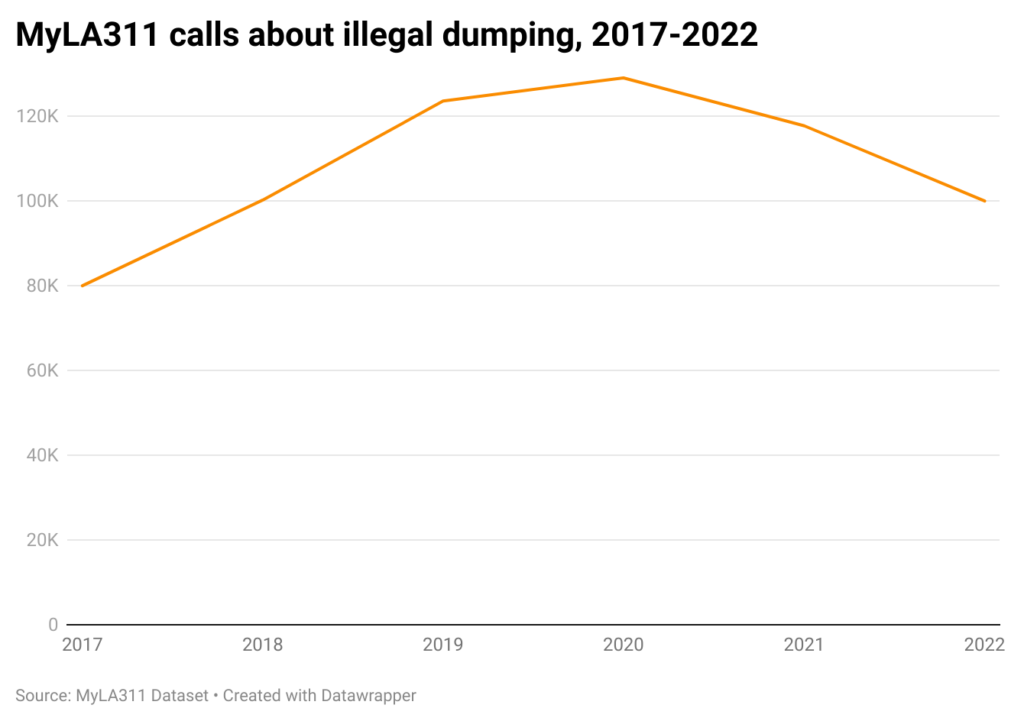 In the first five months of 2023, there were 35,743 dumping reports to the MyLA311 system. That represents a 19.3% decrease from the same period last year.
It is also 27.2% below the count from Jan. 1–May 31, 2020. 
Monthly counts have been particularly low since late last year. From November 2022 through April, there were fewer than 7,200 illegal dumping reports each month. The last time the count had fallen below 7,200 before that was in April 2018.
However, calls increased last month. May brought 8,363 illegal dumping reports.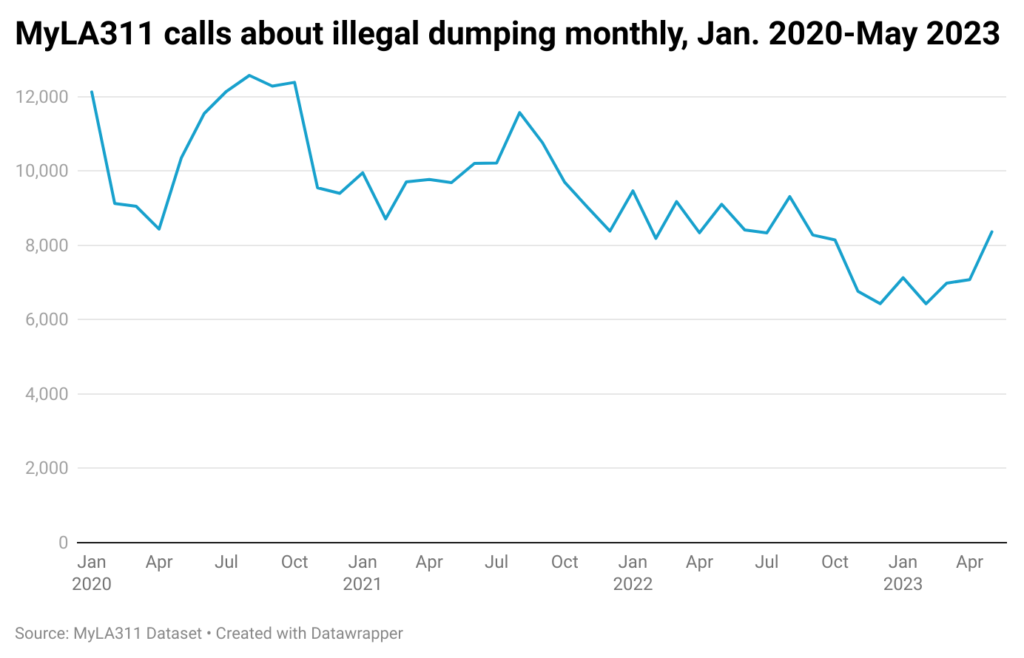 Limited repercussions
Dumping of materials in public space is a longstanding issue in Los Angeles. In 2021 then-City Controller Ron Galperin published a report titled "Piling Up: Addressing L.A.'s Illegal Dumping Problem." It included potential strategies to combat the practice, among them boosting oversight of commercial trash customers and increasing fines for those caught dumping.
However, the city has been unable to consistently crack down on the practice. A recent NBC4 report speculated that the current fine structure, with penalties as low as $250, does little to dissuade those who dump illegally, and that even when caught they view the citation as a cost of doing business.
Dumping happens in neighborhoods across the city, including alleys in Downtown. But the San Fernando Valley in particular continues to be plagued by mounds of abandoned trash and construction debris. 
According to MyLA311 data, there were 4,426 illegal dumping reports in Van Nuys from Jan. 1, 2022–May 31, 2023, more than any other neighborhood in the city. The next highest count in that 17-month period was the 3,964 calls in Sun Valley. Pacoima and Panorama City also ranked near the top.
Though Thum said the city is responsive about clean-ups, she feels that Sun Valley and surrounding neighborhoods are "definitely underserved by the city in general." She is concerned about the public health effects of illegal dumping, which include putting particulate matter into the air. 
Sun Valley residents, she said, "want good things for their families. They want clean air.… We're mad about this going on and we want to address it."
Although MyLA311 calls about dumping have fallen recently, by another indication the situation is worsening. Elena Stern, a spokesperson for the L.A. Sanitation and Environment department, said that in January and February, city crews picked up 36% more material by weight than they did in that two-month period in 2022. 
In a statement to Crosstown, Stern wrote that data gathered by LASAN's CleanStat program identifies locations that don't regularly report illegal dumping—often poorly lit or industrial areas. LASAN deploys teams to collect unreported dumped items and is increasing its efforts, Stern said. 
"LASAN and the City take this problem very seriously, and are dedicating more resources than ever before to address it," Stern wrote. "We have additional teams now that are dedicated to the removal of illegal dumping, both in responding to service requests and proactively, and have shortened the removal turnaround time significantly."
How we did it: We examined publicly available MyLA311 service data from Jan. 1, 2017–May 31, 2023. For neighborhood boundaries, we rely on the borders defined by the Los Angeles Times. Learn more about our data here. 
Want to know how your neighborhood fares? Or simply just interested in our data? Email us at askus@xtown.la.