Los Angeles sees major drop in murders
Homicides down 21.6% in first half of 2023; gun violence declines after pandemic spike
In 2021, 402 people were murdered in the city of Los Angeles. It was the deadliest year since 2007.
The count fell in 2022, but not by much. There were 382 homicides.
[Get crime, housing and other stats about where you live with the Crosstown Neighborhood Newsletter]
This year, a notable turnaround is underway. From Jan. 1–June 30, there were 145 murders in the city, according to publicly available Los Angeles Police Department data. That represents a 21.6% decrease from the 185 homicides in the same period last year.
While killings do not follow an even pace—homicides tend to rise during the summer—Los Angeles is on course to drop below 300 annual murders for the first time since the 258 killings in 2019. 
"We continue to see success in the reduction of violent crime and overall property crime," Police Chief Michel Moore said during the June 27 meeting of the Los Angeles Police Commission.
A key factor in the downturn is a decline in gun violence. From Jan. 1–June 30, the city registered 585 shooting victims. Last year at this point the number was 718. 
The first six months of 2023 brought 1,374 reports of shots fired. That is a 17.8% decline from the 1,672 in the same period last year.
Pandemic spike
The current figures are a dramatic shift from the COVID-19 era. When the pandemic began, Los Angeles, like many metropolitan areas, saw a surge in murders and other violent crime. Chicago in 2021 suffered 797 homicides, a 60% jump from 2019. New York City went from 319 killings in 2019 to 488 in 2021.
Moore attributed the rise in Los Angeles in part to the prevalence of ghost guns, which are untraceable and can be assembled with parts ordered off the Internet. 
While violence is now trending down, things are not back to pre-pandemic levels. For example, Moore told the Police Commission that although robberies in the first half of 2023 declined 16.6% from the same period in 2019, robberies involving firearms have risen by 11%.
Additionally, the number of people shot in the first six months of 2023 is 15.6% higher than in the comparable period four years ago.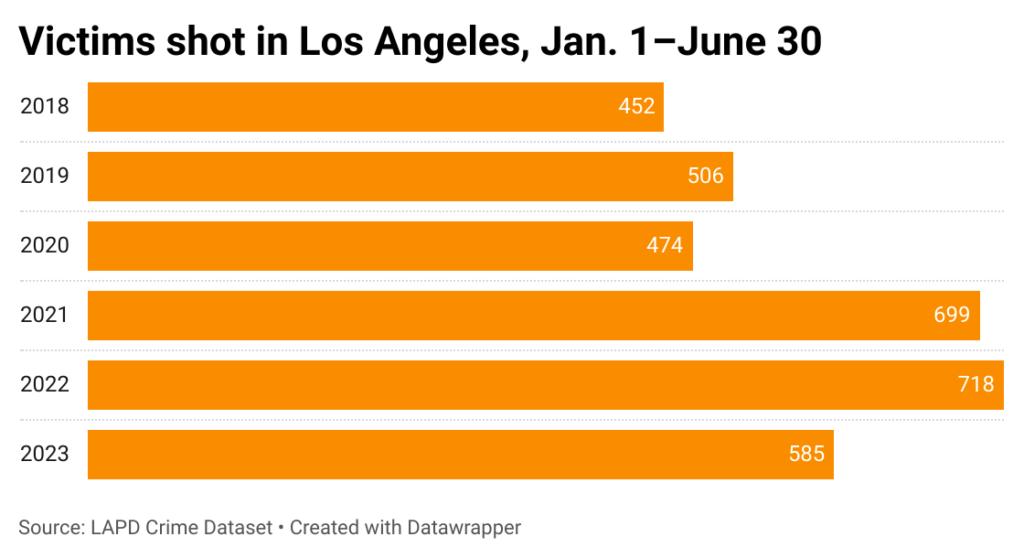 "The numbers of guns in the street are still higher than what we had pre-pandemic," Moore stated during the Police Commission meeting. "It's impacting us in regards to the number of shooting victims [and] our homicides."
Indeed, there remains a level of unpredictability with homicides. In May, there were 15 murders in the city, the lowest monthly count in three years. That was followed by 34 killings in June.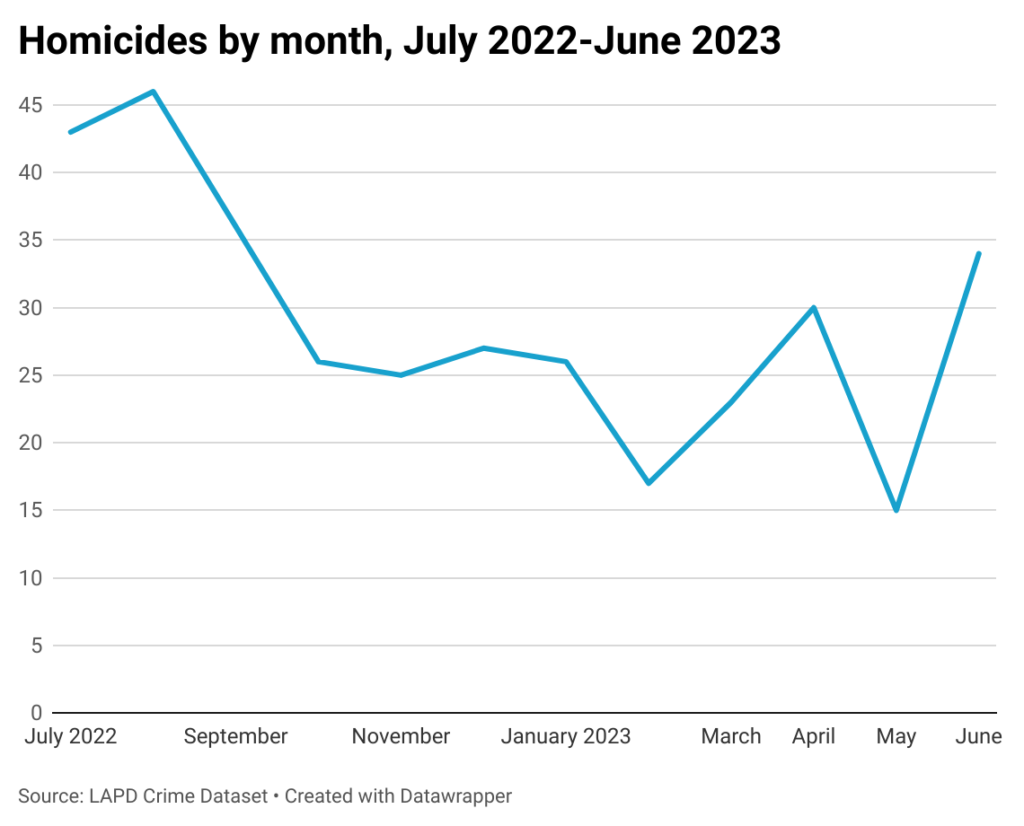 It has been far worse. In the late 1980s and early '90s, Los Angeles was notorious for homicides tied to gangs and the drug trade. In 1992 the city recorded more than 1,000 murders. Across the entire county that year, 2,589 people were slain.
Numbers then began decreasing, and in the entire 2010s the city never registered more than 300 homicides in a year.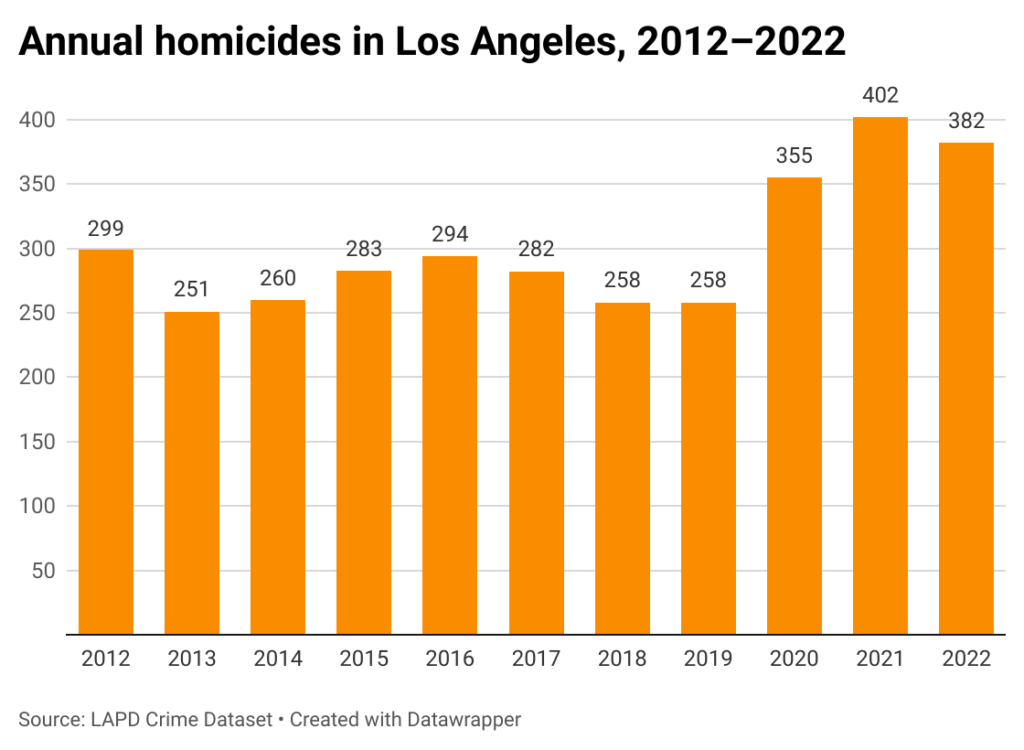 A look at victims
Some neighborhoods suffer far more than others. There were 17 murders in Downtown in the first half of the year, more than any other community. The next highest count was in Westlake, with 11.
There is also a significant gender divide. In the first half of 2023, 84% of the homicide victims were male. Just 23 of those killed were female.
Black people continue to be killed at a highly disproportionate rate. Although only about 8.6% of the residents of the city are Black (according to U.S. Census data), they made up nearly 40% of the murder victims from Jan. 1–June 30.
Approximately 41.5% of homicide victims were identified by police as Hispanic. The city is approximately 48% Latino. White people comprise about 28% of the population; according to police data, about 9% of those killed were white.
As has long been the case, guns are the leading murder weapon. According to police data, firearms were used in 75% of the killings in the first half of 2023. Knives or other sharp objects were employed 11.6% of the time.
Some of the killings generated outsized attention. In January, three women were murdered outside a party in Benedict Canyon. In May, three men were arrested; law enforcement officials said the deaths stemmed from a gang dispute that originated in Chicago.
Another victim was 32-year-old Anthony Rivas, who was working as a security guard at an underground casino in the Hollywood Hills. He was shot to death on May 31 during a botched robbery. Four men were arrested the following week.
According to police data, the youngest person killed this year was 13-year-old Marco Murillo Jr., who was stabbed to death in Downtown on Jan. 11. A juvenile was arrested. The oldest homicide victim was a 70-year-old Black woman. She was killed in a knife attack in Hyde Park on June 13. An adult was arrested.
How we did it: We examined publicly available crime data from the Los Angeles Police Department from Jan 1, 2011–June 30, 2023. We also examined LAPD Compstat data. Learn more about our data here.
LAPD data only reflects crimes that are reported to the department, not how many crimes actually occurred. In making our calculations, we rely on the data the LAPD makes publicly available. LAPD may update past crime reports with new information, or recategorize past reports. Those revised reports do not always automatically become part of the public database.
Have questions about our data or want to know more? Write to us at askus@xtown.la.