After torrential winter rains, water waste calls dry up
Reports about leaky sprinklers and other liquid misuse plummet in 2023
It is easy to forget after a winter of soaking rains, but last year at this time, Los Angeles residents were hearing urgent calls not only to conserve water, but to speak up about water waste. A Los Angeles Department of Water and Power public relations campaign urged residents to report people who watered their lawn on non-permitted days, or call in about leaky faucets or sprinklers. 
The campaign worked, and reports of water waste surged to historic highs. Monthly complaints to the city's MyLA311 system were double or even triple the same time the previous year, peaking at 618 calls in August. That was up 257% from the same month in 2021, according to publicly available MyLA311 data. 
This year, things have again changed dramatically. Why? Blame the eighth wettest season in 145 years. 
[Get crime, housing and other stats about where you live with the Crosstown Neighborhood Newsletter]
From January to March, there were a total of 22.61 inches of precipitation at the National Weather Service's measuring location on USC's University Park campus. The same period in 2021 produced 1.66 inches. 
Though local leaders warned that the heavy rains were not a cure for the decade-long drought, Angelenos hit the brakes on reporting water waste. 
MyLA311 reports (by phone, website or an app) declined for six consecutive months starting last September. Although numbers have since risen, they remain well below the 2022 highs. (The DWP has a separate tally for reports made directly to the utility.)
Angelenos reported water waste 231 times in June, a 60% decrease from the same month last year.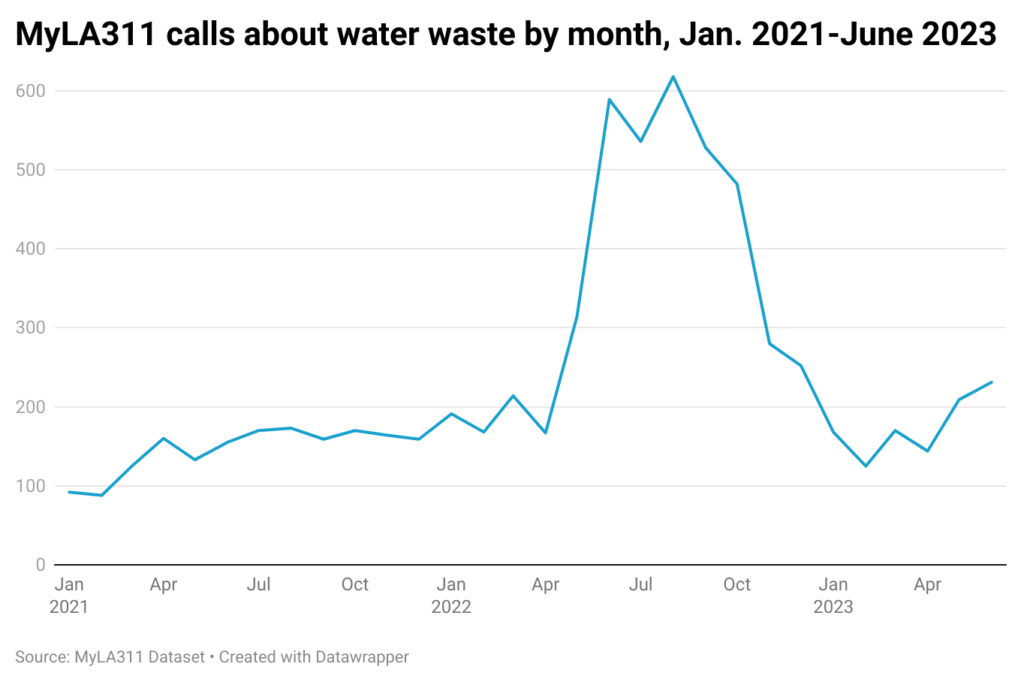 Changed behavior
LADWP spokesperson Bowen Xie said the department continues to encourage the reporting of waste, but the early year downpours have altered behavior. 
"Many customers completely shut off their sprinklers during the wet winter, and with so much rain, waste was likely significantly lower," Xie wrote in an email to Crosstown. "The key takeaway is that when called to conserve and reduce water use and waste, Angelenos responded incredibly well."
The region's water usage did, in fact, fall, though initially not as much as was hoped. In 2021, Gov. Gavin Newsom asked Californians to decrease their water consumption by 15%. In June 2022, Angelenos used 9% less water than in the same month the prior year, according to the DWP. 
The downward trend in water consumption is continuing. According to Xie, LADWP customers consumed 101 gallons per capita per day this June, 10% less than last June's 112 gallons.
Though water waste reports are down, a small number of neighborhoods continue to account for outsized chunks of MyLA311 calls. For example, from Jan. 1–June 30, there were 228 complaints in Brentwood, representing 22% of all reports during the period. Mid-Wilshire recorded the second-highest volume in this timeframe, with 132 calls. 
An examination of MyLA311 data indicates that a few squeaky wheels may be regularly reporting their leaky-hose neighbors. For example, in the month of June, there were 16 reports about water waste at a residence on the 700 block of Westgate Ave. in Brentwood. Another Brentwood property, this one on the 1000 block of S. Barrington Ave., sparked 13 complaints. 
How we did it: We examined publicly available MyLA311 service data from Jan. 1, 2018–June 30, 2023. For neighborhood boundaries, we rely on the borders defined by the Los Angeles Times. Learn more about our data here. 
Want to know how your neighborhood fares? Or simply just interested in our data? Email us at askus@xtown.la.