Some neighborhoods see spikes in burglaries, even as citywide totals stay steady
Organized 'burglary tourism' rings from South America can result in big losses
In the early morning hours of July 24, a burglar broke into an apartment storage unit on the east side of Los Angeles and walked away with property worth tens of thousands of dollars.
Lenora Claire, one of the victims, recalled how, the next morning, her husband saw their burglarized unit. She said scores of valuable collectibles had been stolen, including a vintage 1986 Nintendo video game set.
[Get crime, housing and other stats about where you live with the Crosstown Neighborhood Newsletter]
For Claire, a noted anti-stalking advocate, the "deeply unsettling" security breach felt like an affront to her safety.
"It isn't just the property that's being taken. It's what this means about how easy it is for them to get into our home," Claire said. "That's what's really scary."
Claire's experience is, unfortunately, common. Last year there were 14,915 burglaries in the city, according to publicly available Los Angeles Police Department data. That marked an increase from the pandemic years, but is below the 16,665 incidents tabulated in 2017.
Monthly totals tend to fluctuate in a relatively narrow range. The 1,183 reports in June was 8.6% below the level in the same month last year (1,294 incidents), and 12.5% above the count in June 2019 (1,052). 
Neighborhood swings
The overall figures belie some larger swings. Across the city, there are flare-ups as thieves target homes in certain neighborhoods, then move on to another area as attention is raised. Some communities experience months-long spikes in break-ins. 
For instance, for more than two years, Granada Hills never registered more than 20 burglary reports in a single month. Numbers began rising late last year, and in March and April, the community recorded 31 and 32 reports, respectively. 
Another San Fernando Valley neighborhood has witnessed a similar trend. Encino recorded 44 burglaries in November and 60 in December—the monthly total had not exceeded 36 in the previous three years. 
There were 23 burglary reports in Mar Vista in December—more than the 22 incidents in the previous three months combined. Sun Valley counted 37 burglaries in January. In the previous two-and-a-half years, the monthly high was 27.
The spikes in some neighborhoods can be driven by organized groups of thieves from South America, LAPD Chief Michel Moore said during the June 27 Police Commission meeting. They are sometimes referred to as "Chilean bandits," he noted, though rings hail from other countries, too, 
"These are individuals from Chile that are traveling here for the sole purpose, we believe, on tourist visas, to burglarize areas of the city, particularly areas that are upper scale, more expensive homes," Moore said. "As these hits begin, what we oftentimes see is that they begin to frequent that area with greater intensity."
Moore added that losses from the burglaries can climb into the hundreds of thousands of dollars. Media reports have noted that in some instances, the rings use heavy-duty tools to loot bolted-down or wall-mounted safes.
The groups, part of a phenomenon dubbed by authorities as "burglary tourism," operate in other places, too. ABC7 reported that more than 140 people tied to an international crime ring have been charged with burglary and robbery in Orange County in the past year. In April, a Cincinnati TV station reported on "Chilean burglary cells" active in the city. 
In Los Angeles, burglars often target single-family homes. According to police data, 37% of burglaries in the city from Jan. 1–June 30 occurred in those residences. 
In the first six months of 2023, Downtown, with its tens of thousands of residences, recorded 397 burglaries. The community with the second-highest number of incidents was Sherman Oaks (221 reports).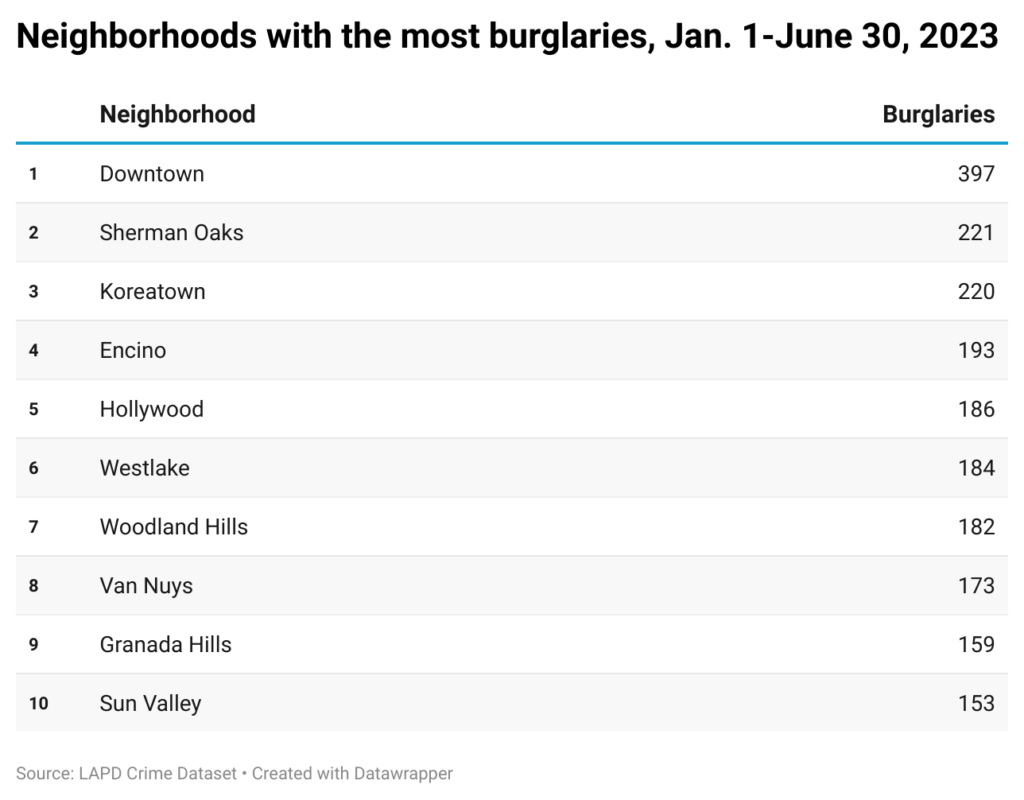 Moore said the LAPD is working with law enforcement agencies from Ventura to San Diego to address the spikes in burglaries. He asked members of the public to take common-sense anti-crime steps such as locking their doors and forming neighborhood watch groups. 
How we did it: We examined publicly available crime data from the Los Angeles Police Department from June 1, 2018–June 30, 2023. We also examined LAPD Compstat data. Learn more about our data here.
LAPD data only reflects crimes that are reported to the department, not how many crimes actually occurred. In making our calculations, we rely on the data the LAPD makes publicly available. LAPD may update past crime reports with new information, or recategorize past reports. Those revised reports do not always automatically become part of the public database.
Have questions about our data or want to know more? Write to us at askus@xtown.la.