Crimes against street vendors reached new high in July
Recent robberies of taco trucks and stands drew attention, but incidents happen across Los Angeles
Angelenos were stunned last month by news reports of thieves robbing six taco trucks and stands on a single night in a 3-hour period. Some victims lost hundreds of dollars, and others had their cell phone stolen. The string of attacks on Aug. 16 happened in Downtown, Hollywood and other neighborhoods. 
It turns out, unfortunately, that has not been an isolated experience this summer.
[Get crime, housing and other stats about where you live with the Crosstown Neighborhood Newsletter]
According to publicly available Los Angeles Police Department data, there were 43 reports in July of a street vendor being the victim of a crime, including 25 robberies. That 43 incidents is the highest monthly total since at least 2010, and more than double the 20 reports in June. The previous high was the 35 reports in June 2022.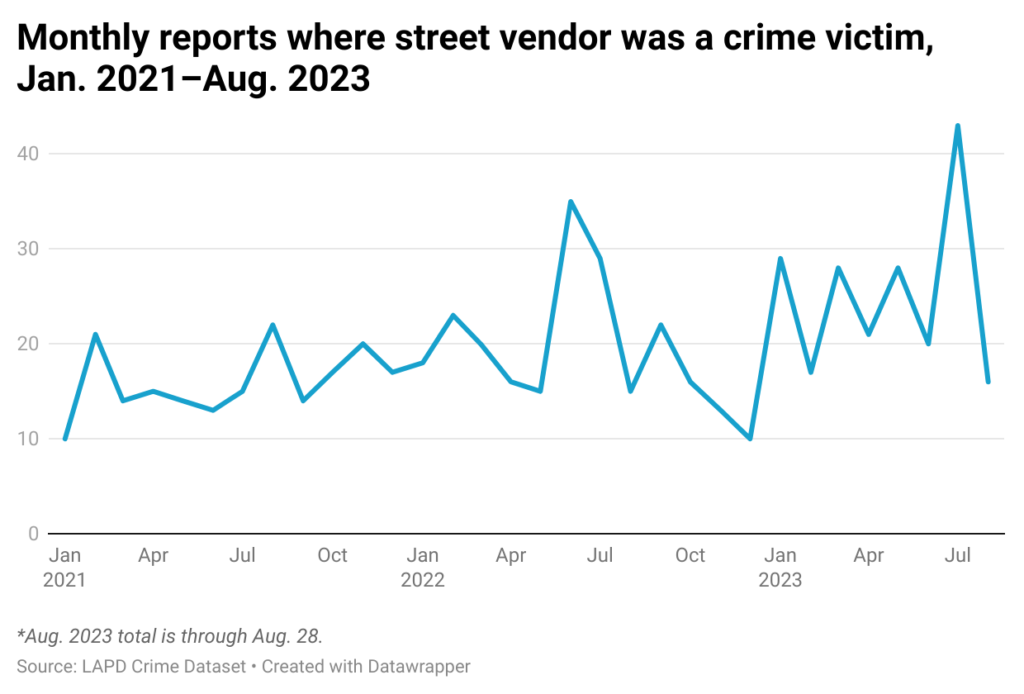 From Jan. 1–Aug. 28, there were 202 reports of crime against a street vendor in the city. That represents an 18% increase over the 171 incidents in the same period last year.
This year's total is already more than the number of reports in the entirety of 2021. It puts the city on pace to surpass the previous annual high of 232 incidents, recorded last year.
LAPD figures are known to be an undercount, with some victims hesitant to report crimes due to their immigration status or a language barrier. Others may fear retribution from gang members who "tax" vendors operating in their neighborhoods.
Those who work with street vendors know this is an enduring problem.
"These are issues that have been happening for a very long time," said Estefanía B. López Pérez, a senior policy associate at Inclusive Action for the City, which advocates for street vendors. 
Still, Pérez thinks legislative efforts to decriminalize street vending, and help vendors obtain health permits, is helping drive up the number of people willing to report crimes.
"There's more eyes on sidewalk street vending, especially after the two legislative campaigns," Pérez said. "We're seeing more and more [reports], and it might be because folks feel empowered to take out their phones."
Rise in robberies
From Jan. 1–Aug. 28, there were 29 reports of a vendor being a crime victim in Westlake, more than any other area in the city. The neighborhood is known for a bustling street vending scene in MacArthur Park and at a Metro station. The next highest count was in the South Los Angeles community of Green Meadows.
Not only have overall crimes against street vendors increased, but so have the number of violent incidents. According to police data, vendors were the victim of a robbery 88 times from Jan. 1–Aug. 28, or 43.6% of the total. Last year robberies accounted for 32% of the total.
There have been 10 robberies in Green Meadows this year, and another nine in Florence. 
The spate of crimes has garnered the attention of law enforcement leaders. At the Aug. 29 meeting of the Los Angeles Police Commission, LAPD Chief Michel Moore said that, with the cooperation of some of the Aug. 16 robbery victims, a man and a woman were arrested. The man, identified as Stayshawn Stephens, faces 12 felony counts of second-degree robbery and is being held on $1.3 million bail. Moore said the investigation is continuing.
In announcing the charges against Stephens, Los Angeles County District Attorney George Gascón said, "The ongoing violence targeting street vendors will not be tolerated."
Pérez said that in response to the spate of crimes, some vendors are making efforts to operate together in an organized fashion, rather than working alone in less visible spaces.
Still, troubling incidents continue. On Saturday a man selling T-shirts out of his truck in South Los Angeles was robbed by a group of four men. The robbery, caught on video, happened in front of the vendor's 8-year-old daughter. The thieves stole $2,200.
How we did it: We examined publicly available crime data from the Los Angeles Police Department from July 1, 2010–Aug. 28, 2023. Learn more about our data here.
LAPD data only reflects crimes that are reported to the department, not how many crimes actually occurred. In making our calculations, we rely on the data the LAPD makes publicly available. LAPD may update past crime reports with new information, or recategorize past reports. Those revised reports do not always automatically become part of the public database.
Have questions about our data or want to know more? Write to us at askus@xtown.la.