The Precipitous Rise of 'Porch Pirates' in LA
Reports of Stealing Packages Off of Doorsteps Has Risen Sixfold Since 2010
Consumers love the convenience of online shopping, where your purchases are dropped right on your doorstep. And, apparently, so do thieves. Instances of "porch pirates," the term for people who steal delivery boxes from right in front of your house, has been going through the roof recently. 
From 2010 to 2017, Los Angeles Police Department crime data shows a 581% increase in reports of packages being swiped off of doorsteps. 
This trend continues into this year, too. As of July 2018, there have been 900 of these incidents. At this point last year, there were 558.
As with most crime, it is likely that a majority of these incidents go unreported to the police. The database we use from the Los Angeles Police Department only records reports that have been logged by police officers. And some Angelenos complain it can be difficult to get the police take note.
Josh Fisher, a resident of Eagle Rock, says police often have their hands full with more serious crimes and can sometimes be reluctant to file a report for a minor offense like petty theft. "Even when you have clear HD video evidence the police don't want it," he says.
In his neighborhood, he says, residents play a cat-and-mouse game with the thieves. "People would just follow delivery trucks around and pick up the packages as soon as they hit the ground," says Fisher. "Our neighborhood ended up equipping ourselves heavily with cameras and technology…which has tended to work."
He adds, "The best one can do is get video evidence of the face, the theft, and the license plate. The police might act on a license plate."
Even with the added measures, don't expect the crime to subside. That's because Americans are getting more and more of their goods delivered. Adobe estimated that last holiday season deliveries of goods ordered online totaled more than $100 billion, an increase of almost 14%. 
Fisher believes a general rise in online purchasing, coupled with the improved skill of thieves who are attracted by the increasing wealth moving into gentrifying neighborhoods, has led to increased theft.
The LAPD did not respond to several requests about the run up in package thefts.
Amazon has tried to combat porch pirating with an array of services, like in-car delivery – a system where users can have packages delivered directly to their car trunks to avoid them being left outside.
Even then it might not be safe. One of the fastest rising crimes in Los Angeles in recent years has been thefts from cars.
From our data, the neighborhood with the greatest number of package thefts reports between January and July was Koreatown:
This beat out last year's frontrunner, Sherman Oaks: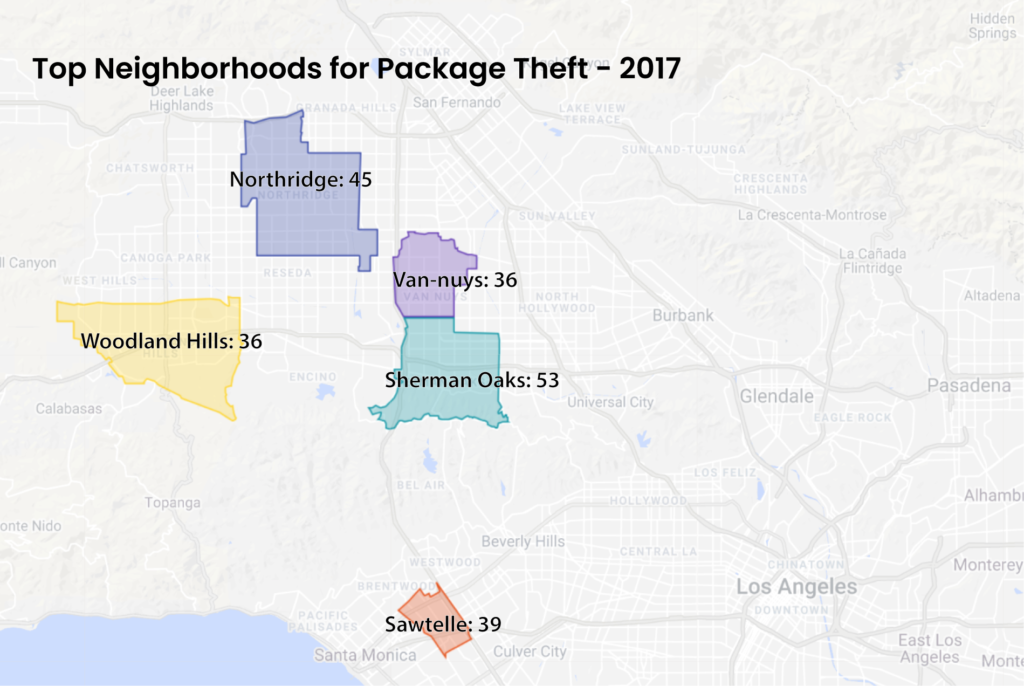 Here are the neighborhoods that have seen the sharpest rise in package theft since 2015. (Through the rise has been precipitous, it starts from a low baseline.)
| | | | | | |
| --- | --- | --- | --- | --- | --- |
| Neighborhood | 2014 | 2015 | 2016 | 2017 | % change |
| University Park | 1 | 10 | 6 | 20 | 1900% |
| Sawtelle | 2 | 13 | 32 | 39 | 1850% |
| Mid City | 1 | 10 | 7 | 16 | 1500% |
| Baldwin Hills/Crenshaw | 1 | 4 | 5 | 13 | 1200% |
| Pico Robertson | 1 | 4 | 8 | 11 | 1000% |
See more on how we organize our crime data here
Check out our latest crime data story here. 
Still have questions? Want to know the stats for your neighborhood? Write to us at askus@xtown.la 
Stay safe out there!