How coronavirus is affecting Los Angeles's city budget
Explainer on how COVID-19 budget cuts compare with the Great Recession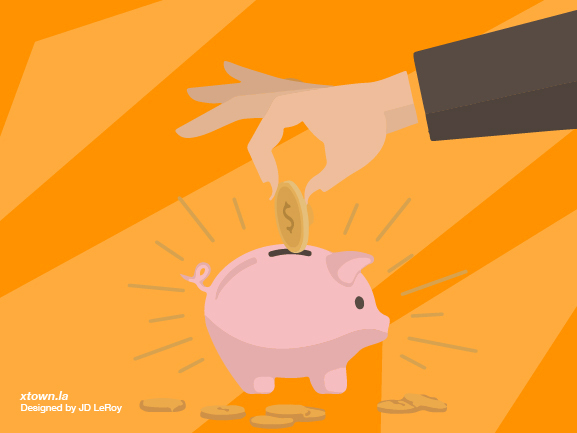 In his 2020 State of the City address this month, Mayor Eric Garcetti said that because of the coronavirus shutdown Los Angeles's budget "is the worst it's ever been."
That's a dire statement, particularly considering that just over a decade ago the city was reeling from the Great Recession and trying to stave off the threat of bankruptcy. So what does that mean and how does it compare?
In the Great Recession, City of Los Angeles budget revenues fell by 3% from fiscal year 2009 to fiscal year 2010. (The city's fiscal year runs from July 1 – June 30.) While that might not sound like a steep drop, the city had been planning for an increase of 4% that year. Budget revenues dipped again in 2011 by 1.9%, and had only a 1.8% increase in 2012.
The Los Angeles city budget expenditures increase between 4-5% each year. City budgets generally grow to cover rising costs, such as labor agreements, materials and contracts with vendors. When they contract suddenly, or even flatten, it can leave cities in the red. Cities don't have the same ability to go into debt the way the federal government can. So shortfalls can force drastic cutbacks or even bankruptcies.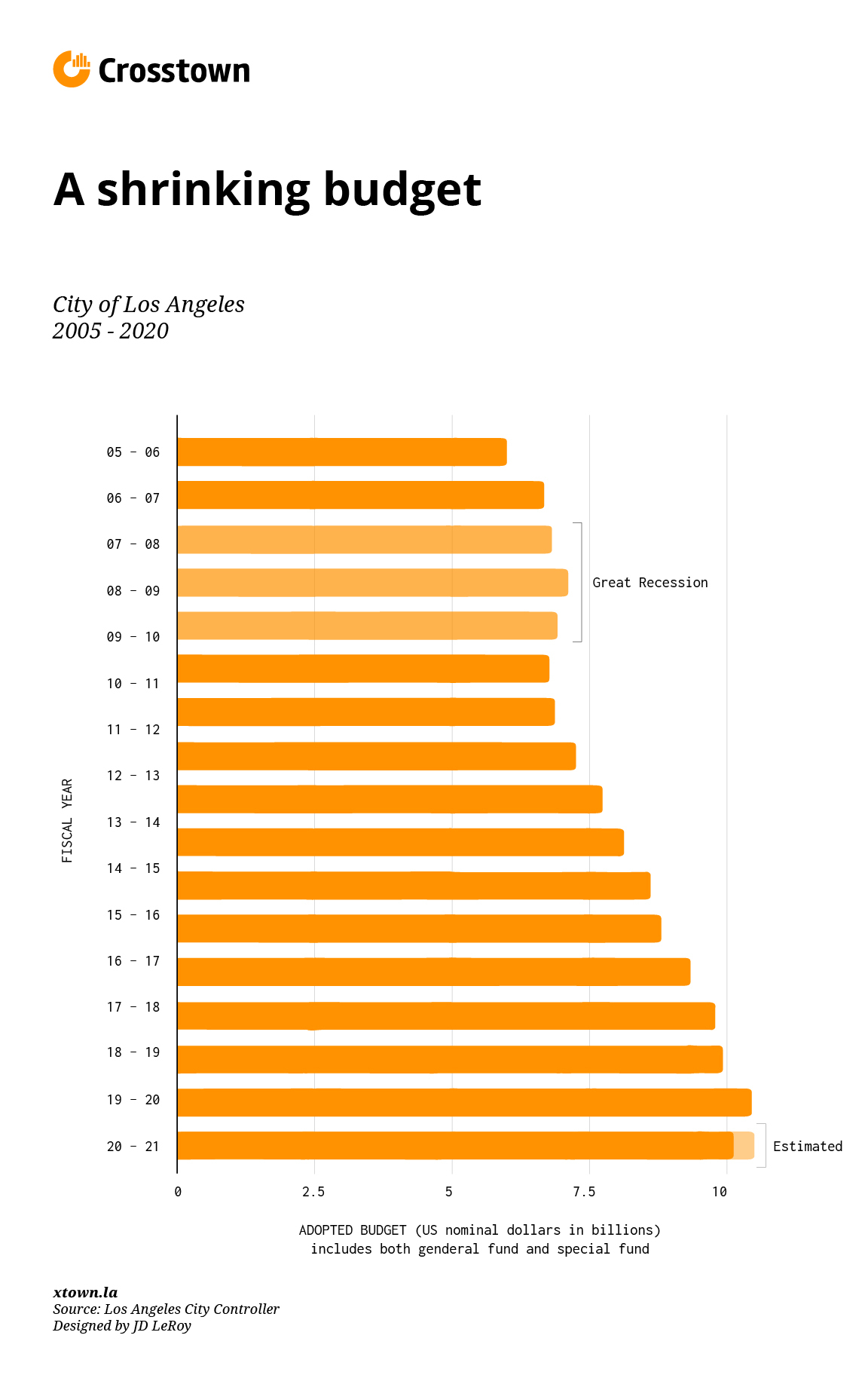 What has happened so far: 
Controller Ron Galperin is preparing for a $231 million decrease, or 2% of the entire budget, in expected revenue this fiscal year. That's money the city had already been planning on spending that now will not be coming in before the end of the budgeting period on June 30. 
Galperin is predicting losses between $194 million and $598 million in revenue next fiscal year. To put that in context, if the losses fall on the larger end, that's about how much the city spends on wastewater management and disposal.
Where are the shortfalls coming from? 
This decrease is largely the result of tax revenues that are tied to how much business is conducted in the city –– such as the hotel tax and the sales tax. With few people booking rooms and spending money at restaurants and stores, those tax dollars are not coming in. 
Where are the budget cuts?

 
The current economic collapse has been so abrupt that it gave city budget planners no time to prepare, and now they must scramble to find places to make up for the shortfall.  
To combat the projected budget pitfalls, Garcetti announced roughly 15,000 city workers will take 26 furlough days in fiscal year 2021, amounting to a 10% decrease in pay. Police, firefighters and sanitation workers are exempt.
How is this different from the Great Recession? 
The last time the city faced a major budget crunch, a decade ago, it had little in the way of reserve funds to cushion the fall. This time around, the City of Los Angeles is better prepared, with almost twice as much money in its reserves. It has two sources it can draw from: the reserve fund, which is for unanticipated shortfalls, and the budget stabilization fund, intended to smooth out years where revenue is flat or declining slightly.
So far, the city has borrowed $70 million from its reserves, according to Garcetti. And as of April 23, the reserve fund sits at just over $387 million, while the budget stabilization fund is at almost $116 million. The city is hoping that between the cushion from reserves and emergency budget cuts, this will be enough to get through.
During the Great Recession, the mayor's office and the city council took a 5% pay cut from the 2007-08 budget. Eight hundred city workers were laid off, with most of the rest taking 26 furlough days. It also froze hiring and transferred some city employees to departments which had their own separate payroll budgets.
What's next? 
Even the controller's predictions are just estimates. COVID-19's impact on the actual budget could vary, depending how long the coronavirus crisis lasts, whether direct federal aid becomes available, or if the city is successful in finding places to scrimp and save. 
How we did it: 
We examined budget data from the Los Angeles Controller's Office from 2007 – 2021.
Interested in our data or have additional questions? Email us at askus@xtown.la.