LA's disappearing parking tickets
During COVID-19 shutdown, parking fines falling fast; so are city revenues
The COVID-19 shutdown has lifted one of the major phobias of living in Los Angeles: fear of parking.
The number of daily parking citations issued by the city has fallen 72% since Mayor Eric Garcetti first relaxed enforcement on March 16 as part of the emergency response to the coronavirus pandemic. In February, the city was issuing roughly 6,400 parking fines each day. In May, that daily number was down to around 1,800.
The decision to temporarily freeze many of the city's notoriously convoluted parking rules was intended as an act of mercy for residents who were not moving their cars daily to drive to work or school. The measures eased fines for some of the most common offenses, such as parking on the wrong side of the street during street sweeping, near schools on weekdays and on busy streets during rush hour.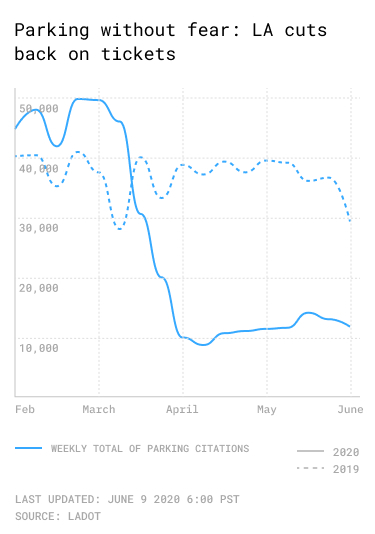 But the move is not without consequences. The city had been banking on bringing in $123.8 million from parking fines during the current budget period, which ends June 30. The city controller's office recently revised that number down to $100 million, adding to the deep budget gap the city is now facing.
More parking, more stolen cars
Another unintended outcome of the suspended parking rules: a spike in the number of stolen cars. There were more reported stolen vehicles in April in the City of Los Angeles than during any other month in at least a decade. One of the culprits, experts say, might be the fact that so many more cars are parked curbside, often for days at a time, opening up opportunities for thieves.
Still, the relaxed rules offer a little breathing room for businesses and residents already stressed by the broader stay-at-home restrictions.
"I know that our streets were always a hot spot for parking tickets on street cleaning day and at parking meters," said Steve Salardino, manager of Skylight Books in Los Feliz. The bookstore only allows customers to pick up orders they have already placed by phone or online. "We do have a 'curbside pickup' sign that we got from the city in front of our store and it seems to be working fine." He noted that some people are using the spots reserved for Skylight's customers to grab food from nearby restaurants.
Who still gets a ticket?
But not everyone is getting a pass. Studio City resident Dani (she declined to give her last name), said she and her friend recently received an $80 ticket for parking during street cleaning while they were hiking in Runyon Canyon.
In fact, despite the stated policy from the mayor, parking enforcement officers issued nearly 400 parking tickets for street cleaning between March 19 – May 31. Colin Sweeney, a public information officer for the Los Angeles Department of Transportation (LADOT), said street sweeping parking restrictions were only relaxed for residential areas, but that commercial and industrial street sweeping parking rules remained enforced.
Niq Williams, a North Hollywood resident, said last Saturday she saw the city towing away cars near Runyon Canyon.
"Parking enforcement officers have regular patrols covering the whole city, with higher density areas such as Hollywood requiring more traffic officers," said LADOT's Sweeney. "While some parking restrictions were relaxed, others, such as time limits, metered parking, and permit parking, remain enforced."
Sweeney also said overall traffic volume has been increasing since April 9 and the increase in parking citations are tracking this trend.
"In short, as more people are driving, more violations occur, resulting in more citations," he said.
This means the golden era of relaxed parking may be drawing to a close. Currently, the city's policy is set to end on July 6. The City of West Hollywood will start ramping up its parking enforcement on Monday.
How we did it: We examined data from the Los Angeles Department of Transportation from Jan. 1 – May 31, 2020 and compared it with data from the same period in 2019.
Interested in our data or have additional questions? Email us at askus@xtown.la.