LA's parking holiday just got an extension
Angelenos have saved $21 million in fines so far. But that has widened the city's budget gap
If you park on the street in your neighborhood, you have probably been able to sleep in these past few months without worrying about waking up to a parking ticket. And, when visiting friends' houses for social distance get-togethers, you have been spared the headache of deciphering the city's convoluted parking signs 
Well, continue to rest easy. The Los Angeles City Council passed an emergency motion Wednesday to extend the relaxed enforcement guidelines through the end of July. That means you will not be playing the car version of musical chairs to prep for street cleaning days on your block. 
When the coronavirus pandemic forced the city to temporarily shut down, the city's Department of Transportation relaxed many of the parking restrictions that drove us nuts. For the past few months, we have enjoyed not getting tickets for rush hour restrictions, street cleaning days, or for having expired tags. LADOT even blessed us with immediate extensions for payment for existing tickets. 
From March 16 – when Mayor Garcetti first relaxed parking rules – through June 30, the city issued roughly 225,000 parking tickets, a 58% decline from the same time last year. But those parking enforcement officers have not been sitting at home this whole time. In June they issued 29% more tickets than they did in May, according to the LADOT data.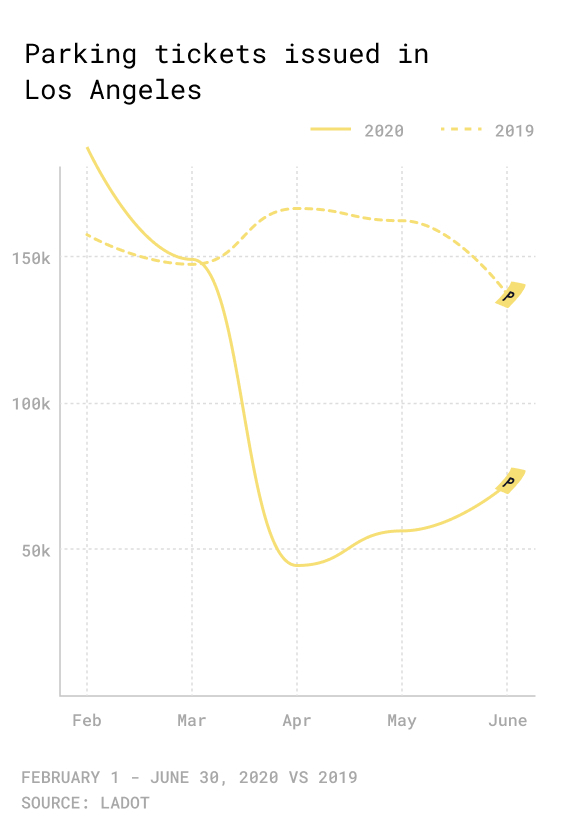 Graphics by JD LeRoy
Last year, from March 16 – June 30, the city levied roughly $38 million in parking fines (though it is not clear how much was actually collected). This year, during the same period, the city levied only nearly $17 million in fines, a decrease of 56%.
That's $21 million that stayed in Angelenos' pockets. But it is also money the city, already suffering from one of the worst budget crises in its history, does not get to collect. 
Jeffrey Zack tweeted about a parking warning he received this week for street cleaning in Pico-Robertson. He tweeted his car had "been there for weeks," and added he doesn't understand how Mayor Eric Garcetti expects everyone to stay home, yet "magically find parking for everyone." 
After another Twitter user brought up the ongoing budget gap crisis due to the coronavirus pandemic. Zack responded by saying he hoped the city doesn't think the solution is giving out parking tickets since street cleaners "just spread dirt around anyway."
Zack would also be surprised to know three-quarters of parking citation revenue goes to paying the parking enforcement officers and for the upkeep of their cars.
How we did it: We examined data from the Los Angeles Department of Transportation from April 1 – June 30, 2020, and compared it with data from the same period in 2019. 
Interested in our data or have additional questions? Email us at askus@xtown.la.