The Crosstown Vaccine Tracker
A look at the weekly trends in Los Angeles inoculations
The pressure to vaccinate more people is increasing. On Wednesday, the Los Angeles County Department of Public Health announced it would modify the existing Health Officer Order to require vaccination verification at "high-risk" settings such as bars, nightclubs and mega-events by Oct. 7. While COVID-19 figures are already falling, this is expected to help reduce further transmission. Crosstown is following the progress on all COVID-19 information to deliver the most important data about infections and vaccinations.
Case count
The average COVID-19 case rate continues to decrease, dropping by 12.3% from Sept. 7-14. The previous week, average cases fell by 25.5%. On Tuesday, the five-day average was 1,819. (Crosstown normally uses seven-day averages, but the Department of Public Health didn't release COVID-19 data over the weekend.)
The seven-day average of deaths has spiked in recent days, reflecting the surge of cases that began a couple months ago. On Tuesday, the five-day average jumped to 38; average deaths have not been this high since late March. One week ago, the figure stood at 26, marking a 46% increase.
COVID-19 daily deaths and seven-day average in Los Angeles County, July 16-Sept. 13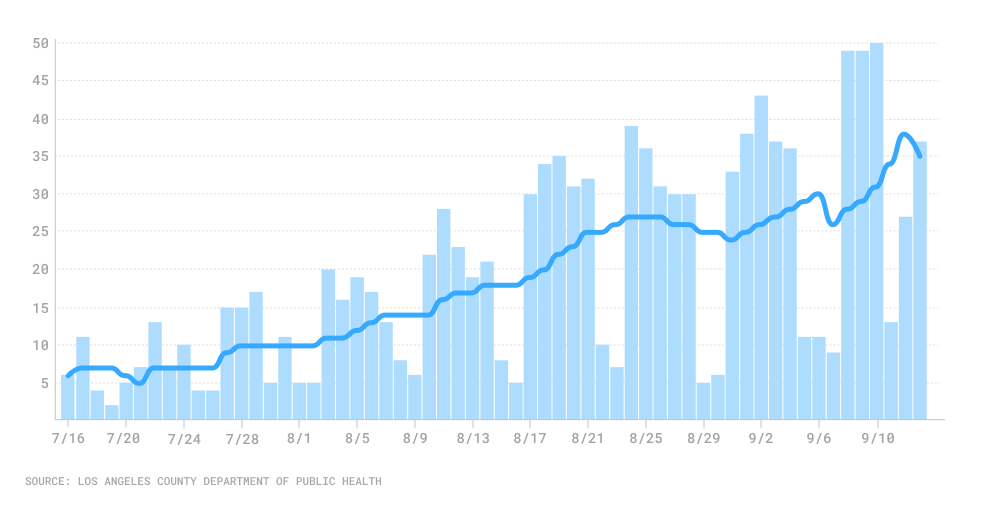 Daily hospitalization figures continue to drop; on Thursday, 1,185 county residents were hospitalized with COVID-19. This is down from the 1,724 people being treated in hospitals about three weeks prior. 
On Monday, the daily positivity rate was 1.5%; this marks the first time Los Angeles County reported a figure below 2% since the beginning of July. On Thursday, the rate stood at 1.6%.
Taking a shot
Weekly vaccination rates are slowing again. From Sept. 3-9, the County administered 114,890 total doses, including 64,665 second doses. Two weeks prior, more than 200,000 vaccinations were administered within a seven-day period.
As of Sept. 9 (the most recent day for which data is available), 11,989,705 doses had been dispensed to Los Angeles County residents. A total of 5,366,304 Angelenos have received their second dose.
This breaks down to 75.7% of residents 12 and older having received at least one dose, and 67% are fully vaccinated.
How We Did It: We analyzed coronavirus data related to new cases, deaths, hospitalization and vaccinations data provided by the Los Angeles County Department of Public Health.
Interested in our data? Check out the Crosstown coronavirus interactive map or email us at askus@xtown.la.