The Crosstown COVID Tracker
Hospitalizations and cases are decreasing, but deaths remain high
Wednesday marked the two-year anniversary of the first identified COVID-19 case in Los Angeles County. The period has been dizzying, with 2,560,768 cases and 28,630 deaths, according to the Los Angeles County Department of Public Health. 
The uncertainty continues to this day. The Omicron surge appears to have peaked, and case numbers are falling in the region. 
Los Angeles County COVID-19 cases by week, Dec. 22-Jan. 25
Deaths, however, are trending upward, including 91 fatalities on Wednesday.
The Crosstown COVID Tracker helps you stay up to date on the latest and most important data on infections, inoculations and general risk. Information on cases in individual communities is available on the Crosstown coronavirus interactive map.
Falling numbers
The Department of Public Health reported 20,866 new coronavirus cases on Wednesday. That's a 48.4% decrease from the 40,452 cases exactly two weeks before. 
On Wednesday, the seven-day average of new cases was 30,878, a 15.4% decrease from the seven-day average one week prior.
Test positivity rates are also down. On Wednesday, the rate stood at 13.6%, compared with 18% two weeks ago. 
[Get COVID-19, crime and other stats about where you live with the Crosstown Neighborhood Newsletter]
Hospitalizations are elevated, a reflection of the people needing heightened medical care several weeks after they contract the virus. On Wednesday, 4,534 county residents were hospitalized with COVID-19. That is a slight drop from the recent peak of 4,814 patients on Jan. 20.
Deaths, like hospitalizations, are a "lagging indicator," and the rising numbers now come in the wake of the spike in cases that began in mid-December. The seven-day average of deaths reached 61 on Tuesday. 
COVID-19 deaths (seven-day average) in Los Angeles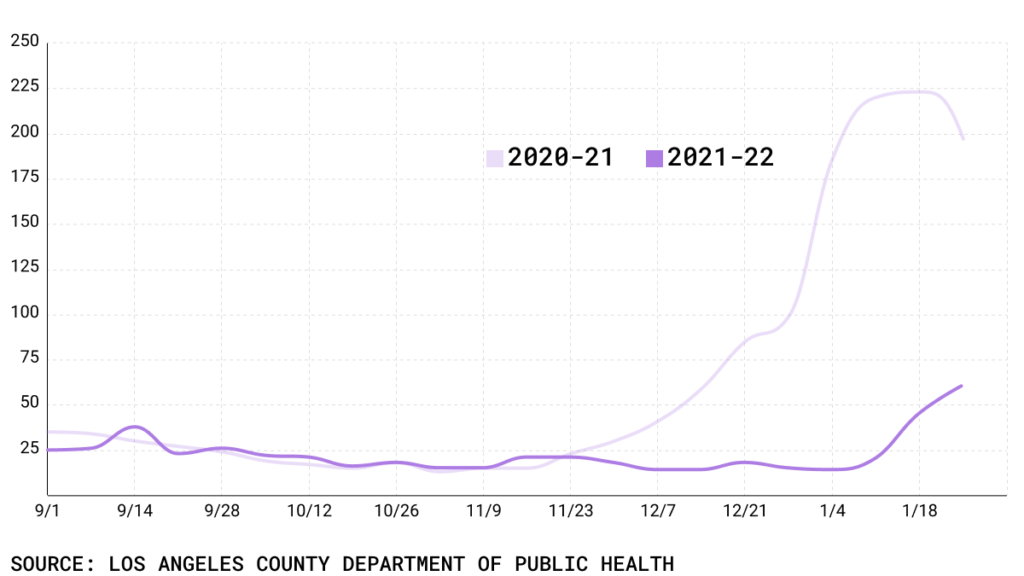 Although the fatalities are disconcerting, the current situation is far better than last winter, when few people had been vaccinated. On Jan. 26, 2021, the seven-day average of deaths was 212. 
The death toll also reflects a level of inequity that has existed since the earliest days of the pandemic. According to the Department of Public Health, the COVID-19 death rate for Black residents of Los Angeles County is 3.5 per 100,000 inhabitants, and Latinx individuals have a rate of 3 deaths per 100,000 residents. White Angelenos die at a rate of 2.5 per 100,000 residents, and the rate for Asians is the lowest of any sub-group, at 1 fatality per 100,000 inhabitants. 
Pinch of protection
Wherever one looks, there are statistics that point to the protection that comes with vaccination and booster shots. The state of California's COVID-19 tracking page showed that from Jan. 10-16, unvaccinated people were 4.4 times more likely than vaccinated individuals to contract the coronavirus, and 16.9 times more likely to die. 
Through Jan. 20 (the latest day for which data is available), nearly 80.9% of Los Angeles County residents 5 and up, or about 7.87 million people, had received at least one dose of the vaccine. Additionally, approximately 72% of residents are fully vaccinated and 3.09 million people have received a booster shot.
In the past week, 325,360 shots were administered, up from the 133,487 jabs given the previous week. Nearly 39,000 of the shots that went into arms in the past seven days were second doses.
Senior citizens continue to be the most highly protected age group, and 89.4% of county residents 65 and up have been fully vaccinated. Interestingly, the group with the least protection is people 18-29; just 70.2% are fully vaccinated. People ages 12-17, meanwhile, have a 74.1% vaccination rate. 
The Los Angeles Unified School District is seeing declining case numbers since the semester started three weeks ago. From Jan. 19-25, 415,333 tests were given to students and staff, with about 27,000 positive results, a 6.48% positivity rate. That is down from 8.1% last week. 
How we did it: We analyzed coronavirus data related to new cases, deaths, hospitalizations and vaccinations provided by the Los Angeles County Department of Public Health, as well as data from the Los Angeles Unified School District.
Interested in our data? Check out the Crosstown coronavirus interactive map or email askus@xtown.la.