The Crosstown Crime Book: January
Car thefts in Los Angeles keep spiking, and gun violence remains high
Crime is a hot-button topic in Los Angeles. Some people worry that the city is more dangerous than in the recent past. Others believe little has changed, and that the narrative has shifted due to overheated reporting on a few high-profile incidents. 
One way to get at the true state of affairs is by looking at the numbers. With the Crime Book, Crosstown aims to deliver the most important statistics, using publicly available Los Angeles Police Department data to provide not just figures from a single month, but context from the recent past and previous years. Here is how Los Angeles fared in January.
More firearms
In 2021, Los Angeles recorded levels of gun violence not seen in more than a decade. The 397 homicides was the highest annual tally since 2007 (more than 73% of the killings involved a firearm). The first month of 2022 brings both positive and troubling elements.
Homicides in Los Angeles, October 2021-January 2022
The number of homicides and shots-fired reports in January were well below the peaks recorded last summer. However, the 33 murders is unchanged from December.
Although that represents six fewer killings than were recorded last January, the level is far above the homicide total in each January from 2018-2020.
Homicides in Los Angeles in January, 2018-2022
The trend is similar for shots-fired reports. The January tally of 281 incidents is on par with recent months, and is also a marked decrease from the 336 reports in January 2021. 
Yet the figure remains elevated from the pre-pandemic period. Last month's total is a 62.4% increase over the 170 shots-fired reports in January 2019.
Shots-fired reports in Los Angeles in January, 2018-2022
Police officials have attributed some of the rise in firearms use to ghost guns, untraceable weapons that can be manufactured on a 3D printer. At the Feb. 8 meeting of the Los Angeles Police Commission, Assistant Chief Beatrice Girmala said the department recovered 769 illegal firearms last month.  
She referenced an incident in which alleged gang members fired at a car driving in East Hollywood; bullet fragments struck a 2-year-old boy. Although the child is expected to recover, Girmala said the shooting "accents the tremendous amount of random gun violence we are still experiencing in the city."
Things taken
Car thefts have been rising at a meteoric pace since the start of the pandemic, and more than 24,000 vehicles were stolen in 2021. Last month, 2,079 rides went missing, and although that is below the level in each of the three previous months, it remains historically high, and is a 47.3% jump from January 2020.
Stolen vehicles in Los Angeles in January, 2018-2022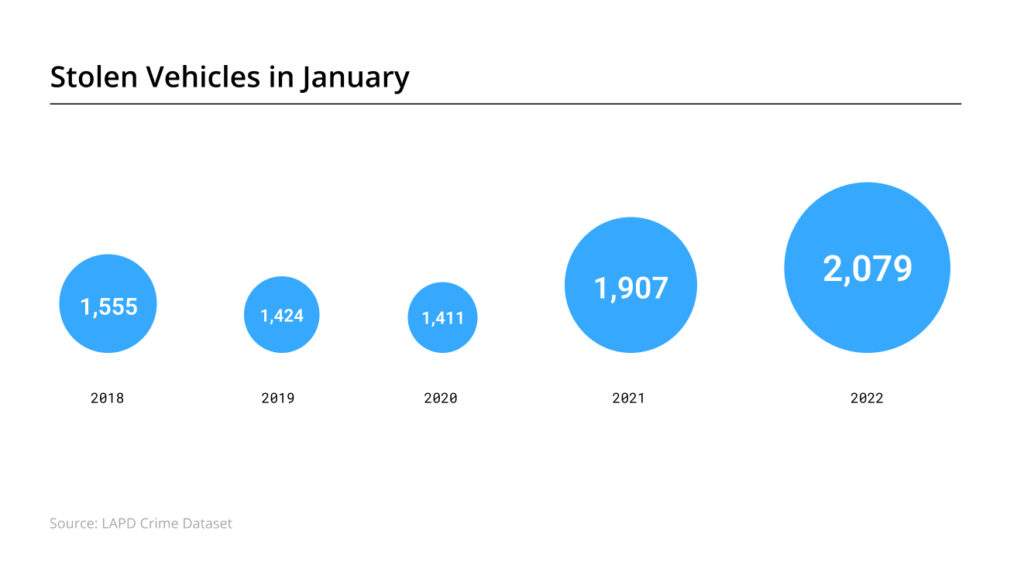 Once again last month, Downtown saw more car thefts than any other neighborhood in the city, as 90 vehicles were taken. Westlake was the next most-victimized community (66 stolen cars) followed by Van Nuys (64) and Koreatown (63). 
Although car thefts are higher than ever, burglaries have been falling, and the approximately 12,750 reported crimes last year was the lowest annual total in Los Angeles since at least 2010. In January there were 1,179 burglaries in the city, which is nearly 200 fewer than in the same month in 2018. 
Yet not all the news with burglaries is positive. Last month's total was 7.4% higher than the 1,098 incidents in January 2021. 
The number of robberies in Los Angeles has also fallen from the heights of recent years, and the 766 reported incidents in January marks a 19.2% decline from the 948 robberies in January 2018.
Robberies in Los Angeles in January, 2018-2022
As with burglaries, the news is mixed; the January total is a spike of more than 100 incidents compared with the same month last year. Additionally, police continue to warn of an increasing number of street robberies that involve the use of a firearm.  
How we did it: We examined publicly available crime data from the Los Angeles Police Department from Oct. 1, 2021-Jan. 31, 2022, and the periods of Jan. 1-31 from 2018-2021. We also examined LAPD Compstat data. Learn more about our data here.
LAPD data only reflects crimes that are reported to the department, not how many crimes actually occurred. In making our calculations, we rely on the data the LAPD makes publicly available. LAPD may update past crime reports with new information, or recategorize past reports. Those revised reports do not always automatically become part of the public database.
Have questions about our data or want to know more? Write to us at askus@xtown.la.