New housing in Los Angeles leans heavily on ADUs
More than 20% of new units now come from backyard conversions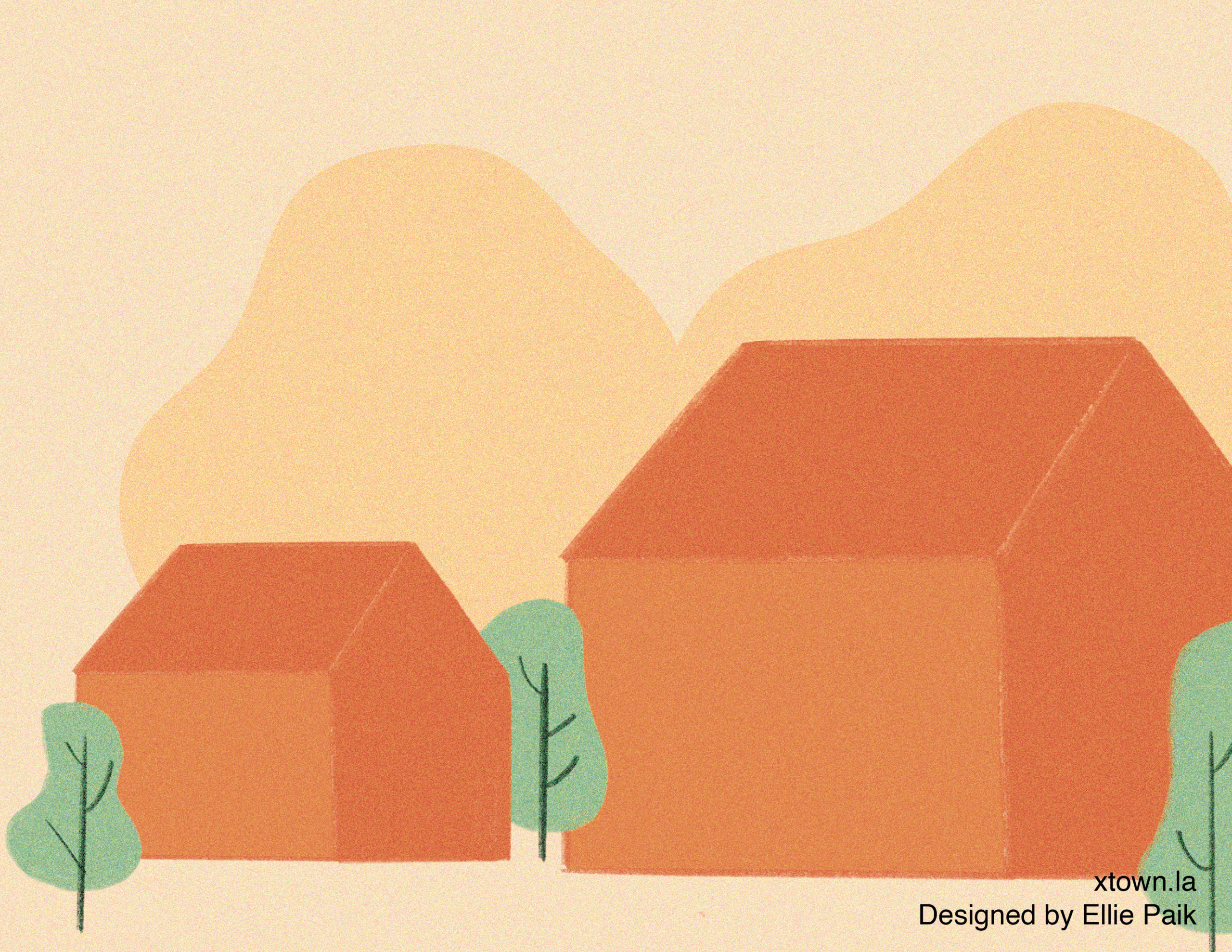 For the past six months, Mar Vista resident Clayton Przekop has been living in his garage while his home is being renovated. It's a nice garage. 
Przekop spent $150,000, and two years of permitting and construction, transforming  the standalone garage into a studio apartment. It is classified as an accessory dwelling unit, or ADU. 
Przekop is far from alone. In 2017, California stripped away some of the obstacles that had prevented homeowners from turning their garages into mini apartments, or building small residential structures in their backyard. Since then, many cities have pitched ADUs as a solution to a chronic housing shortage. That includes Los Angeles, which projects it needs to build almost 500,000 new units over the next several years to close its housing deficit. 
"It's a good way to help solve the housing crisis, increase housing stock and increase the value of the property," Przekop said, adding that he hopes eventually to rent out the garage to other Angelenos and make some money. 
From 2017 to 2021, the number of ADU permits issued in the city increased by 202%. 
From Jan. 1–Aug. 31, 2021, a total of 3,371 ADU permits were issued, and by the end of the year, 5,188 permits were given a green light, according to publicly available Department of Building and Safety data. The figure will be shattered this year, as in the first eight months of 2022, 4,999 permits were issued.
Since 2017, just over 25,000 ADUs have been permitted in Los Angeles. Approximately half have completed the inspection process and are ready for residents.
[How many ADUs have been built in your neighborhood? Sign up for the Crosstown Neighborhood Newsletter today to find out.]
Home run
In many respects, the ADU policy in Los Angeles has been a roaring success, providing thousands of housing units annually that, just a few years ago, the city never anticipated. Last year, ADUs accounted for around 22% of all planned new housing. But the success of ADUs also underscores just how dire Los Angeles's overall housing shortage has become. 
Under the city's own targets, it must produce 57,000 new units of housing each year for the next eight years to meet its goals. But over the past several years, the city has approved only 16,700 new units annually, according to the Los Angeles Department of City Planning. ADUs are suddenly playing a much larger role in the city's housing policy than was ever expected.
"There's no doubt that ADUs have been a major bright spot in the city's housing policy of late, producing a consistently high volume of new units each year," said Christopher Hawthorne, the chief design officer for the city. "But they are not a silver bullet by any means."
Currently, almost half of all households in the city struggle to pay the rent or mortgage, and more than one-third of renters spend half their paycheck on housing, according to the Department of City Planning's housing needs assessment. The stakes are high: Unless the pace of new housing can triple in the next few years, Los Angeles's chronic homeless situation—the city counted almost 42,000 unhoused people this year—will deteriorate further. 
The effects could be widespread. Lower income neighborhoods will gentrify more quickly, potentially displacing longtime residents. And some of those who can't afford to live in the city will either commute from further away (exacerbating Los Angeles's other twin ills of traffic and air pollution) or abandon the city altogether. 
Hawthorne says that in some ways, ADUs act like a Trojan horse, creating housing in neighborhoods where it would otherwise be difficult to build. Around 70% of all residential land in the city is zoned for single-family homes. That acts like a roadblock to increasing the density of most residential neighborhoods. ADUs, most of which are constructed on lots for single-family homes, can sneak in new units where there would otherwise be none. 
City officials also tout how the same ADU can fill different needs at different times, particularly for multigenerational households. For example, an ADU might initially generate income as a rental property, then provide a cheap place for a kid who graduates from college. Later it could become a "granny flat" for an aging relative. 
"They are particularly useful in giving older homeowners the ability to downsize and age in place without leaving their neighborhood and losing important family and community bonds," said Hawthorne. 
A more affordable option
In a region where homeownership is out of reach for so many, ADUs also provide a solution to making some properties more affordable. Eric Escobar, a general contractor at Escobuilders, Inc., a family-owned business, said many of his customers build an ADU as a way to offset their mortgage. 
"It's just so unaffordable to buy a house right now," he said. "What I tell people is, if you have to afford a house and the mortgage is too high, build that garage conversion. Then you can rent out the garage or live in the garage and rent the house." 
That approach has helped the city fill one of the deepest holes in its housing policy: creating new units that people can actually afford to live in, rather than the luxury housing favored by many builders. 
The median household income in Los Angeles is $65,290, according to the latest U.S. Census data. The top four neighborhoods where ADUs have been permitted over the past year—Sun Valley, Reseda, Valley Glen and Pacoima—are at or below that level.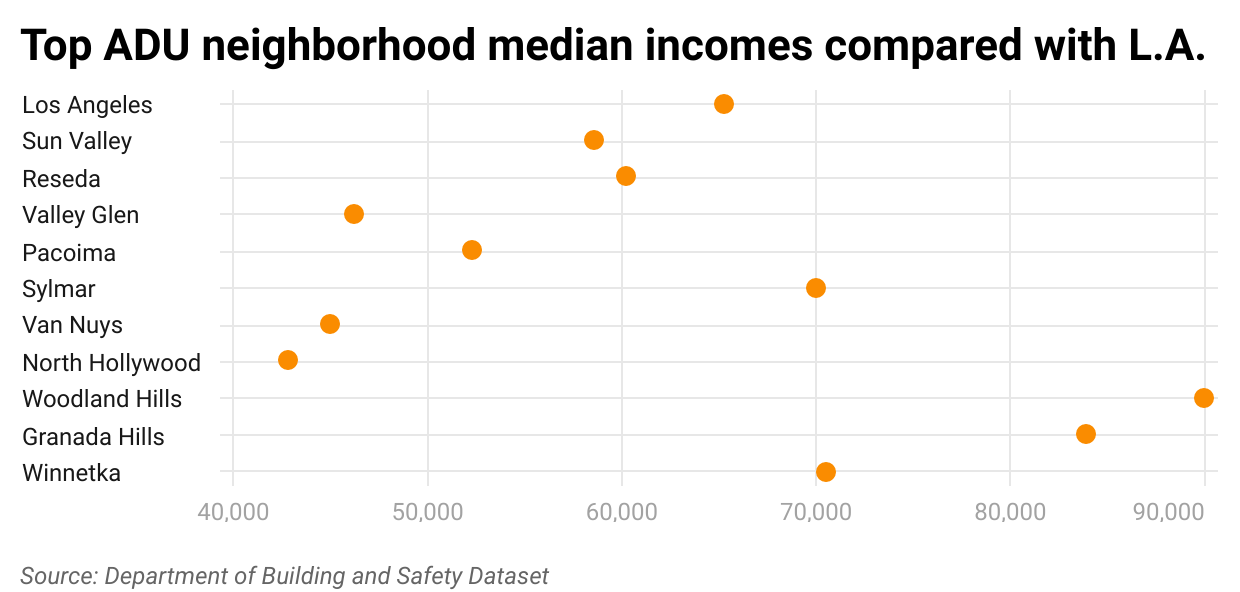 Michael Anderson, the president of Anderson Barker Architects, sees even more potential for ADUs—helping people of color build greater equity in the communities where they live. 
"Political leadership saw [ADUs] as a solution that can be done for housing across L.A. to help our housing needs," he said. "But I don't think it's gotten to the point where it's happening at that volume."
Anderson envisions a program that allows Black and Latinx families to tap into federal housing subsidies so they can build ADUs on their property—ultimately creating space for fourplexes housing multi-generational families. 
"Economically, I've now put four income groups on the same lot," he said. "If we can get Black and brown people to purchase homes in the communities they came from and that exist, you make it more vibrant."
Many builders are eager to take advantage of the ADU boom. Danny Schuster, the chief construction officer at Construction Consulting Services, which has around 20 ADUs in construction at any given time, said that the leading reason people choose to build ADUs is to create a rental property. 
He gets a lot of customers in Los Angeles, but other cities are not as ADU-friendly. "I can tell you, Beverly Hills, I don't get a whole lot. They're pretty strict with their laws and people there typically don't need supplemental income," he said.
Part of what's driving the trend is that there is a clear economic case for ADUs, both for builders and homeowners. 
"It's just a numbers game," said William Cavanaugh, vice president of US Modular Inc., a design-and-build company that switched to specializing in ADUs three years ago. "It's a nice positive cash flow for somebody to pull out of their backyard."
Some of the cheapest units can be ordered from Amazon for under $20,000. However, most end up costing upwards of $150,000. 
Jonathan Towers, a real estate developer from Los Angeles, said many of his customers look at ADUs purely from an investor's standpoint. "ADUs are just a great return on capital," he said "It's been a great way to add density to the current portfolio and just up the doors."
The pitfalls of permitting
Los Angeles has tried to lean into ADUs, offering ways to get around the city's notoriously complicated permitting process. 
In March 2021, it rolled out the Standard Plan, which allows Angelenos to select from more than 60 pre-approved architectural plans for an ADU. The goal was to allow homeowners to leapfrog the lengthy process of getting their building plans approved.
It hasn't quite worked out as hoped. 
So far, only 11 designs have been used and 78 just homeowners have requested permits for the plans, according to Hawthorne, the city's chief design officer. However, he also notes that the plan helped spread awareness about ADUs in general and sparked interest amongst many architectural firms. 
Hawthorne said the city can do more to streamline and boost ADU affordability, especially when it comes to financing. He said it can be "difficult if not impossible" for homeowners to find lenders who will take ADU rental income into account when deciding whether to issue a construction loan. 
"Many homeowners over the last five years have avoided this issue by tapping directly into home equity to pay for their ADUs," he said. "As the market shifts with mortgage rates edging higher, however, establishing new lending options will become even more important."
At the state level, there are up to $40,000 grants available for low to moderate income Californians looking to build ADUs. 
How we did it: We examined publicly available data on building permits from the Department of Building and Safety, as well as published data from the Los Angeles Department of Planning.
Got a question or want to know more about our data? Write to us at askus@xtown.la.