Digging into the money raised in the District 15 City Council race
Tim McOsker has a huge financial advantage over Danielle Sandoval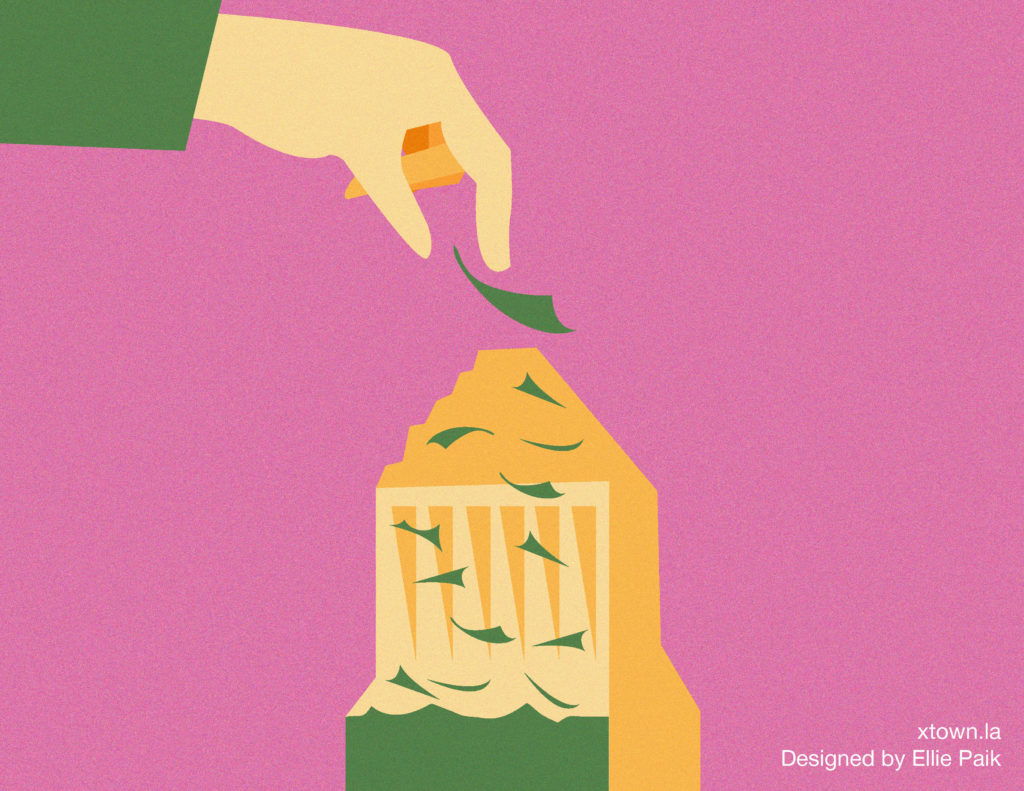 When Joe Buscaino opted to run for mayor instead of trying for a third and final term as the council member representing District 15, four people stepped up to replace him. In the June primary, 19,250 ballots were cast. 
Tim McOsker, a businessman and nonprofit director with long ties to City Hall, finished first with 37.7% of the vote. Danielle Sandoval, an entrepreneur who has served on neighborhood councils, came in second with 29.4%. Since no one earned a majority, they will slug it out in the Nov. 8 runoff.
[Get COVID-19, crime and other stats about where you live with the Crosstown Neighborhood Newsletter]
McOsker had a tremendous financial advantage in the first round, raising $596,000, according to documents filed with the City Ethics Commission. That dwarfed the $71,400 secured by Sandoval.
The disparity continues in the runoff. Through Nov. 2, McOsker had outraised Sandoval more than eight-to-one. According to Ethics Commission disclosures, he has pulled in $458,623. Sandoval has $52,302.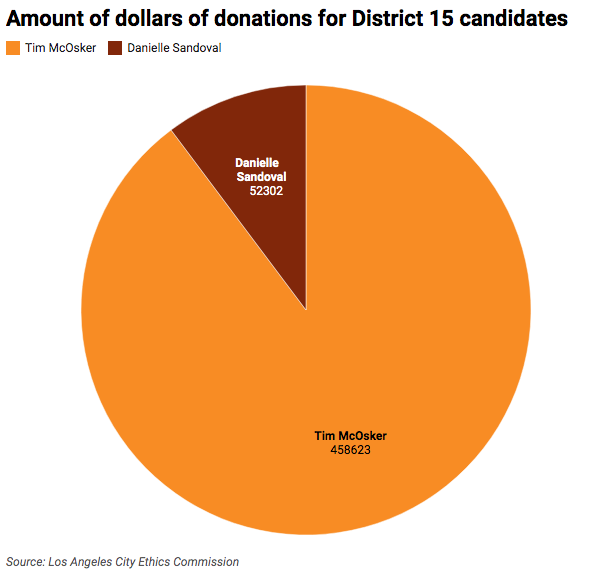 The district at the southern tip of Los Angeles encompasses the economic engine of the Port of Los Angeles, and the neighborhoods of San Pedro and Wilmington. It is connected by a thin strip to more northern parts of the city, and includes communities such as Watts and Harbor City.
Here is how the candidates' fundraising breaks down.
Tim McOsker
McOsker is part of a family long active in civic affairs in San Pedro. He was chief of staff to Mayor Jim Hahn, and recently helmed the nonprofit AltaSea.
The $496,000 in contributions he has reported in the runoff includes a $37,000 personal loan. Residents of ZIP code 90732, in his home base of San Pedro, have given him $53,532, more than any other area.
[More on campaign finance: Digging into money raised by L.A. City Attorney candidates]
According to an Ethics Commission dashboard that tracks the location of campaign donations, $185,000 came from inside the city, and another $28,100 was identified as potentially within the city. The dashboard lists $190,000, or about 45% of his contributions, as being from outside Los Angeles but inside California. Approximately $26,000 is sourced from outside the state.
McOsker has received approximately 792 donations during the runoff period. An estimated 416 were for $800, the largest individual amount allowed in a council contest. He also has approximately 87 donations of $500, and approximately 61 donations of $100.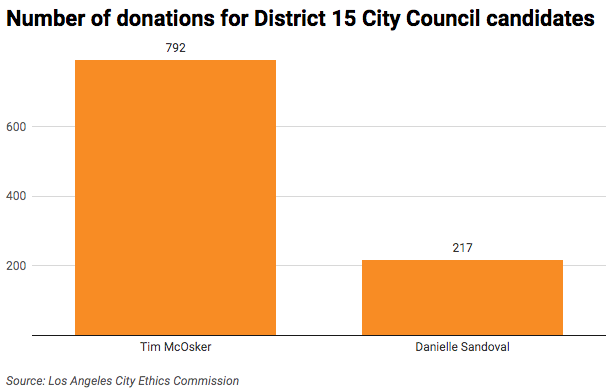 His donor rolls include approximately 72 contributions from people who work as attorneys, and more than 50 donations from people identified as either a president or CEO of a business. 
Former Mayor Jim Hahn, who now serves as a Superior Court judge, gave McOsker $500.
Danielle Sandoval
Sandoval resides in Harbor City. She served as the president of the Harbor City Neighborhood Council, and also was on the Central San Pedro Neighborhood Council. She has worked in the hospitality industry.
[More on campaign finance: A look at the cash secured by District 13 City Council hopefuls]
She secured the endorsement of the Los Angeles Times, but the newspaper rescinded it after a report detailing wage theft accusations from employees of a restaurant she once owned. Other endorsements were also pulled.
According to the Ethics Commission dashboard, Sandoval raised about $12,600 from inside the city, and $16,700 is described as from potentially within the city. An estimated $18,100 comes from outside the city, but inside California.
[Fundraising figures in the District 11 City Council contest]
The ZIP code producing the most contributions for her is 90731 (also San Pedro). It has netted Sandoval $8,122.
Sandoval has received 217 donations in the runoff period. That includes 26 of the maximum allowed of $800. She counted 43 contributions of $100 each.
She has received more than 20 donations from people listed as professors, teachers or who are otherwise engaged in education. She has 11 contributions from people identified as longshoremen.
How we did it: We examined publicly available campaign finance data from the Los Angeles City Ethics Commission in the period up to Nov. 2, 2022. Some of the data on an Ethics Commission dashboard may be updated and not fully reflected in this article. More information about our data is here.
Have any questions? Write to us at askus@xtown.la.