In the holiday shopping season, vehicle break-ins increase
Police warn that thieves target mall parking lots and other busy areas
The holiday season is in full swing in Los Angeles, and many people are heading to malls or other shopping hubs. They're not the only ones: The season also brings out thieves, who police warn are patrolling parking lots and looking for unattended items or newly purchased gifts that a busy buyer neglected to secure. 
Vehicle break-ins tend to rise in the fall, and often peak in the month of December. At the Dec. 6 meeting of the Los Angeles Police Commission, LAPD Chief Michel Moore said the department has chronicled increased activity at this time of year. 
"​​What we do see, and we caution, is people carrying bags of merchandise and their holiday gifts. Locking and securing and hiding those items out of view as they go back to their vehicles is an important strategy to prevent those vehicles [from] being targeted," Moore said. He added, "There are thieves and individuals who prowl our shopping centers and look to the parking lots in an effort to identify merchandise that has been left inside those vehicles. ​​They'll burglarize that vehicle and take those items."
[Get COVID-19, crime and other stats about where you live with the Crosstown Neighborhood Newsletter] 
In 2018 and 2019, December brought the highest number of burglary and theft from a vehicle (BTFV) reports in each year. The 2,962 reports in December 2018 was the highest single monthly total in the last five years, according to publicly available Los Angeles Police Department data. 
Break-ins declined in 2020 due to COVID-19 shutdowns, but last December there were 2,770 BTFV reports, the second-highest monthly total that year. 
Common crime
In 2021, car break-ins were the most common crime in Los Angeles. There were 29,544 reports, a 7.1% increase from the previous year, and a 5% decrease from 2019. 
So far this year, there have been 28,363 vehicle break-ins.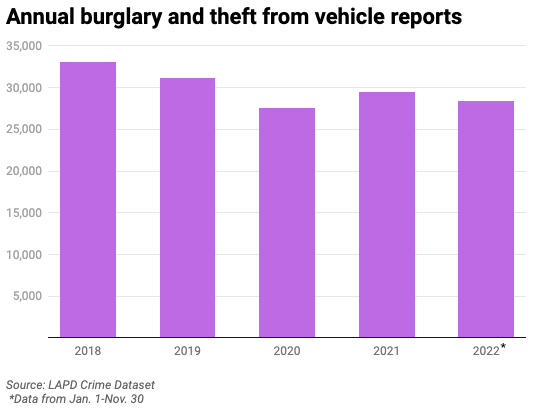 Car break-ins are most common in the city's densely populated neighborhoods. Home to the malls FIGat7th and The Bloc, as well as shopping destinations such as the Toy District and the Fashion District, Downtown this year has recorded 3,557 reports, far more than any other neighborhood in the city.
Other places where break-ins happen frequently are Hollywood (1,078 reports), Van Nuys (759) and Westlake (721). 
Moore said that with the arrival of the holiday season, the LAPD is working with shopping center operators and others on safety steps such as having additional police and private security, and the installation of security cameras. 
"I'm confident that is having a deterring effect on would-be thieves being scared away," Moore told the Police Commission. 
The increased police presence at shopping centers and retail districts will continue throughout the season, Moore added. 
To prevent thefts, the LAPD also encourages basic steps such as people locking their vehicle and keeping shopping bags out of view. The LAPD warns that some thieves watch and wait for people to store merchandise in their car, and then continue shopping. 
The LAPD instead recommends that residents take gifts and merchandise home. Moore said that if people do head back into the mall, they should put their purchases in the trunk.
"You wouldn't put a $500 or a $100 bill on the dashboard of your car and then close the door and expect it would be there when you get back," Moore stated. "Nor should we put expensive merchandise and so forth on our front seat, or even in the passenger compartment, when the trunk is readily available."
How we did it: We examined publicly available crime data from the Los Angeles Police Department from Jan. 1, 2010–Nov. 30, 2022.
LAPD data only reflects crimes that are reported to the department, not how many crimes actually occurred. In making our calculations, we rely on the data the LAPD makes publicly available. LAPD may update past crime reports with new information, or recategorize past reports. Those revised reports do not always automatically become part of the public database.
Want to know how your neighborhood fares? Or simply just interested in our data? Email us at askus@xtown.la.