The Year in COVID-19
In Los Angeles, 2022 brought more cases than ever, a drop-off in deaths, and a frustrating slowdown in vaccinations
It is hard to believe, but COVID-19 has been part of our lives for nearly three full years. Although there have been ebbs and flows, the coronavirus has never gone away. Even if many people operate as they did before the pandemic, Los Angeles County continues to identify thousands of new cases every day and register more than 100 deaths each week.
In 2022, as in the previous two years, Los Angeles experienced surges that prompted people to mask up, as well as periods where it seemed that life might be back to "normal." Here is how the region fared in key categories in the just-completed year.
Record case count
It is hard to remember just how unsettled the landscape looked like a year ago. With the highly infectious Omicron variant spreading, the Los Angeles County Department of Public Health recorded more than 960,000 cases in January. That was more in a single month than were tallied in the previous year.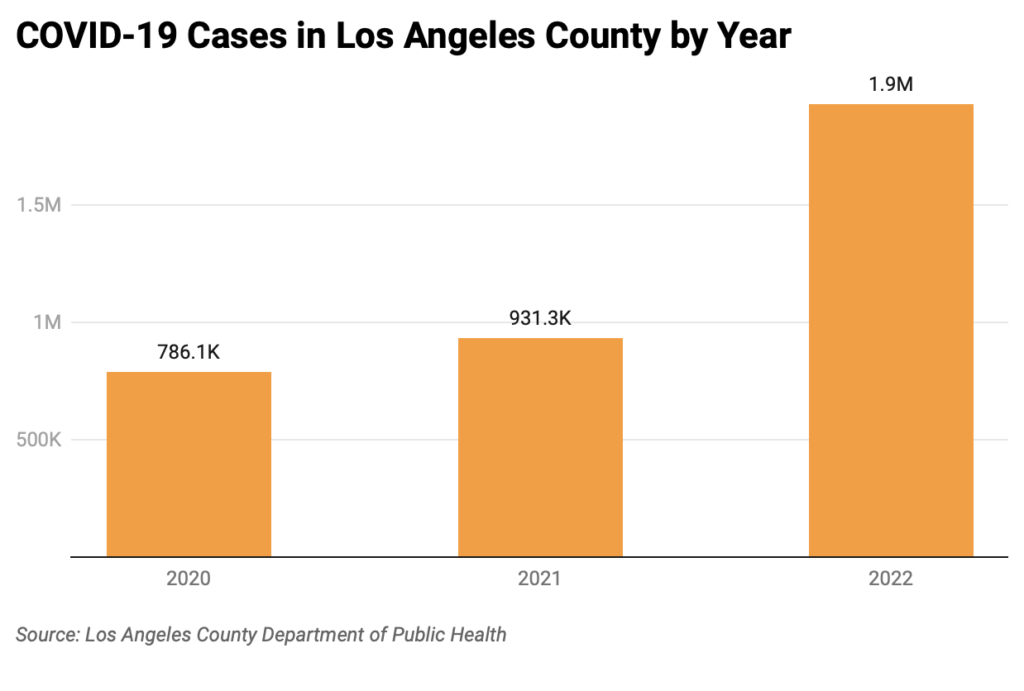 Widespread vaccinations meant that hospitalizations and deaths did not equal previous peaks, but still, it seemed like everyone was sick. Then cases declined almost as quickly as they had risen—the year's monthly low was the 27,891 infections recorded in March.
Summer brought another surge, with a peak in July, and then cases dipped again. Finally, similar to the previous two years, infections started rising again after Thanksgiving. At the close of 2022, the county's seven-day case average stood at 2,392. That marks an 11.7% drop from the beginning of December.
All told, Los Angeles County experienced more than 1.9 million cases in 2022. By the end of the year, the Department of Public Health had tabulated over 3.6 million cases since the start of the pandemic. But that is a notorious undercount, as these days people who conduct home tests and have only mild symptoms almost never report their condition to health authorities. 
[Get COVID-19, crime and other stats about where you live with the Crosstown Neighborhood Newsletter]
Deaths continue
In January 2021, an average of 234 L.A. County residents died each day of COVID-19. By the end of the month, 7,242 people had passed away. It remains by far the deadliest month in the pandemic. 
By contrast, 7,097 county residents died of COVID-19 in the entirety of 2022. The lower count is at least partly attributable to the widespread vaccination effort, which prevents many of those who get infected from suffering severe symptoms or dying.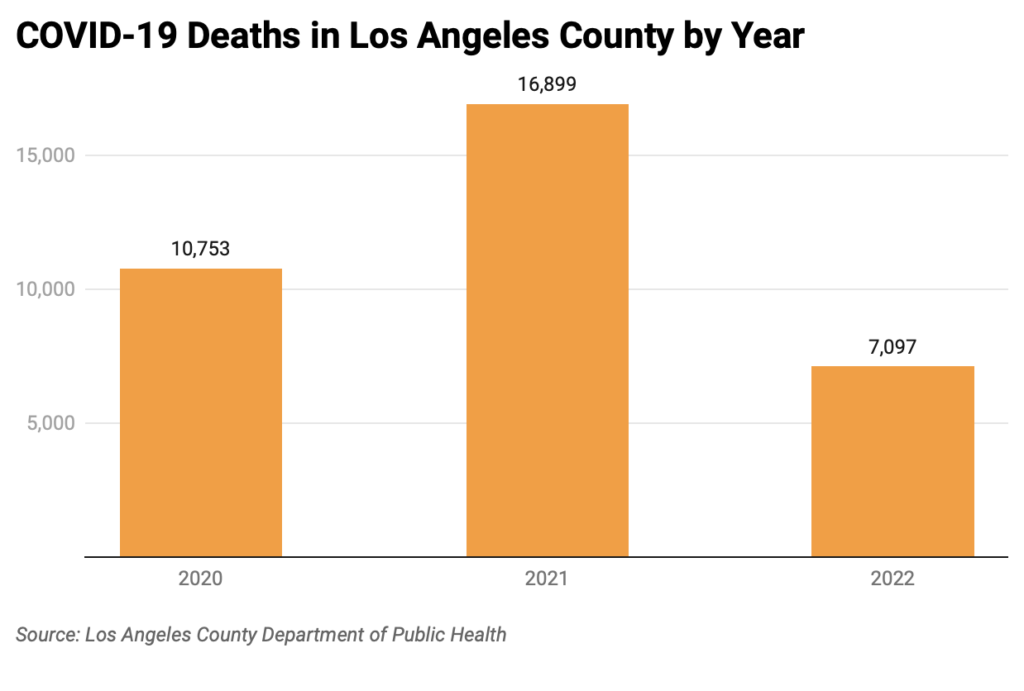 This doesn't mean the year was ever easy. The Omicron wave caused more than 1,500 deaths in February. After a spring dip, fatalities climbed in August and once again in December.
The low point was May, when the county recorded 177 deaths.
Through the end of 2022, 34,671 L.A. County residents had died of COVID-19.
Hospitalizations
Hospitalizations follow a pattern similar to fatalities, spiking a few weeks after a rise in infections. As with cases and deaths, the high point occurred early in the year, with 4,814 patients in area hospitals with COVID-19 on Jan. 20. The low point was the 209 hospitalizations recorded on April 23.
Again, the year brought peaks and valleys—hospitalizations could be above 1,000 for sustained periods, or below 500. As December came to a close, there were 1,249 Angelenos hospitalized with COVID-19.
Following positivity
Another key health marker since the onset of the pandemic has been the percent of people who test positive for COVID-19 after a swab of the nose. Again, this is now somewhat skewed, as the results of most home tests are never reported.
Still, positivity is an indicator of the spread of the virus, and the level was highest in January. The rate peaked at 22.5% on Jan. 3.
Nearly as eye-popping were the lows—in spring, the rate dropped below 1%. From there on out it yo-yoed, soaring past 16% in the summer, and dropping below 5% in the fall. 
At the end of the year, the daily test positivity rate stood at 14.9%.
Taking shots
The COVID-19 vaccine first became available to front-line health workers in December 2020. A few months later, there were lines forming outside pharmacies and other locations with people hoping to claim "leftover" shots. It was not until the spring and early summer that almost anyone who wanted a vaccination could get one.
All told, 8.3 million Angelenos have now received at least one shot in the arm. That represents 80.9% of the eligible population. Including boosters, nearly 21.3 million doses have been administered, according to a Department of Public Health dashboard.  
Vaccinations peaked in March 2021, when 1.7 million county residents got jabbed. The next month, more than 1.6 million people received a shot. But no other month has come close; the high in 2022 was the 212,465 doses dispensed in January.
Health officials and other leaders have urged Angelenos to get boosters, and there was hope that the pace of vaccinations would increase in September with the introduction of a bivalent booster that protects against the original coronavirus strain as well as Omicron variants. Shots are free and available at hundreds of locations, even without an appointment. Nearly 1.5 million Angelenos have received the updated booster.
However, vaccination rates have been on a steady decline since the 46,763 shots administered in July. In December, 6,045 doses went into arms. 
How we did it: We analyzed coronavirus data related to new cases, deaths, hospitalizations and vaccinations provided by the Los Angeles County Department of Public Health, as well as data from the California Department of Public Health.
Interested in our data? Check out the Crosstown coronavirus interactive map or email askus@xtown.la.