Robberies at gunpoint in Los Angeles spiked in 2022
Overall robberies also rose, though progress was seen toward end of year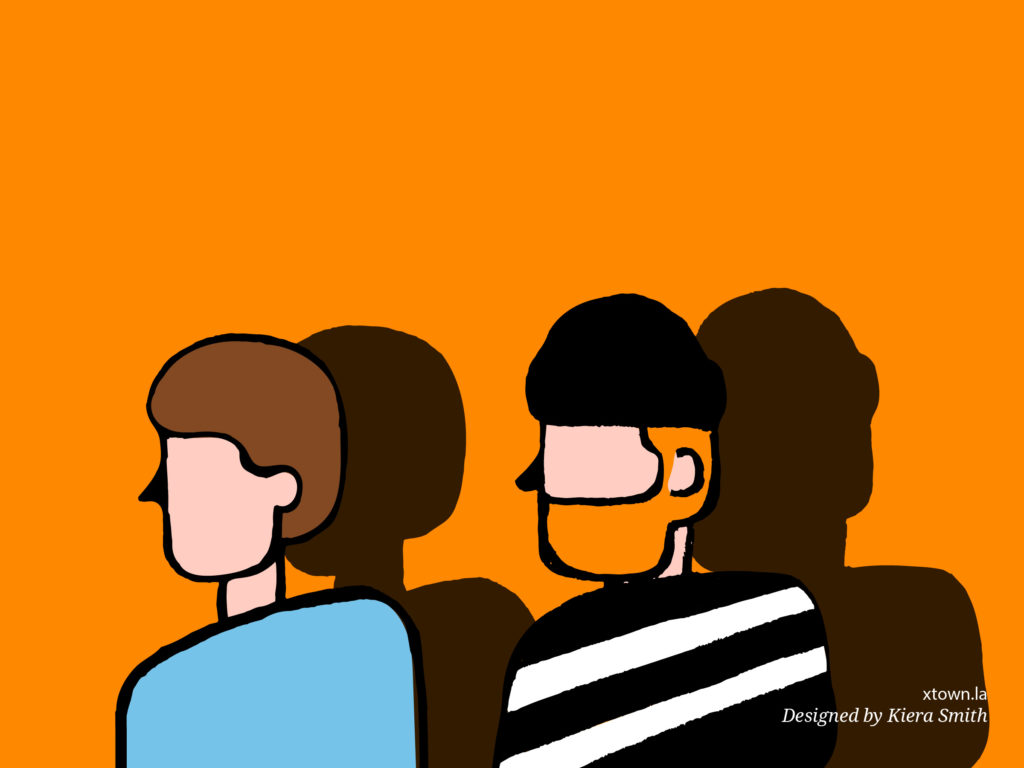 Last year, the Los Angeles Police Department recorded 2,780 robberies involving a gun. That is a jump of nearly 400 from 2021, and continues a spike in firearms-related crime that began with the onset of the pandemic.
In 2022, 30.1% of all robberies in the city involved a gun. In 2019, that figure was 21.1% 
[Get COVID-19, crime and other stats about where you live with the Crosstown Neighborhood Newsletter]
It is a trend that has repeatedly drawn the concern of Police Chief Michel Moore. In his Jan. 10 appearance before the Los Angeles Police Commission, he noted that since 2019, "we [saw] an increase of 34% in the number of gun-related robberies."
He added, "So our pressure points continue as we move into 2023 with identifying those persons who are carrying guns, and those persons who are trafficking guns, and to interrupt that cycle."
The rate of gun usage in robberies outpaced the overall increase in robberies in the city. The LAPD last year registered 9,228 incidents, a 7.3% increase over 2021. 
However, the figure was lower than the total in the pre-pandemic year of 2019.
The highest annual number of robberies in the city in the past decade occurred in 2017, when there were 10,824 incidents, according to publicly available LAPD data. The 2022 total was 14.7% below that level.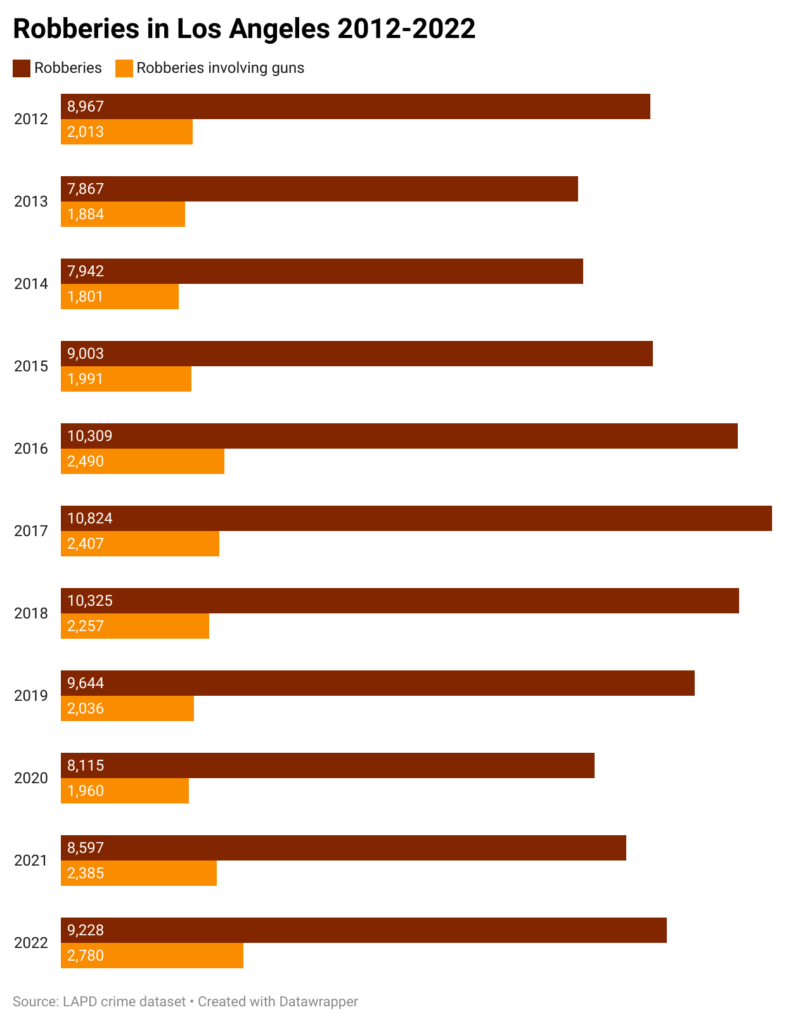 Heightened attention
As 2022 began, robberies were big news in Los Angeles. A spate of violent "follow home" incidents, in which thieves targeted victims leaving banks, high-end stores or restaurants, and confronted them as they approached their vehicle or residence, had prompted the Los Angeles Police Department to form a task force dedicated to combating such offenses. 
The pace of robberies actually fell as 2022 progressed. In July there were 860 such crimes, the highest single-month total since October 2018. But reports then dropped steadily—there were 672 robberies in November, and 641 in the final month of the year (monthly totals are often later revised upward).
The declining trend was also seen in incidents involving a weapon. The first three months of 2022 each brought at least 250 robberies with a gun, with the peak being the 309 reports in March.
From August-December, the count was under 200 each month.
Many people confuse robberies with burglaries, but they are very different. The LAPD classifies burglary as a property crime; it often involves a break-in, and someone's possession or money is taken from a home, vehicle or establishment.
A robbery is considered a violent crime in which an assailant uses force or a threat to take money or a belonging from a victim. Oftentimes a weapon is employed. The results can be severe. 
That includes an incident on Sept. 1, when two men were shot during a follow-home robbery. According to police, they were targeted after leaving a recording studio, and were confronted by thieves as they exited a vehicle at a residence in North Hollywood. One victim was identified as an aspiring rapper who uses the name Wakko the Kid. He later told the Los Angeles Times he was shot six times, and believes he was targeted for flaunting jewelry and money on social media.
Other weapons
Although the frequency of robberies with a firearm is increasing, the weapon most often utilized, according to police, is bodily force or "strong arm" tactics. That was cited in 3,806 robberies last year, or 41.2% of the total.
A knife or other sharp object was listed as the weapon about 10% of the time. A verbal threat was employed in 4.4% of the robberies.
As is the case with many crime categories, Downtown experienced more robberies than any other community in the city. There were 926 reports there in 2022, nearly double the next-highest neighborhood, Hollywood, which suffered 468 robberies.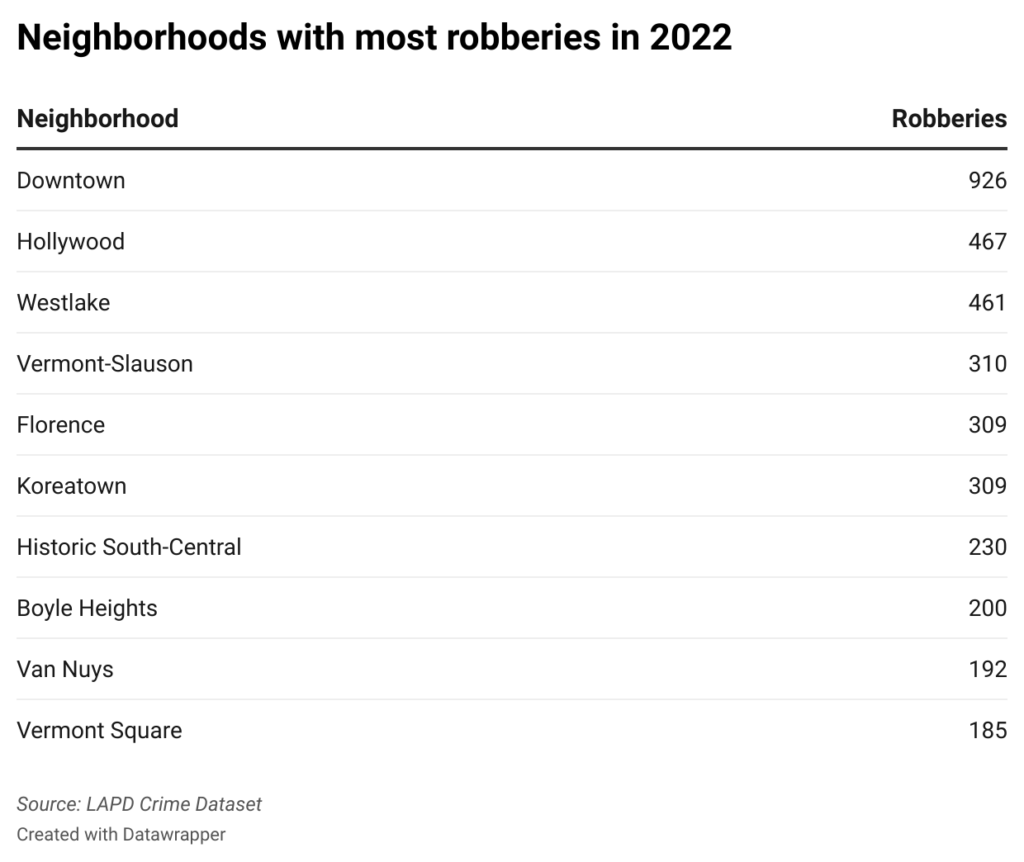 Yet robberies could occur anywhere. That includes an incident in October, when two men robbed an armored truck in Harbor City, and shot a guard several times in the leg. They stole $140,000, but were arrested and charged with federal firearms and robbery offenses on Oct. 21.
The LAPD also made some strides as the year went on. In November, the department announced the arrest of three individuals involved in a series of follow-home robberies, including two instances in which victims were shot.
In December, the department said that, since the inception of the follow-home robbery task force, the unit had identified 328 such crimes, and made 128 arrests. This included five arrests for murder. 
Moore said that after recording 39 follow-home robberies in November 2021, there were just nine such incidents in November 2022.
How we did it: We examined publicly available crime data from the Los Angeles Police Department from Jan. 1, 2010–Dec. 31, 2022. We also examined LAPD Compstat data. Learn more about our data here.
LAPD data only reflects crimes that are reported to the department, not how many crimes actually occurred. In making our calculations, we rely on the data the LAPD makes publicly available. LAPD may update past crime reports with new information, or recategorize past reports. Those revised reports do not always automatically become part of the public database.
Have questions about our data or want to know more? Write to us at askus@xtown.la.