Identity theft in Los Angeles doubles in 2022
City experiences a sharp uptick, with many victims in low-income neighborhoods
As Los Angeles emerged from the COVID-19 pandemic in 2022, another crisis spread across the city. The impact was disproportionately felt in low-income neighborhoods.
It is identity theft, and more people than ever are becoming victims of the crime that can have long-lasting financial implications.
In 2022, there were 19,852 identity theft reports in the city. That was the highest annual count since at least 2010, according to publicly available Los Angeles Police Department data.
The 2022 total is more than double the count in the previous year. It is 138% higher than the 8,335 identity theft reports in the pre-pandemic year of 2019. 
In 2019, there were often 650-700 identity theft reports each month. The figure was higher in 2021, with approximately 750 incidents each month in the first part of the year, and then rising to more than 800 in September.
Cases rocketed past 1,300 the following February, and continued upwards from there. There were nine months in 2022 with more than 1,500 reports—a level not previously reached since January 2015. 
In December, there were 2,100 cases.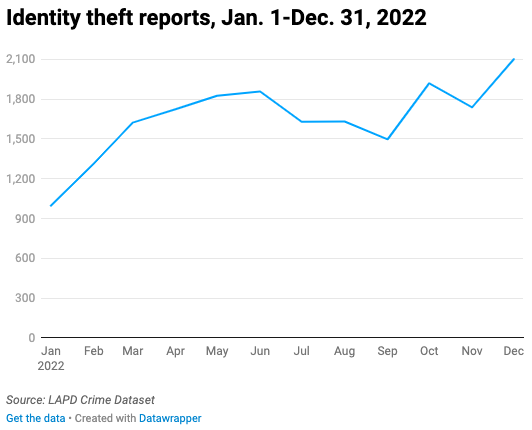 Getting to the root of the problem
Identity theft is problematic on many levels. In the near term money may be stolen or items purchased on a victim's credit card. Repairing the damage can be a long, frustrating process requiring seemingly endless calls to stores, law enforcement agencies and credit card companies. Victims often must remain diligent for years to ensure no new charges pop up. 
What is causing the current spike? One element, say law enforcement representatives, is thieves preying on recipients of electronic benefits transfers, or EBT, a system that delivers financial aid for state programs including CalFresh and CalWORKs. Low-income California residents receive funds every month and can access their account with an EBT card. 
Thieves have become adept at hijacking the EBT system, often by placing "skimming" devices over card readers at stores, gas stations or bank machines. This enables them to access card numbers when an unsuspecting victim buys something or withdraws cash.
"Thieves are able to get information off the magnetic strip of the EBT card. Thieves then upload it to a 'clone' card," said Capt. Alfonso Lopez, the head of the LAPD's Commercial Crimes division.
The next step is using the clone card to visit an ATM and steal money, added Lopez. The thieves, who often work in groups, are well-organized: A Calmatters story detailed how thefts can occur just minutes after the funds are deposited in a victim's account, before the person even has time to take out cash.
[Get COVID-19, crime and other stats about where you live with the Crosstown Neighborhood Newsletter]
Lopez recommends using the contactless payment or the tap option on card readers, when possible, though EBT cards lack a tap function or a security chip. Gov. Gavin Newsom has proposed that the California Department of Social Services spend $76.5 million over the next three years to upgrade the security features of EBT cards. 
Who is targeted?
According to LAPD data, there were 860 identity theft reports last year in Westlake, more than any other Los Angeles neighborhood. Thieves were also active in Baldwin Hills/Crenshaw (628 reports), Downtown (604) and Boyle Heights (592). 
Many of these neighborhoods have large numbers of low-income residents. In eight of the most heavily impacted communities, 30% of the population has a median household income of $20,000 or less.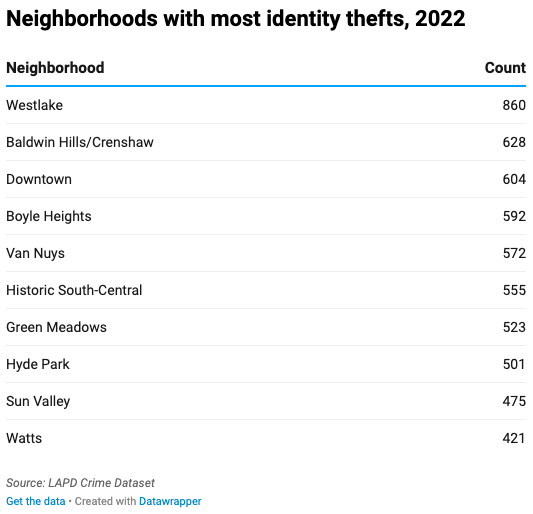 Another trend is that many of the communities with the highest number of identity theft reports have numerous apartment buildings or other multi-unit dwellings. These neighborhoods are also large sources of mail theft, according to Lopez. 
He added that thieves use fake keys to break into mailbox units and take correspondence that has personal material. These can be used to steal someone's identity.
"Thieves are getting people's identification, and are able to work backward to get their information," said Lopez. 
Women were the victim in nearly two-thirds (64.7%) of identity theft reports in the city in 2022. One year prior, however, the difference was much smaller, with 51.7% of victims identified as female.
Widespread problem
Identity theft extends far beyond Los Angeles, and there was a statewide surge in incidents after the onset of the pandemic. California's Employment Development Department lost nearly $20 billion in fraudulent claims—an estimated 11% of the total benefit payouts—with the vast majority coming from the Pandemic Unemployment Assistance program. 
Newsom's 2023 budget includes spending $85 million to continue combating fraud in the Unemployment Insurance and State Disability Insurance programs. 
The LAPD suggests several steps to avoid becoming a victim of identity theft. These include paying bills electronically, and limiting the number of credit cards someone uses. Another oft-cited tip is to cover the keypad when punching in a PIN number at a bank machine or other location.
Individuals who are victims of identity theft and need help, including crafting a recovery plan, can visit the Federal Trade Commission's resource page. 
How we did it: We examined publicly available identity theft data from the Los Angeles Police Department from Jan. 1, 2016-Dec. 31, 2022. For neighborhood boundaries, we rely on the borders defined by the Los Angeles Times. Learn more about our data here.  
LAPD data only reflects crimes that are reported to the department, not how many crimes actually occurred. In making our calculations, we rely on the data the LAPD makes publicly available. LAPD may update past crime reports with new information, or recategorize past reports. Those revised reports do not always automatically become part of the public database.
Have questions about our data? Write to us at askus@xtown.la.