More danger on the streets: murders of unhoused individuals rise
In 2022, Los Angeles recorded 92 homicides of people experiencing homelessness
The challenges that come with homelessness are never-ending. It is nearly impossible to safeguard one's belongings. Exposure to the elements, such as the recent rains and frigid temperatures, poses health risks.
Increasingly, unhoused individuals in the city of Los Angeles face another, even more dire risk: becoming a homicide victim. 
In 2022, 92 people experiencing homelessness were murdered, according to publicly available Los Angeles Police Department data. That is up from 85 the year before. It is a stunning 60% increase from 2020, when there were 58 killings of unhoused people.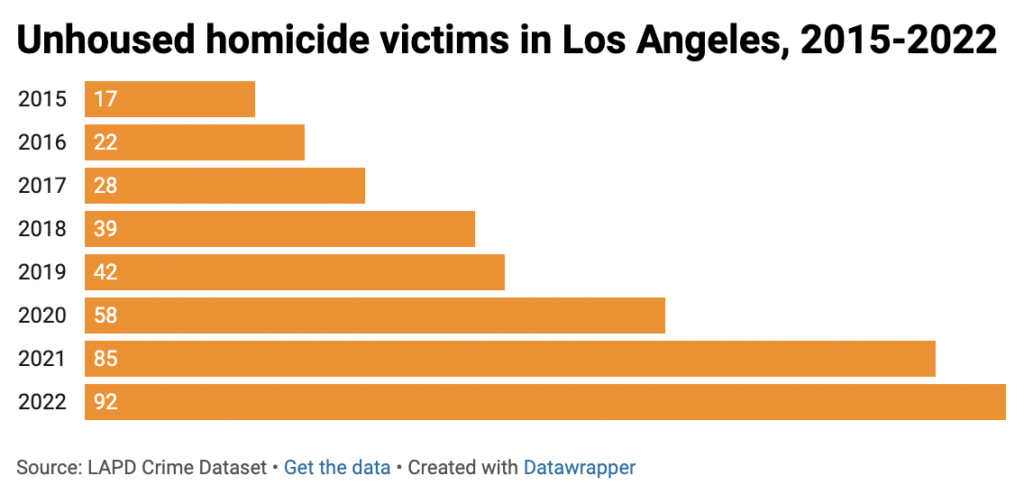 The culprits range from gang members to other people experiencing homelessness. But no matter the perpetrator, the numbers are chilling: In 2022, there were 382 murders in the city. Approximately 1% of Los Angeles residents are unhoused, but people experiencing homelessness represent 24% of the victims.
There is no sugar-coating the danger.
"A friend of mine was thrown into a fire by a fellow homeless man," said Rev. Andy Bales, the CEO of the Union Rescue Mission on Skid Row. "It burnt off 95% of his body. The guy that threw him in was later stabbed in the back with a butcher's knife."
It is little surprise that Downtown, which includes Skid Row, experiences more homicides of unhoused people than any other neighborhood. There were 14 murders there in 2022, according to LAPD data, and there have been 39 killings over the last three years. 
The neighborhood with the second highest count last year was Boyle Heights, with five murders. There were four homicides of people experiencing homelessness in Westlake. 
Overdoses and more
Los Angeles for several years has struggled with a soaring number of deaths of people experiencing homelessness. In 2021 more than 1,600 unhoused individuals died in the county, an average of almost 4.5 a day (2022 figures have not yet been released). Accidental drug overdoses, including from fentanyl, have been the leading cause of death in recent years, according to a report from the Los Angeles County Department of Public Health. 
The issue extends beyond Los Angeles, as other cities, also confronting increasing homelessness, have seen more people die. The Medical Examiner in Multnomah County, Oregon recently reported a record of at least 183 deaths of people experiencing homelessness in 2021. The office said 18 were homicides.
In Los Angeles, gangs were involved in 32 murders of people experiencing homelessness last year, according to LAPD data. Bales said unhoused individuals can be targeted over disputes, including drug debts they cannot afford to settle.
As with homicides in general, victims were overwhelmingly male. An estimated 89% of the murder victims in the city in 2022 were men. For people experiencing homelessness, the figure was 90%.
Local leaders have focused increasing attention on the homelessness crisis, with hundreds of millions of dollars dedicated to an array of responses, from building housing to drug treatment. On her first day in office in December, Mayor Karen Bass declared a homelessness state of emergency. Bass has also partnered with officials from county government.
"The recent emergency declarations, combined with a strategic spending plan approved by the Board of Supervisors, are further enabling Los Angeles County and its partners to put additional resources to work where they can do the most good," said Cheri Todoroff, executive director of the Los Angeles County Homeless Initiative. 
Despite these efforts, many people experiencing homelessness see encampment areas, such as Skid Row, as abandoned by police. This makes it difficult to respond when they suffer violence at the hands of other homeless people, which is also common, according to Bales. 
Firearms problem
The victims last year ranged in age from 20 to 69, and included a 24-year-old Latino woman who was shot on May 11 in an abandoned house in the San Fernando Valley neighborhood of Valley Glen. A suspect was later arrested.
Another victim was a 67-year-old Black man stabbed late in the evening of April 12. The man was killed in an alley off La Brea Avenue in Mid-Wilshire. Again, an arrest was made.
According to police data, a gun was the murder weapon in 67% of the killings of unhoused people last year. A knife or other sharp object was used in 13% of the homicides. 
There are numerous other threats to people experiencing homelessness, including cars driven by intoxicated drivers. In certain instances, suggests Bales, bias against unhoused individuals may be a contributing factor, particularly when a driver speeds off after hitting someone. 
"The other large under-reported cause of death is all the hit-and-runs," said Bales. "They're driving up on the sidewalk."
For all the dangers and worsening numbers, Bales is hopeful that programs like the mayor's new Inside Safe initiative, which aims to move people experiencing homelessness from encampments to temporary and then permanent housing, will ultimately reduce the violence suffered by the most vulnerable.
LAPD Commander Billy Brockway Jr., who serves as the department's Homelessness Coordinator, said that although just two months old, Inside Safe already seems to be having an effect.
"I will tell you anecdotally that our crime involving people that are homeless… is way down," Brockway Jr. said. "It's totally different than four or five years ago, where we had outreach units. We were doing lots of enforcement, and now it's really about the mayor's office's outreach providers, building relationships with those people who are experiencing homelessness."
According to LAPD data, in the first two months of 2023, 12 people experiencing homelessness were homicide victims. The count was 14 in the same period last year. 
How we did it: We examined publicly available crime data from the Los Angeles Police Department from Feb. 1, 2018–Feb. 28, 2022. Learn more about our data here.
LAPD data only reflects crimes that are reported to the department, not how many crimes actually occurred. In making our calculations, we rely on the data the LAPD makes publicly available. LAPD may update past crime reports with new information, or recategorize past reports. Those revised reports do not always automatically become part of the public database.
Have questions about our data or want to know more? Write to us at askus@xtown.la.