Murders decline in Los Angeles, but it's not all good news
Gun violence persists, and dangers worsen for unhoused individuals, according to LAPD 'Homicide Report'
The 5% drop in homicides in Los Angeles in 2022 was greeted as a sign of tentative progress. The 382 murders was down from 402 the prior year. 
Now, the Los Angeles Police Department has dug deeper into the data. The department's annual Homicide Report, released Tuesday, shows that declines were not uniform across the city, and that while deaths are down, there are also troubling trends, including when it comes to people experiencing homelessness.
The decline in killings follows two consecutive years of increases—a pandemic-era trend seen in many large cities across the United States. However, the 382 victims last year is higher than any annual total in the 2010s. There were 258 murders in Los Angeles in both 2018 and 2019.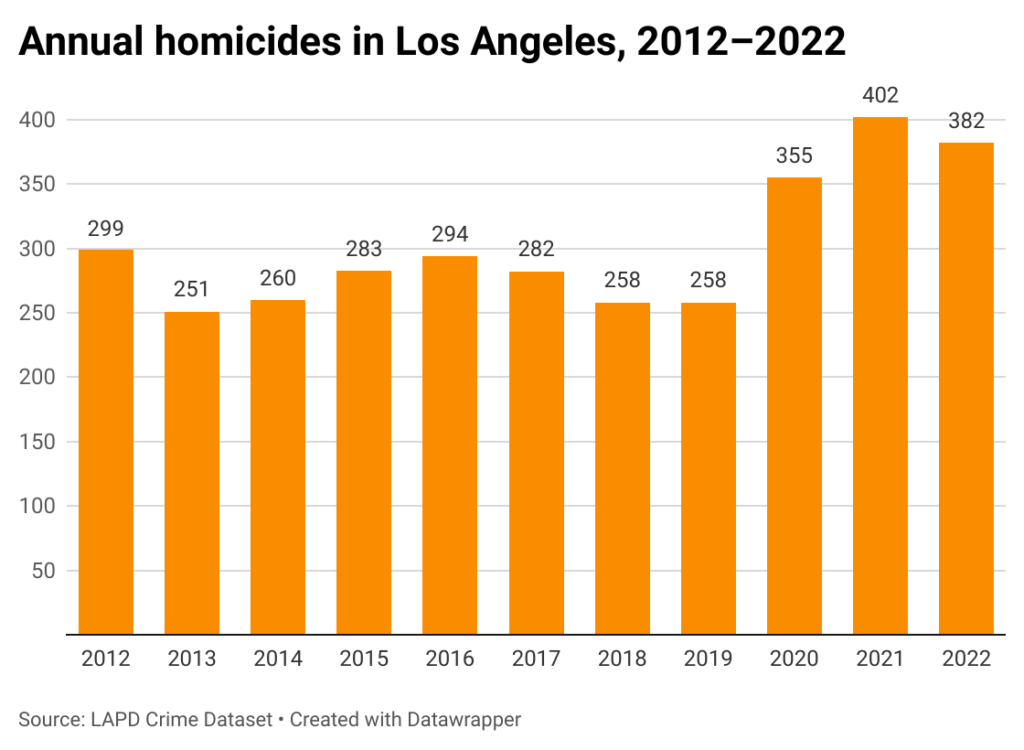 Guns were the murder weapon in 75% of the killings last year, according to the Homicide Report.
Once again, there was a wide gender divide. Last year, 341 murder victims were male, and 41 were female, according to the report.
Crosstown previously reported that densely packed Downtown experienced 38 homicides last year, according to publicly available LAPD data. That was more than any other neighborhood in the city. The next highest count was the 19 killings in Boyle Heights.
Although total homicides declined in 2022, a number of victims were older than in the past. There were 105 people over 45 who were murdered in the city last year. That is a 31% jump from the 80 victims in the same age group the year before.
A total of 32 murders last year were classified as domestic or family related. The count was 37 in each of the two previous years.
[Get COVID-19, crime and other stats about where you live with the Crosstown Neighborhood Newsletter]
Danger for the unhoused
Crosstown this month reported that 92 people experiencing homelessness were murdered in 2022, an increase from 85 the prior year. The Homicide Report counts a total of 110 deaths where either the victim, the perpetrator or both were unhoused. That is up from 107 the previous year, and 71 in 2020.
One area of improvement is murders that the LAPD classifies as gang-related. There were 194 such killings last year. That is a 16% decline from 2021, though a more modest 2% decrease from the total in 2020.
Another positive trend is that murders have begun decreasing. There were 44 homicides both last July and August. Since October, the monthly total has been below 30.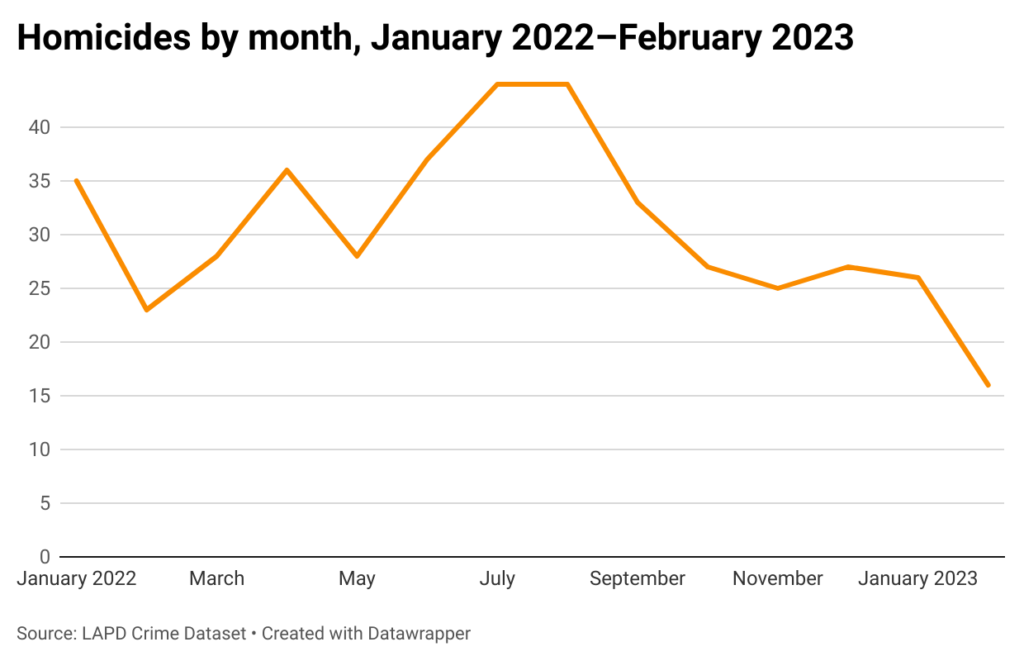 Figures have dipped even further in 2023. According to LAPD Compstat data, from Jan.1–March 25 of this year, there were 55 murders. That is down from 81 in the same time period last year.
It marks a 39% drop from the 90 homicides in the same timeframe in 2021.
One LAPD strategy is to try to take guns off the streets, but even that has become more difficult. The department in 2022 seized 8,427 firearms, a 3% decline from the previous year. According to the Homicide Report, 1,706 of them, or 20%, were ghost guns, which are untraceable weapons that can be manufactured with parts ordered off the Internet, or even made on a 3D printer. 
LAPD Chief Michel Moore has repeatedly decried their prevalence and danger. On March 21, during a meeting of the Los Angeles Police Commission, he stated that the department has seized 1,275 firearms in 2023, with 212 being ghost guns. 
"The only purpose that these weapons exist is for those that are prohibited possessors to take advantage of, and which oftentimes result in violence within our community," he stated.
How we did it: We examined publicly available crime data from the Los Angeles Police Department from Jan. 1, 2020–March 25, 2023. We also examined LAPD Compstat data and the LAPD's 2022 Homicide Report. Learn more about our data here.
LAPD data only reflects crimes that are reported to the department, not how many crimes actually occurred. In making our calculations, we rely on the data the LAPD makes publicly available. LAPD may update past crime reports with new information, or recategorize past reports. Those revised reports do not always automatically become part of the public database.
Have questions about our data or want to know more? Write to us at askus@xtown.la.