As July 4 nears, illegal fireworks displays light up the sky
Complaints come in across the city, though numbers are well below the pandemic peak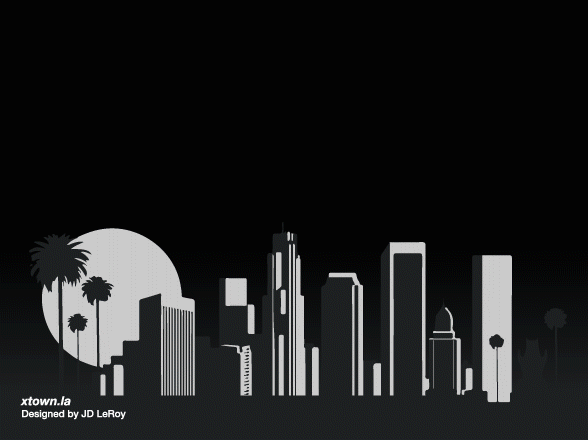 Every Independence Day, Angelenos flock to massive fireworks shows at Dodger Stadium, the Hollywood Bowl, the Rose Bowl and other locations.
Yet locals know that the sky actually starts lighting up well before July 4. Unsanctioned fireworks displays happen across Los Angeles, and increase in frequency as the holiday approaches.
The activity is already underway. In the period from June 1–27, the Los Angeles Police Department fielded 458 complaints about illegal fireworks, according to publicly available data. Last June the department tabulated 532 "calls for service" related to fireworks.
[Get crime, housing and other stats about where you live with the Crosstown Neighborhood Newsletter]
Numbers are way down from pandemic highs. In 2020, when COVID-19 restrictions resulted in the cancellation of fireworks shows that would bring people together, some neighborhoods began to resemble video games, with an incessant pop-pop-pop and pyrotechnics erupting sometimes within feet of homes: There were 4,055 reports that month, and another 3,846 calls in July.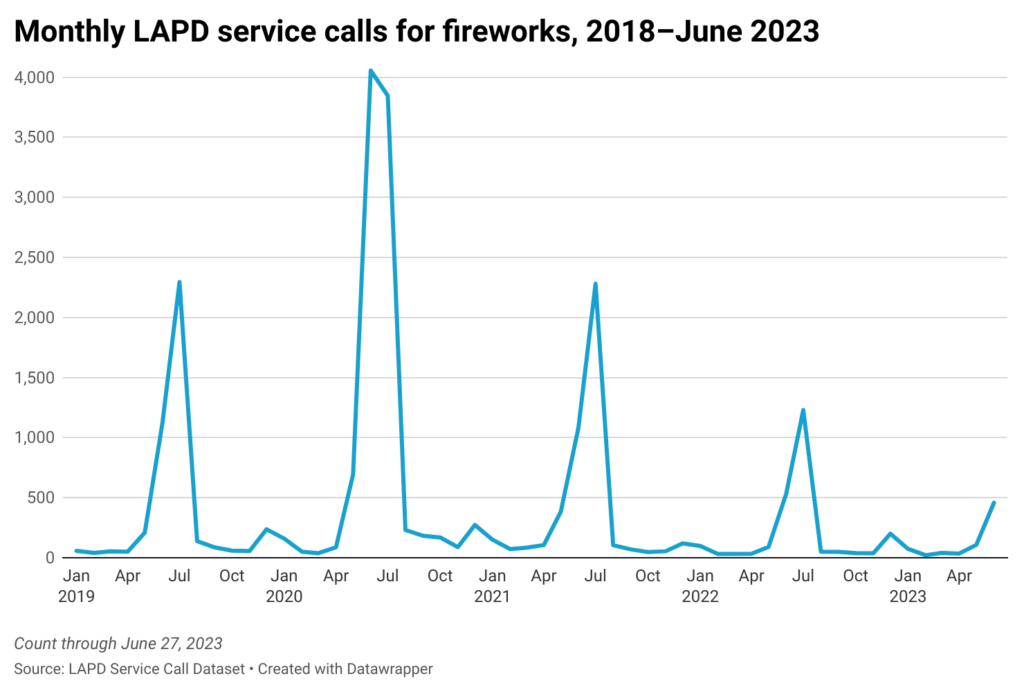 Every summer the Los Angeles Police Department, and other law enforcement agencies and local leaders, warn against the dangers of shooting off fireworks, citing repercussions ranging from frightened pets to palm trees that catch fire to people who are injured, lose fingers or worse.
Fireworks sales and use without a permit are illegal in Los Angeles County, but that hardly limits the activity. On June 7, Fire Marshals were inspecting a textiles warehouse on 61st Street when they came across pyrotechnics kept in a storeroom. Police and the bomb squad were called; ultimately 38,000 pounds of fireworks were taken away, according to the LAPD. Two people were arrested.
When asked about the incident during the June 13 meeting of the Los Angeles Police Commission, LAPD Chief Michel Moore pointed to a thriving black market, noting that people buy large amounts of fireworks from places where transactions are legal, then bring them back to the city to resell.
"The reason that material is there is plain and simple: Too many Angelenos engage in buying illegal fireworks, and engage in reckless actions that endanger the safety of their neighborhoods as well as themselves," he told the Police Commission.
In one infamous situation, the response was horribly botched. On June 30, 2021, the LAPD responded to a call of illegal fireworks being stored in a home in South Los Angeles. The department determined that some of the material was too unstable to move, and opted to detonate it in a police "containment vehicle." Yet explosives experts miscalculated the weight and overloaded the vehicle. The ensuing blast rocked the neighborhood, damaging more than 30 homes; dozens of people were displaced for more than a year.
Fireworks complaints this year have come from neighborhoods across Los Angeles. According to police data, from Jan. 1–June 27, 83 reports were made in the LAPD's Northeast Division, which covers communities such as Glassell Park and Echo Park. The second-highest count is the 71 calls in the Harbor Division, which patrols neighborhoods including San Pedro, Harbor City and Wilmington.
In the effort to thwart activity, the LAPD has a page where people can report illegal fireworks. Complaints can be anonymous.
How we did it: We examined data on LAPD calls for service involving fireworks from Jan. 1, 2018–June 27, 2023. Service calls are a record of police activity that are initiated either from calls coming into 911 and other numbers, or situations officers respond to while on patrol.
Interested in our data or have questions? Email askus@xtown.la.