As summer heats up, Los Angeles avoids a COVID-19 surge
Cases, hospitalizations and fatalities remain low and stable
In the past few summers, gatherings tied to July 4 produced a spike in coronavirus cases. In 2023, few people were worried about a holiday surge—apparently with good reason.
In the week after Independence Day, there were 1,544 diagnosed new infections in Los Angeles County, an 11.3% decline from the previous week. Last year at this time, the daily case count was in the 5,000–8,000 range.
[Get crime, housing and other stats about where you live with the Crosstown Neighborhood Newsletter]
This also marks the third consecutive week that new cases have fallen.
These are only infections reported to the Los Angeles County Department of Public Health, and do not include many cases identified in at-home tests where an individual suffered mild symptoms.
Still, the continuing low and stable caseload is notable, said Dr. Barbara Ferrer, director of the County Department of Public Health.
"The L.A. County metrics are reassuring, especially compared to the last three summers when we experienced increases in transmission and hospitalizations in July," Ferrer said in a July 13 department briefing. "This may reflect, in part, the effectiveness of our tools against the Omicron strains currently circulating."
Deeply declining deaths
In January 2021, during the first coronavirus winter, more than 8,000 COVID-19 patients were in area hospitals. As of July 12, 2023, the figure stood at 211. That is the lowest number of hospitalizations since the start of the pandemic, according to the County Department of Public Health.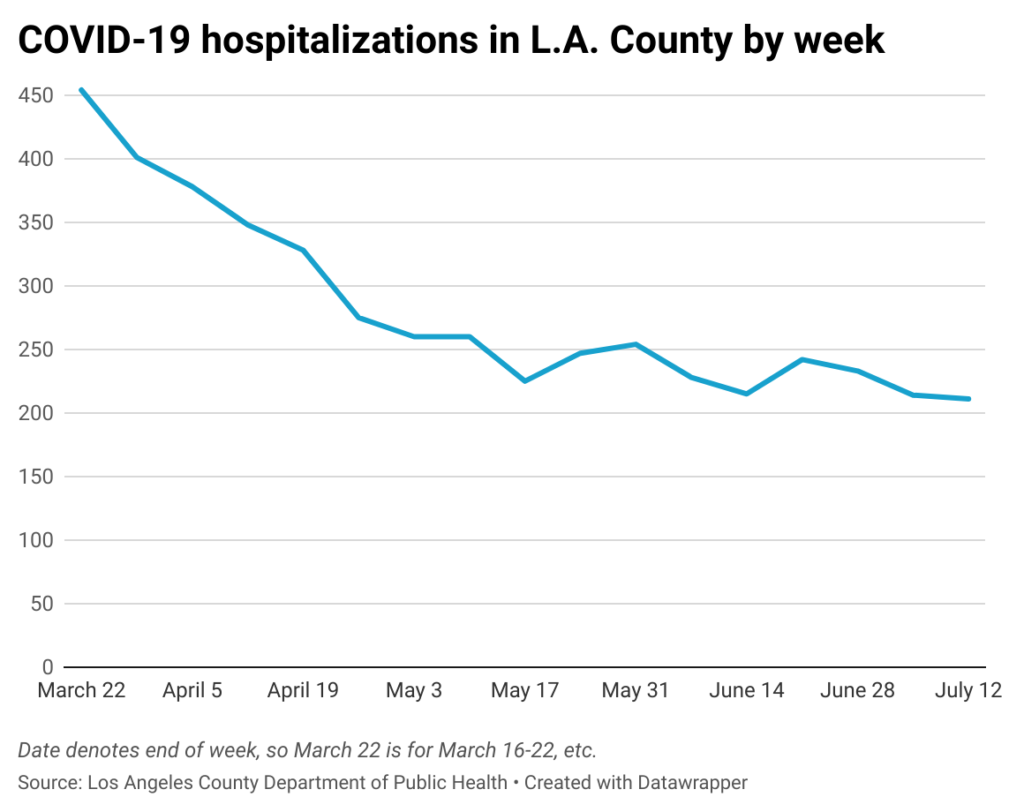 Credit for improving conditions goes to widespread vaccinations and people who have built up resistance through earlier infections. 
Deaths are also at a low point. In the week ending July 12, there were just 13 coronavirus fatalities in the county. The weekly total one year ago was 126 deaths. In a four-day period in January 2021, more than 1,000 people died.
Even though the federal pandemic emergency expired in May, vaccines are still available and are free, according to the Centers for Disease Control and Prevention. The County Department of Public Health provides information on how and where to get a shot.
According to a County Department of Public Health dashboard, more than 21.8 million vaccines have been dispensed. As estimated 85% of people 5 and older have received at least one dose.
How we did it: We analyzed coronavirus data related to new cases, deaths, hospitalizations and vaccinations provided by the Los Angeles County Department of Public Health.
Learn more about our data here. Any questions? Email askus@xtown.la.