The Crosstown COVID Tracker
Coronavirus deaths are low, but case numbers continue to increase
Los Angeles County is at a unique moment in its two-year-plus battle against COVID-19. On one hand, hospitalizations and deaths are at their lowest point since early in the pandemic. On the other hand, the BA.2 subvariant continues to bring elevated daily infections. 
Even if case counts remain only a small fraction of what they were during the January Omicron surge, when there were sometimes more than 40,000 new cases a day, experts advise caution. The seven-day average of cases reached 1,734 on Wednesday. That represents a 53.2% increase from one week prior. 
Weekly COVID-19 cases in Los Angeles County, March 23-April 26
The past week also brought a troubling view of the pandemic's impact on the region's most vulnerable inhabitants. On Friday, the Los Angeles County Department of Public Health released a report on mortality rates among unhoused Angelenos. It found that 179 people experiencing homelessness died of COVID-19 from April 2020-March 2021. The coronavirus was the third leading cause of death during that period in this community, behind drug overdoses and coronary heart disease. 
The Crosstown COVID Tracker provides the latest and most important data on infections, inoculations and general risk. Information on cases in individual communities is available on the Crosstown coronavirus interactive map.
Better time for hospitals
As has been the case for several weeks, hospitalizations in the county remain stable. The number of COVID-positive patients in area medical institutions has remained below 300 since April 1. 
On Wednesday, there were 235 COVID-19 patients in hospitals. That is almost unchanged from the 230 residents hospitalized the prior week. 
COVID-19 hospitalizations in Los Angeles County, Feb. 1-April 26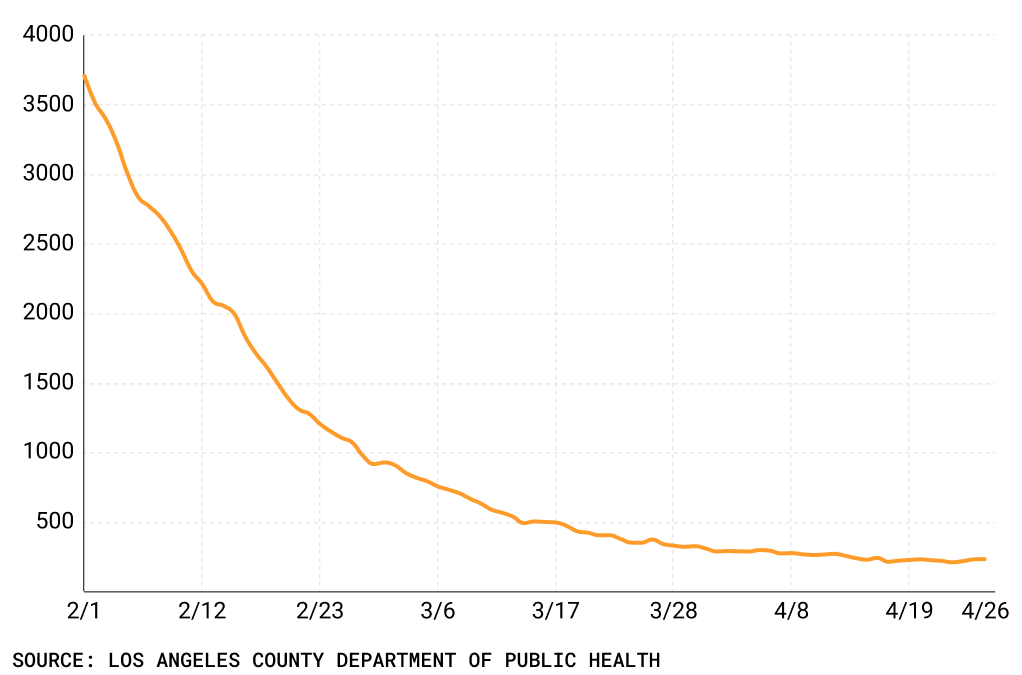 Deaths are also low. The Department of Public Health reported 10 COVID-19 fatalities on Wednesday, bringing the seven-day average to eight. This is a drop from the seven-day average of 10 deaths reported last week.
Health officials expect the number of hospitalizations and deaths to increase, as they have in many other places around the globe, but the primary point of discussion concerns how high they will go. The number of prior infections in the county, along with new coronavirus treatment options, could help keep figures from approaching the levels recorded in past surges, and prevent a strain on the healthcare system. 
After an increase last week, the positivity rate dipped below 2%. On Wednesday, the rate stood at 1.7%. 
While this is above the approximately 1% recorded for more than a month, the current situation is better than during the Omicron surge. On Jan. 27, 12.7% of tests were coming back positive.  
COVID-19 positivity rate in Los Angeles County, Feb. 1-April 26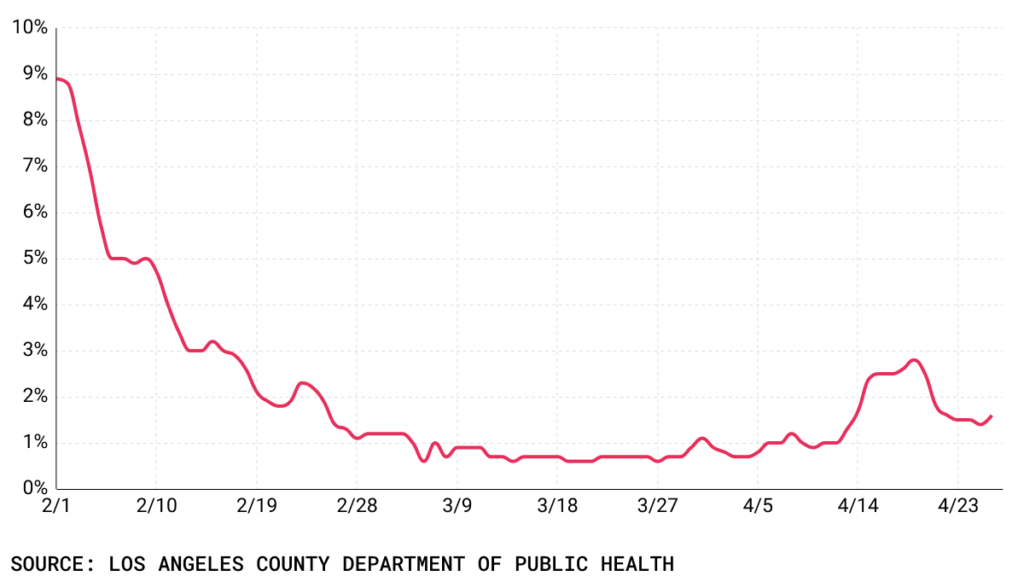 As students and staff at Los Angeles Unified School District facilities return to campuses after spring break, the Department of Public Health expects to see a slight increase in cases. Still, of the 352,240 tests administered at LAUSD facilities from April 21-27, there were 1,388 positive results. This brought the positivity rate to 0.39%, down from 0.57% the previous week.
[Get COVID-19, crime and other stats about where you live with the Crosstown Neighborhood Newsletter]
Women are wiser than men
Vaccine rates have plateaued in L.A. County, and of 9.7 million residents 5 and up, an estimated 1.6 million are unvaccinated. Additionally, only 3.8 million have received their booster shot. 
Still, science shows the benefits of taking the jab. For the week ending April 8, unvaccinated individuals were three times more likely to be hospitalized with COVID-19 than fully vaccinated residents. The likelihood of dying was 16 times higher for unvaccinated Angelenos compared with their fully protected counterparts. 
Discrepancies in vaccine data by gender have followed the same trend for nearly a year: Women continue to take shots more frequently than men. Data through April 21 shows that nearly 85.3% of females 5 and up have received at least one vaccine dose, compared to 81.1% of males. Approximately 77.4% of females 5 and up are fully vaccinated, compared to 72.9% of males. 
In Los Angeles County, approximately 18,520,761 shots have been administered. One year ago, the total number of vaccines dispensed was 7,055,761. 
Through April 21, 83.4% of residents 5 and up had received at least one vaccine dose. Nearly 75% are fully vaccinated. 
How we did it: We analyzed coronavirus data related to new cases, deaths, hospitalizations and vaccinations provided by the Los Angeles County Department of Public Health, as well as data from the Los Angeles Unified School District.
Interested in our data? Check out the Crosstown coronavirus interactive map or email askus@xtown.la.