Counting cash in the City Controller contest
Kenneth Mejia finished first in the primary and has more donors, but Paul Korzetz boasts a bigger campaign war chest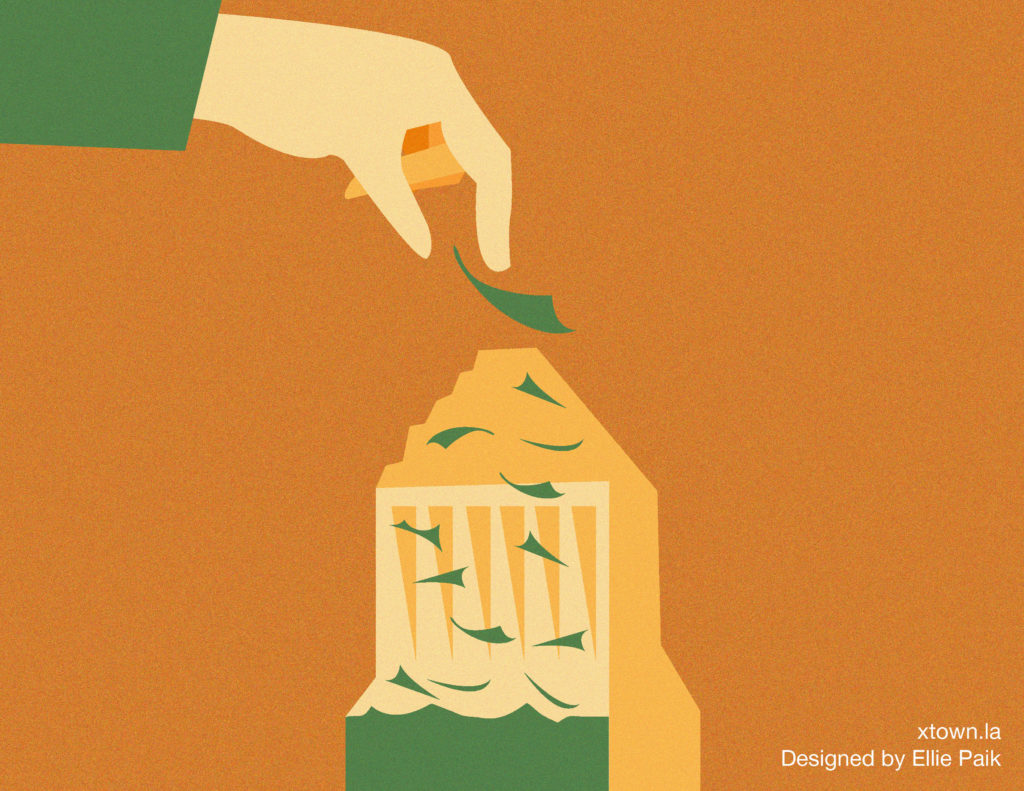 In the general election on Tuesday, one of the most fascinating contests is for Los Angeles City Controller. The person in the post serves as the city's fiscal watchdog, and the race more than any other epitomizes the concept of a City Hall insider being challenged by an outsider.
The June primary attracted seven candidates. Kenneth Mejia, a progressive CPA who has energized young voters, received 43%. Three-term District 5 Councilman Paul Koretz came in second with 24%. Since no one secured a majority, the two have advanced to the general election.
[More on campaign finance: A look at donations in the District 11 race]
In the primary, Koretz raised $545,000, far surpassing the $218,500 secured by Mejia. Despite his distant second-place finish in June, Koretz continues to pull in cash: Through Nov. 2, according to documents filed with the City Ethics Commission, he reported $383,877 in contributions for the runoff, though that includes $100,000 in personal loans. Mejia has contributions totaling $102,262. 
In the runoff, including his loan, Koretz has received 79% of the money. Mejia received 21%. 
However, more than sheer dollars are at play. Although he has less money, Mejia has received financial contributions from approximately 543 people, according to Ethics Commission disclosures. That exceeds the approximately 478 donations to Koretz.
Mejia has 53% of the total number of donations, with Koretz claiming 47%.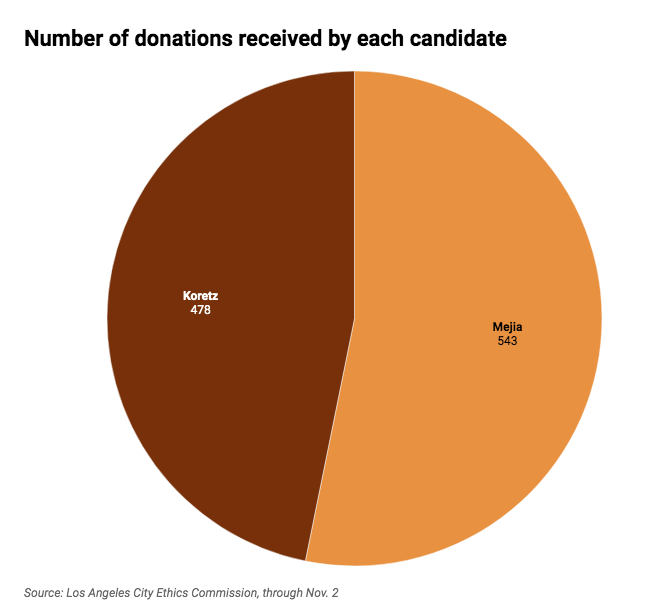 Here is how the fundraising for each candidate breaks down. 
[Get COVID-19, crime and other stats about where you live with the Crosstown Neighborhood Newsletter]
Paul Koretz
Koretz's long career in government has produced relationships with deep-pocketed professionals able to contribute large sums to his campaign. According to disclosure statements, the most common amount given is the maximum contribution allowed of $1,500: Koretz received donations of that amount 109 times. The second most frequent donation amount, $250, was given 76 times.
[A look at money raised in the District 13 council contest]
The legal field has stepped up for Koretz, with approximately 49 people identified as attorneys giving him money in the runoff period. His disclosure statements also reveal 17 donations from people with the job title CEO. At least 19 donors are listed as working in "real estate."
Koretz also has extensive support from those no longer working. Approximately 93 people who identified themselves as retired gave to his campaign. 
Of the money Koretz received, 43%, or approximately $109,700, is from within the city of Los Angeles, according to an Ethics Commission dashboard tracking the location of donations. Another $51,400 (about 20%) is identified as potentially from within the city. Approximately $83,400, or 32.8%, comes from outside Los Angeles, but inside California. 
[Comparing campaign war chests in the District 15 City Council race]
The ZIP code that has produced the most money for Koretz is not in the city of L.A.—it's Beverly Hills, 90210, with $15,464. 
It is worth noting that Koretz received more than 70 contributions from political action committees, unions or other non-individuals. Approximately 42 of those donated the maximum of $1,500. This includes the United Fire Fighters of Los Angeles City and the Building Owners & Managers Association of Greater L.A.
Kenneth Mejia
When it comes to campaign donations, the big difference between the two finalists is the size of the give. The most common donation amount to Mejia was $100, which he has received around 152 times. 
The second most frequent is $214. A donation of that amount can help "unlock" another $1,284 in city matching funds. The municipal program aims to level the playing field by giving money to candidates who raise funds from a set amount of local donors.
[Examining fundraising in the race for Los Angeles City Attorney]
Mejia has received around 121 contributions of $214. Koretz has taken in 68 of that amount. To date Mejia has received almost $390,000 in matching funds, compared with about $200,000 for Koretz.
Only four people have given Mejia the maximum amount allowed of $1,500. 
Mejia has extensive backing from people in the creative sector. Approximately 30 individuals identified as directors, actors, writers or a similar pursuit have donated. He has also found support in academia, with 20 people identified as a professor or teacher contributing to his campaign. 
Unlike Kortez, not a single person identified as retired gave to Mejia. However, approximately 77 people who described themselves as unemployed donated to his campaign.
His donor base includes approximately 35 people who work at film or TV studios. Another approximately 25 have jobs with software companies.
The Ethics Commission dashboard identifies about 41% of Mejia's donations as coming from within the city of Los Angeles, and another 15.4% as potentially within the city. However, the amount could be higher, as 23.5% of his monetary donations are listed as unitemized, meaning they were small contributions and location information does not have to be revealed.
The two ZIP codes that have produced the most monetary donations to Mejia are on the Eastside: People in 90027 (Los Feliz) have given $4,149, and residents of 90026 (Echo Park) gave $4,051. 
How we did it: We examined publicly available campaign finance data from the Los Angeles City Ethics Commission in the period up to Nov. 2, 2022. Some of the data on an Ethics Commission dashboard may be updated and not fully reflected in this article. More information about our data is here.
Have any questions? Write to us at askus@xtown.la.