Crime in Los Angeles jumped 11.6% in 2022
Assaults, vehicle theft hit the highest levels in over a decade As COVID-19 precautions relaxed last year and people returned to offices, restaurants and shopping malls, crime across Los Angeles began to surge, hitting its highest level in five years. 
Throughout 2022, the Los Angeles Police Department reported 229,584 crimes, an 11.6% increase over the previous year. That total includes a wide range of offenses, from assault to vandalism. (There is also plenty of lawbreaking the data does not pick up, such as wage theft and most white-collar crimes.) 
Does this mean Los Angeles is a much more dangerous place? Not necessarily. Despite the overall double-digit crime rise, the number of violent crimes in 2022 was just 1.1% higher in 2022 than it was in 2021, according to LAPD Compstat data. And, from an historical perspective, there are far fewer violent crimes than there were during the drug wars of the late 1980s and early 1990s. 
The 2022 count was slightly below the 2017 total of 230,385 crimes. That year marked the highest level since the department began making its data public in 2010. 
Other major cities across the United States, including New York and San Francisco, also reported increased crime last year, as precautions related to the pandemic were relaxed. In Los Angeles, the spike presents another challenge for newly elected Mayor Karen Bass, who has not declared if she will support granting another term to LAPD Chief Michel Moore. (The Los Angeles Police Commission will make the ultimate decision, but Bass has the power to change the make-up of the five-member panel.) The deaths of three men following use-of-force incidents with LAPD officers has made that decision all the more charged. 
Though overall crime has jumped, not all types of offenses have increased. Any comparisons with the past few years are also clouded by the disruption wrought by COVID-19, which kept people indoors and off the streets for months. Initially, that acted as a widespread crime deterrent. But some offenses, such as car theft, spiked during that period. 
[Get vital information about where you live in Los Angeles with the Crosstown Neighborhood Newsletter] 
In order to paint a more complete picture of public safety in Los Angeles, Crosstown has compiled six charts that place a range of crimes in a broader time frame. 
Homicide
As soon as the COVID-19 lockdowns were announced in 2020, the number of homicides in the city began to rise, part of a pattern seen across the nation. An alarming apex came in 2021, when Los Angeles recorded 397 murders, the highest number since 2007. Last year, that count fell slightly, to 382 murders.
Guns were involved in nearly 75% of those killings.
Robberies
One of the most alarming aspects of the rise in crime in Los Angeles is the number of incidents involving guns. Last year, 30.1% of all robberies involved a firearm, up from 21.1% during the pre-pandemic year of 2019. 
The number of guns seized by the LAPD has also increased since the start of the pandemic. That includes a sharp rise in the number of "ghost guns," or unregistered, self-made firearms, sometimes manufactured on 3D printers, that are virtually untraceable. 
Moore highlighted the problematic rise in firearms at a recent meeting of the Los Angeles Police Commission, saying, "So our pressure points continue as we move into 2023 with identifying those persons who are carrying guns, and those persons who are trafficking guns, and to interrupt that cycle."
Burglaries
Last year the total number of break-ins increased by 15.4% over 2021. However, burglary rates in Los Angeles are well below the levels they were at just a few years ago. The 14,856 burglaries reported last year are 7% below 2018, and 15% under where they were in 2010. 
Stolen cars
Beginning in March 2020, as the city went into a restrictive lockdown to prevent the spread of COVID-19, crime began to plummet. But reports of stolen cars suddenly spiked. The pace of car theft only quickened, as trends such as last summer's "Kia challenge" spread on social media, with videos revealing techniques for stealing a range of vehicle models. 
Last year ended with 25,400 stolen vehicles, almost 10,000 more than went missing in 2019. Hondas and Kias from the 1990s are among the most likely to get swiped. Full-size Chevrolet and Ford pickups are also popular among thieves. 
Most stolen vehicles in Los Angeles are actually recovered within a few days, according to the LAPD. 
Assault 
Acts of violence have become increasingly common in Los Angeles. Last year, there were more assaults reported in the city—32,336—than any year since at least 2010. That includes simple battery, as well as aggravated assault and assault with a deadly weapon. (Crosstown counts assaults relating to domestic violence and child abuse in separate categories.) 
There is evidence to suggest that assaults are also becoming more violent. Last year, 41% of assaults were categorized as aggravated or assault with a deadly weapon. A decade earlier, the level was 28%.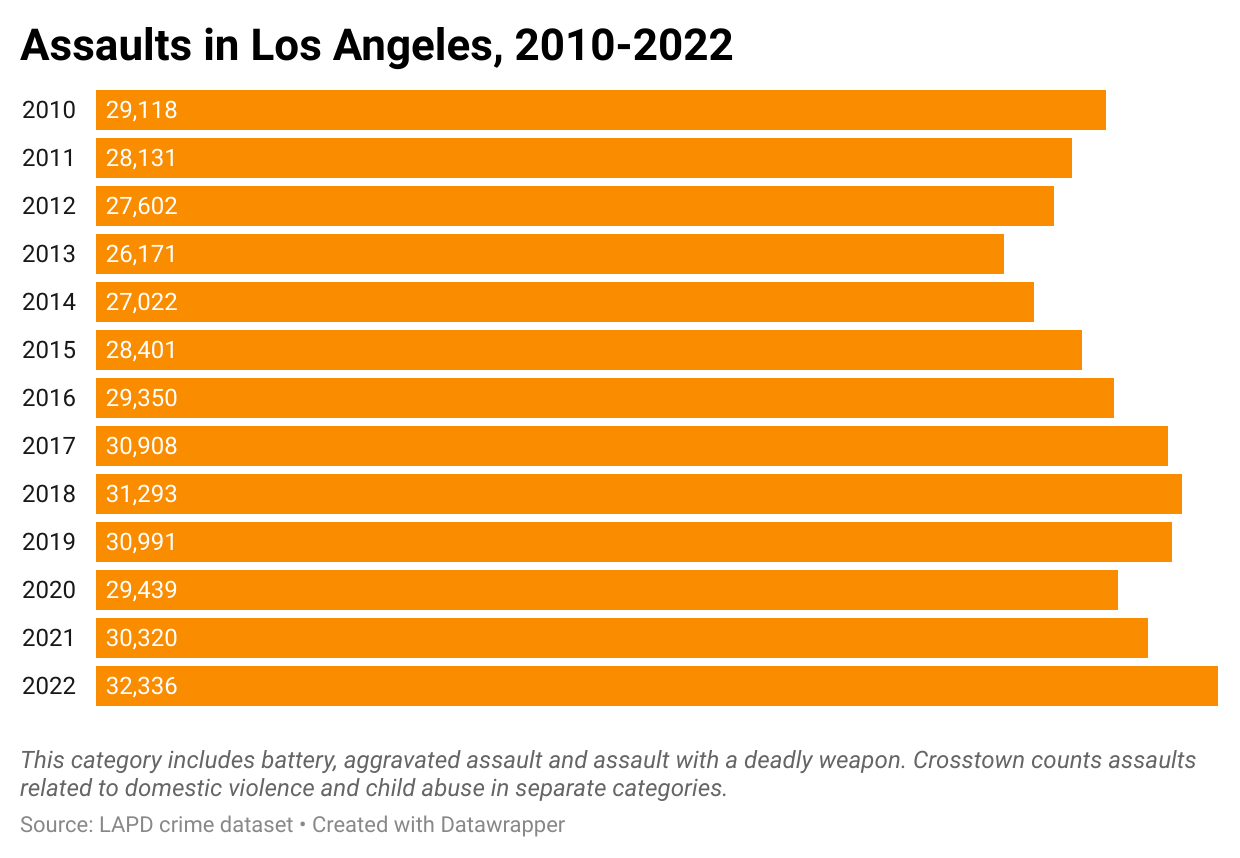 There is evidence to suggest that assaults are also becoming more violent. Last year, 41% assaults were categorized as aggravated or assault with a deadly weapon. A decade earlier, the level was 28%.
How we did it: We examined a range of publicly available LAPD data from Jan. 1, 2010–Dec. 31, 2022. Learn more about our data here.
LAPD data only reflects crimes that are reported to the department, not how many crimes actually occurred. In making our calculations, we rely on the data the LAPD makes publicly available. LAPD may update past crime reports with new information or recategorize past reports. Those revised reports do not always automatically become part of the public database.