Vandalism in Los Angeles continues to tumble
Incidents hit lowest level in a decade, though the defacing of property never stops
Three months into 2023, the crime picture in Los Angeles is mixed. Offenses such as shoplifting have risen. Some other crimes, including homicides and robberies, are falling. 
Add to that list vandalism, though one thing separates this from other improving categories: reports are at a historic low. 
[Get crime, housing and other stats about where you live with the Crosstown Neighborhood Newsletter]
From Jan. 1–March 31, 2023, there were 4,116 reports of vandalism in the city, according to publicly available Los Angeles Police Department data. That represents a 10.9% decrease from the same period last year, and is just under the count in the final three months of 2022.
The vandalism totals in the fourth quarter of last year and the first quarter of this year are both below any quarter since at least 2010. 
What makes current figures stand out even more is that vandalism had soared in 2021, peaking at 5,459 reports in the third quarter. 
In 2022, there were 13,204 reports of felony vandalism, where more than $400 worth of damage was inflicted, and 5,053 misdemeanor vandalism incidents (damage below $400). That total of 18,257 reports made vandalism the fifth-most commonly reported crime in the city, following vehicle break-ins (32,153 reports), stolen vehicles, identity theft and personal theft. 
Despite this, the count last year marked the lowest annual total since 2013.
Graffiti, broken windows and beyond
Under California law, vandalism is any act that maliciously damages, destroys or defaces property belonging to another person or entity. This covers a gamut of activities, from drawing or putting graffiti on a wall, to damaging buildings or breaking windows. 
During the first three months of this year, 2,972 vandalism reports were classified as felonies, and 1,144 were identified as misdemeanors.
From Jan. 1–March 31, densely packed Downtown logged 340 reports of vandalism, more than any other neighborhood in the city. Vandals were also active in Hollywood (145 reports) and Van Nuys (134).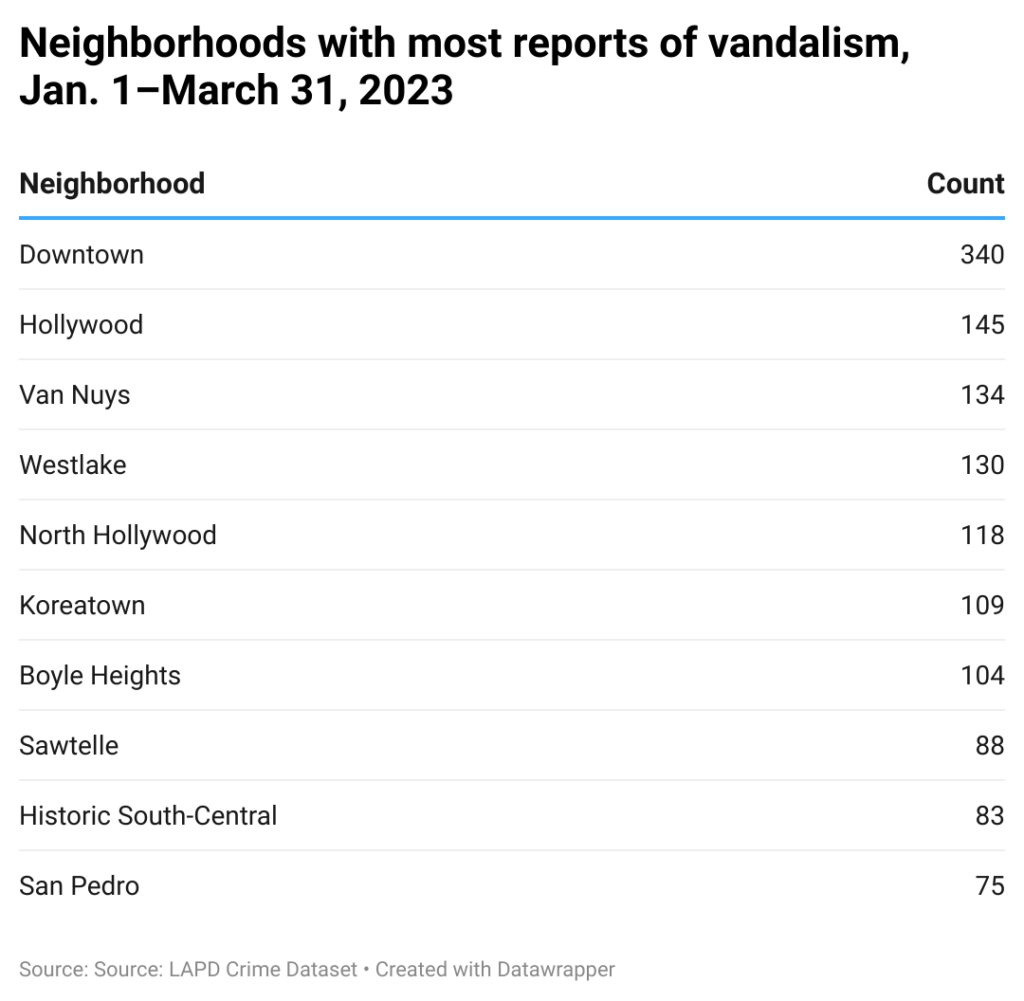 Cars or trucks were the most frequent targets for vandals in the first three months of the year, totaling 1,061 reports. Also frequently hit were streets (510 reports). 
Sometimes vandalism can take the form of a hate crime. That included an incident on April 9, when a surveillance camera captured a man defacing a Koreatown mosque with hateful language. The suspect, later identified as 43-year-old Carlos Moran, was arrested two days later, according to the LAPD. 
In extreme instances, vandalism involves an act of violence or physical aggression. According to police data, some type of bodily force was employed in 123 of the reports from Jan. 1–March 31. A rock or another object was thrown in 41 incidents. 
How we did it: We examined publicly available crime data from the Los Angeles Police Department from Jan. 1, 2010–March 31, 2023. Learn more about our data here.
LAPD data only reflects crimes that are reported to the department, not how many crimes actually occurred. In making our calculations, we rely on the data the LAPD makes publicly available. LAPD may update past crime reports with new information, or recategorize past reports. Those revised reports do not always automatically become part of the public database.
Have questions about our data or want to know more? Write to us at askus@xtown.la.